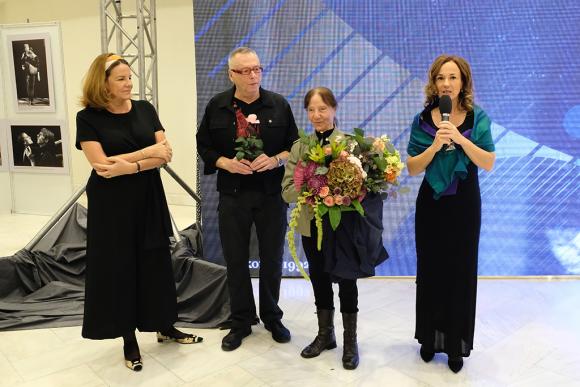 Arta coregrafică din România s-a impus, de-a lungul timpului ca un domeniu în care regândirile au avut un rol fundamental, fiind elaborate de personalităţi care au găsit mereu noi modalităţi de expresie.
October 26th 2016
The 26th edition of the National Theatre Festival is dedicated to Miriam Răducanu.
Romanian choreographic art has proved itself, along the years, as a field in which rethinking has played a fundamental role, a field in which new ways of expression have been constantly discovered.
An article by Gina Şerbănescu, performing arts critic
Choreographer and dancer Miriam Răducanu (born1924), has revolutionized Romanian dance, bringing together poetry and music, reuniting, synthetizing, through force and message of a unique gestuality. Miriam Răducanu has creatively contributed to the art of choreography and played an essential part in discovering and forming artistic personalities, like Gheorghe Iancu and Gigi Căciuleanu.
In the late 60s, Miriam Răducanu and Gigi Căciuleanu created the famous Nocturnes at the Ţăndărică Theatre, evenings on which dance, poetry, theatre were melting together, into a perfect synthesis, effacing the limits between artistic genres. The Nocturnes were a benchmark in the development of the art of dance in our cultural landscape, defining choreography not simply as an art of movement, of gesture, of the body, but also as a creative reservoir, bringing together, interdisciplinary, multiple artistic messages that cannot exist separately.
Miriam Răducanu played an essential role in rediscovering the corporality of the actor on stage. Let us only mention the production of the Bulandra Theatre, "A World on Stage"- great Romanian actors (Gina Patrichi, Mariana Mihuţ) were integrated in a performance in which gestures were given a significance yet unknown in Romanian theatre.
Creator of a poetics of dance, discovering a form of presence that frees the body of stylistic, aesthetic or technical constraints, Miriam Răducanu is one of those artists who widely transcend the borders of a specific form of art.
Photo: Cristian Munteanu - Irina Tapalagă, Gigi Căciuleanu, Miriam Răducanu and Marina Constantinescu, at the Opening of the National Theatre Festival 2016
October 26th 2016