28 October| 19:00 – I.L.Caragiale National Theatre, Media Hall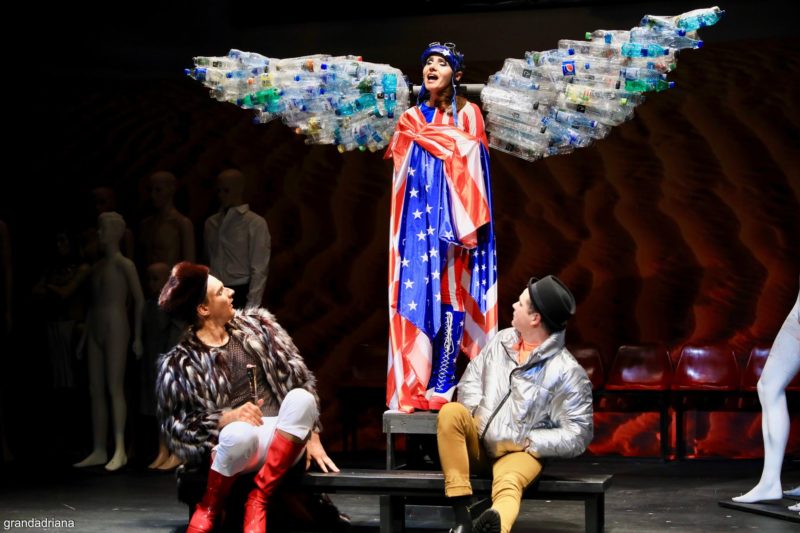 Angels in America is a colorful portrayal of the United States of America in the 1980s, depicting the time of Ronald Reagan's presidency and the outbreak of the AIDS epidemic.
Cast :
Roy M. Cohn, a successful New York lawyer and unofficial power broker: Zsolt Bogdán
Joseph Porter Pitt,  a Mormon, chief clerk at the Federal Court of Appeals, Second Circuit: Péter Árus
Harper Amaty Pitt,  Joe's wife, an agoraphobic with a mild Valium addiction: Éva Imre
Louis Ironson,  a word processor working for the Second Circuit Court of Appeals: Balázs Bodolai
Prior Walter,  Louis's boyfriend, a stylist: Ervin Szűcs
Hannah Porter Pitt,  Joe's mother, Mormon, widowed: Emőke Kató
Belize, a registered nurse and former drag queen: Szabolcs Balla
The Angel: Tekla Tordai
Alexis Antediluvianovich Prelapsarianov, the World's Oldest Bolshevik: Emőke Kató
Mr. Lies, Harper's imaginary friend: Szabolcs Balla
Henry,  Roy's doctor: Emőke Kató
A Voice: Tekla Tordai
Ethel Rosenberg, Phantom of Roy Cohn's famous victim: Emőke Kató
Emily, a Nurse: Tekla Tordai
Stage Direction: Victor Ioan Frunză
Set and Costume Design: Adriana Grand
Dramaturgy: Nóra Balázs
Assistant director: Emőke Veres
Length:  3 h 30 min  (with intermission)
Hungarian State Theatre, Cluj-Napoca
Performance in Hungarian with English and Romanian surtitles
Suitable for ages 16 and above
All the characters of the play belong to a minority group: gays, Jews, Mormons. The play talks about the "great journey" that most of the characters are on, that of reevaluating their destiny and trying to face it.
A two-part production. The two performances are linked by their theme as well as characters, however, since they have different plots, they can be viewed separately.