26 October | 18:00 – Odeon Theatre, Majestic Hall
26 October | 21:00 – Odeon Theatre, Majestic Hall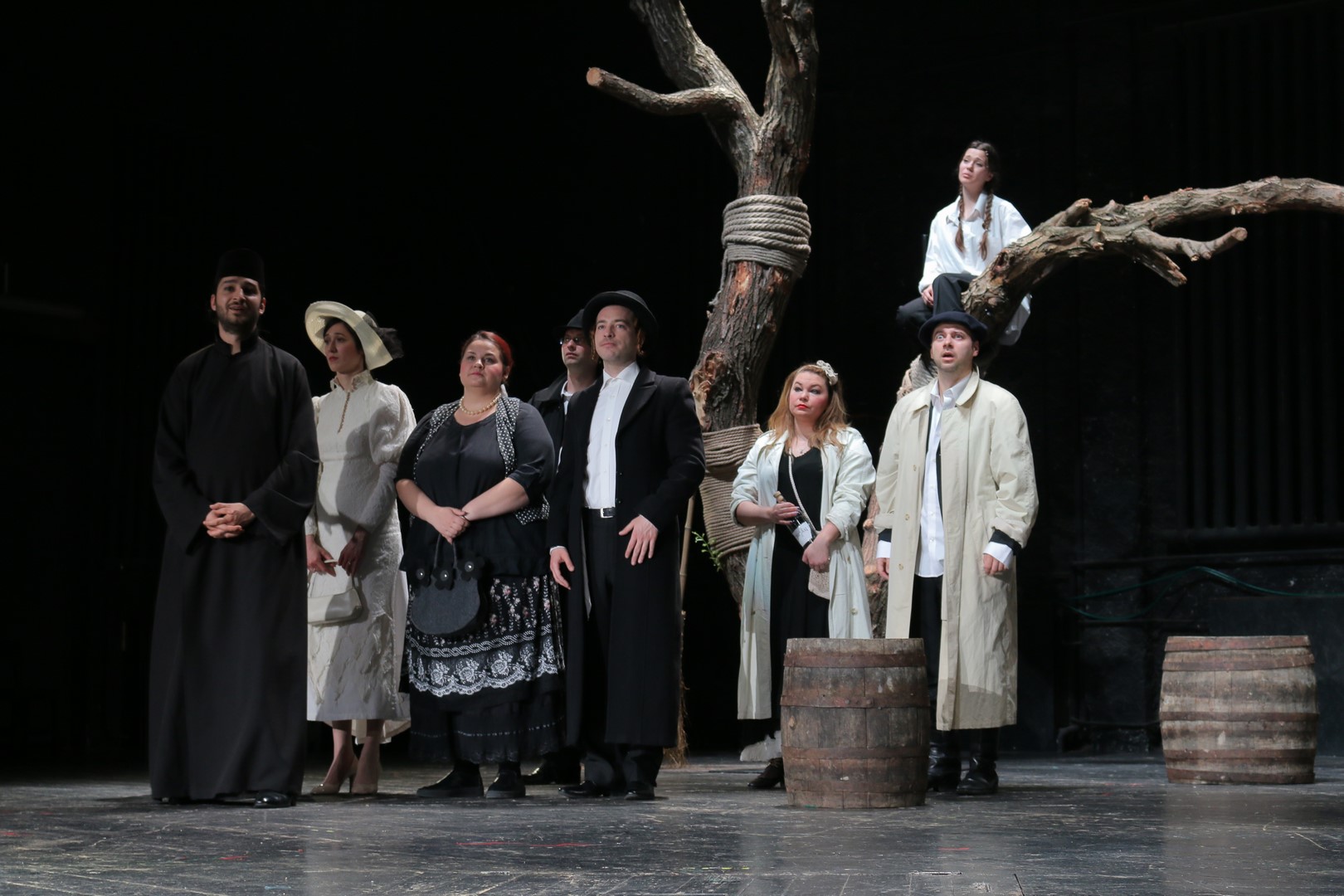 The first comedy on Alecsandri's original themes is "Iorgu of Sadagura" also known as "A Grandson Is like Butcher's Prickwood", which reflects the contradictions in the society of the past, the conflicts between the old and the new.
Adapted/Dramatized by : Alexandru Dabija
Cast:
Enachi Damian: Lucian Pînzaru
Damian' Grandson: Florin Toma
Gahița Rosmarinovici: Petronela Buda
Cantor Ieni: Ciprian Brașoveanu
Father Grigore: Radu Horghidan
The Feldsher: Vlad Ajder
Ițic Friedman: Vlad Volf
Baron Forir Von Gartenberg: Ștefan Forir
Mrs. Gângu: Oana Mogoș
Mrs. Gângu's daughter: Flavia Călin
Zoița Kiulafoglu: Elena Anghel
Agamemnon Kiulafoglu: Ionuț Moldoveanu
Godmother, Sutler : Oana Preda
Iftimi, Damian's gypsy: Răzvan Clopoțel
Directed by: Alexandru Dabija
Set Design: Alexandru Dabija
Choreography: Elena Anghel
Original Score:"Crai nou", "1 Mai muncitoresc", "Sârba-n căruță", "Dum-dum-dum, toba bate" (acapela)
Light Design and Sound Design: Alexandru Dabija
Durataion 1 h 50 min  (no intermission)
"Fani Tardini" Dramatic Theatre, Galaţi
Suitable for ages 16 and above
This performance includes non-sexual nudity scenes and access is FORBIDDEN under 16 !
Iorgu, the grandson of Enachi Damian, a scholar educated in an imaginary cultural center, in a superficial type of Sadagura, notices that the city of Iasi is an ankylosed place, where the patterns of the old forms of existence cannot be thrown away by the breath of renewal. Enachi Damian knows well that the pretend-Frenchman Iorgu has to raise his race not through the delivery exercise, which he despises, but through the power of money. A political parody and not only, the play sharply ridicules truths, false prejudices, and amends pretense! For the author, the play becomes the voice by which it makes its views known about the traditions, bads or good habits of the community of those times, seen from the position of the intellectual with acutely critical sense. For the actors involved, the performance is the opportunity of discoveries such as the ones starting from the stage and ending dep in themselves, which brush up their artistic means. For the public, the play will be a good opportunity to enjoy the healthy humour and unmistakable charm and Moldovan speech, the regional dialect.
Foto: Tudor Neacșu