25 October| 20:00 – I.L.Caragiale National Theatre, Big Hall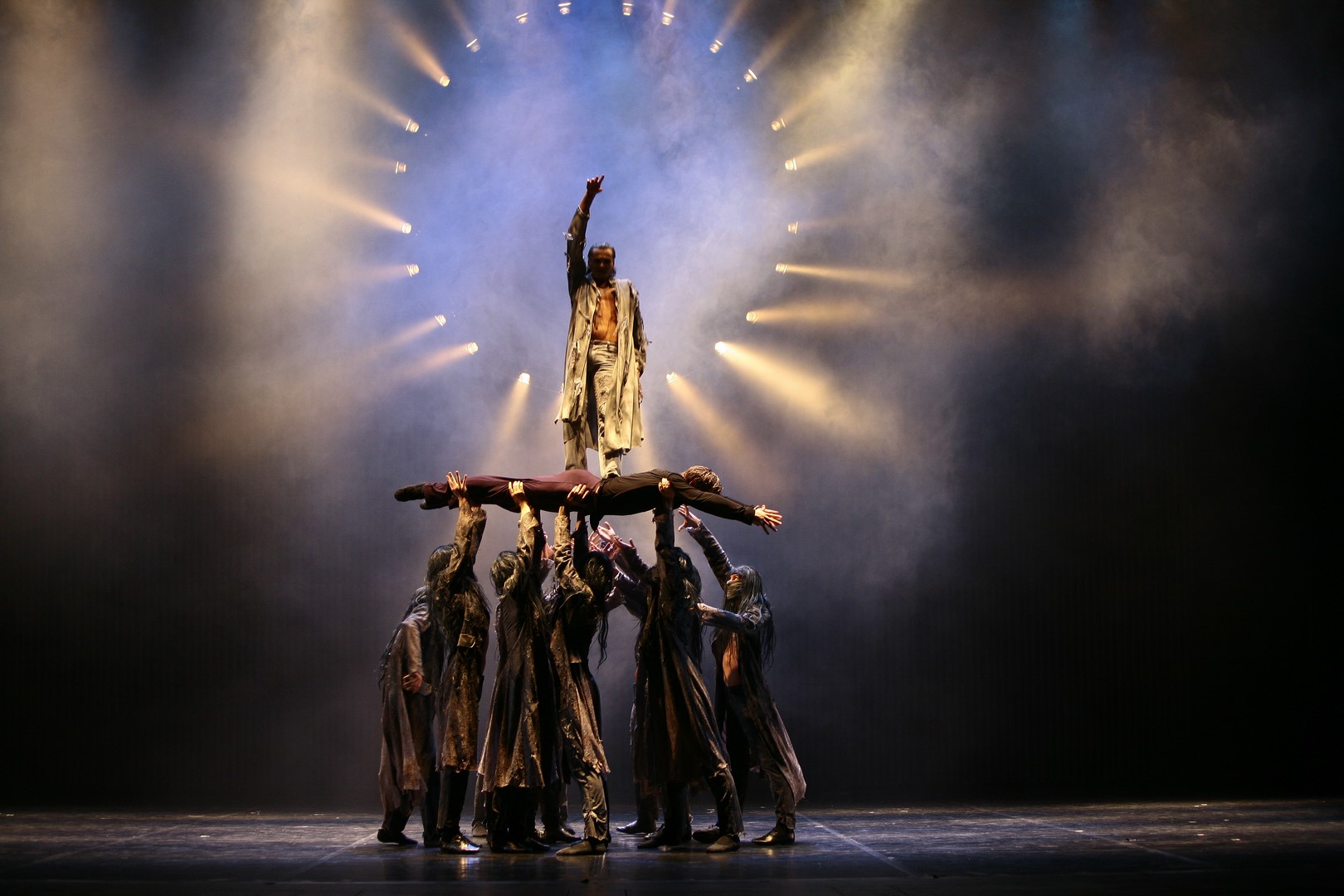 "Eugene Onegin" is the dance version of the the novel in verse by Alexander Pushkin, in which Boris Eifman, one of the world's most praised contemporary choreographers, named "theatrical magician extraordinary" by the New York Post, combines elements of classical and modern dance, in a sound universe in which Pyotr Tchaikovsky alternates with Alexander Sitkovetsky's rock music.
A ballet by : Boris Eifman
Based on the novel in verse by Alexander Pushkin
Soloists
Oneghin: Igor Subbotin
Tatiana/ Tatyana: Laureata Competiției Internaționale de Balet/ International Ballet Competition Laureate, Daria Reznik
Lensky: Dmitry Krylov
Olga: Yana Gordienko
Generalul/ General: Laureatul Premiului Președintelui/ Laureate of the President's Prize, Sergey Volobuev
Company:
Maria Abashova, Lyubov Andreyeva, Lilia Lishchuk, Daria Reznik
Dmitry Fisher, Oleg Gabyshev, Dmitry Krylov, Igor Subbotin, Sergey Volobuev
Marianna Chebykina, Alina Petrovskaya, Angela Prokhorova, Yulia Stolyarchuk
Daniel Rubin, Dmitry Savinov, Alexander Solovey
Elina Akbarova, Elizaveta Averkina, Daria Bochkova, Catarina Coelho, Maria Dovicheva, Alina Fisher, Yana Gordienko, Tifène Haag, Evgeniya Harutyunyan, Valentina Ivanova, Elizaveta Kuznetsova, Anna Ostapenko, Anna Patomäki, Polina Pavlenko, Polina Petrova, Polina Ryasnaya, Yulia Shunkova, Alina Svintinskaya, Valentina Titkova, Anastasia Zaberezhnaya
Ivan Andreyev, Yaroslav Ballod, Alexey Boyarinov, Ivan Chekhlov, Vasil Dautov, Kirill Efremov, Davis Giotopoulos Moore, Evgeny Grachev, Samuel Haramo, Alexander Ivanov, Maksim Midyanka, Denis Pestryakov, Artur Petrov, Igor Polyakov, Oleg Pshenichnikov, Konstantin Savchenko, Evgeny Sergeev, Ilya Trushkin, Alexander Vodiyansky, Rafael Yakshigulov, Vikenty Yascovets
Artistic Director: Boris Eifman
Music: Pyotr Tchaikovsky, Alexander Sitkovetsky
Sets: Zinovy Margolin
Costumes: Olga Shaishmelashvili, Pyotr Okunev, Anna Yakushchenko
Lights: Gleb Filshtinsky, Boris Eifman
Duration: 2 h (with intermission)
Eifman Ballet, Saint-Petersbourg, Russia
Dance performance
"When I rely on great literature in my ballets, I do it in an attempt to express, by means of choreographic art, the emotional impact of the wisdom and creative power of our great predecessors. Word is an instrument of both creation and destruction; it can crush as easily as breathe new life.
The language of body movement, the oldest known way of self-expression, projects universal spiritual and emotional values that anyone can understand. Thus, using a literary source I set myself a specific task: to raise issues that really matter to my contemporaries, and those that can be conveyed solely by the great art of dance.
One may ask: why did I choose Alexander Pushkin's versified novel Eugene Onegin for my ballet? What is important to me in it? Literary critics and scholars have called this book "Encyclopedia of Russian Life". Pushkin, by extraordinarily vivid and scrupulously exact mastery of word coupled with a great talent for psychological insight, depicted the Russian national character of his time, created the poetical image of the Russian soul – mysterious, unpredictable and unparalleled in its sensuousness.
With my art I have always endeavored to decipher the enigmatic Russian soul. My choreographic interpretation of Eugene Onegin is only another attempt to express through dance the mystery of human spirit.
What I've done in the ballet was to place Pushkin's characters in modern times, in new circumstances and conditions that may seem to be more dramatic, sometimes even extreme, when the old world is collapsing and the new reality powerfully imposes new rules. I needed this sort of experiment in order to answer a question that really matters to me: what is the Russian soul today? Has it retained its originality, its mystery, its appeal? What direction would the characters of the novel have opted for today? What in this "Encyclopedia of Russian Life" reflected the times and what remained a pivotal issue for many generations of my compatriots?
The art of choreography does not provide us with solutions to the challenges faced by our society. Yet, by tackling them in a creative way, assessing and analyzing them, we contribute to its development and improvement." (Boris Eifman)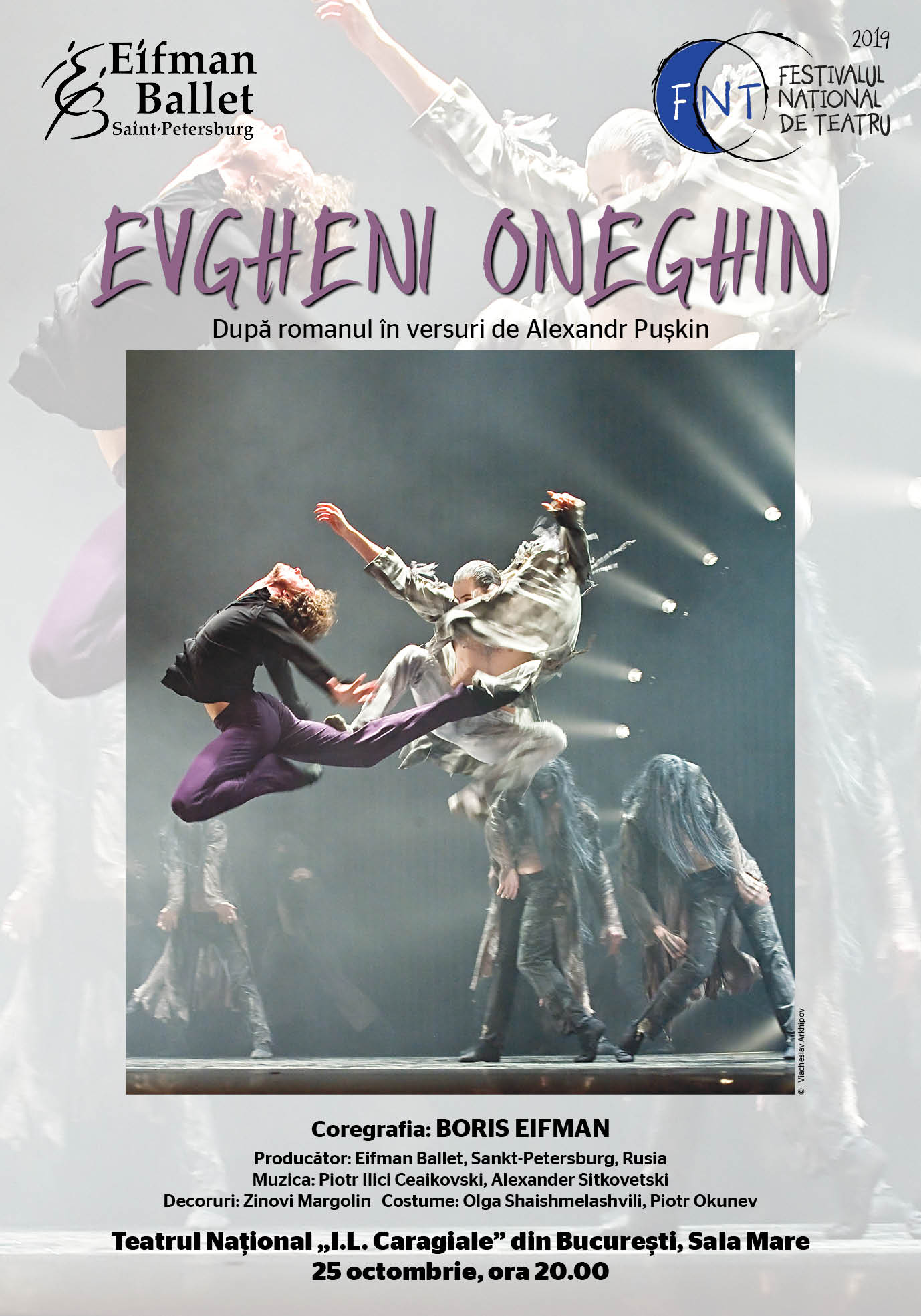 Cover foto credit: Dmitry Sobolev