24 October| 10:30 – Conference, "In the Universe of Maguy Marin" – NTF HUB , Big Hall
                                                                                     11:30 – Film screening,, "Maguy Marin – L'urgence d'agir" – NTF HUB , Big Hall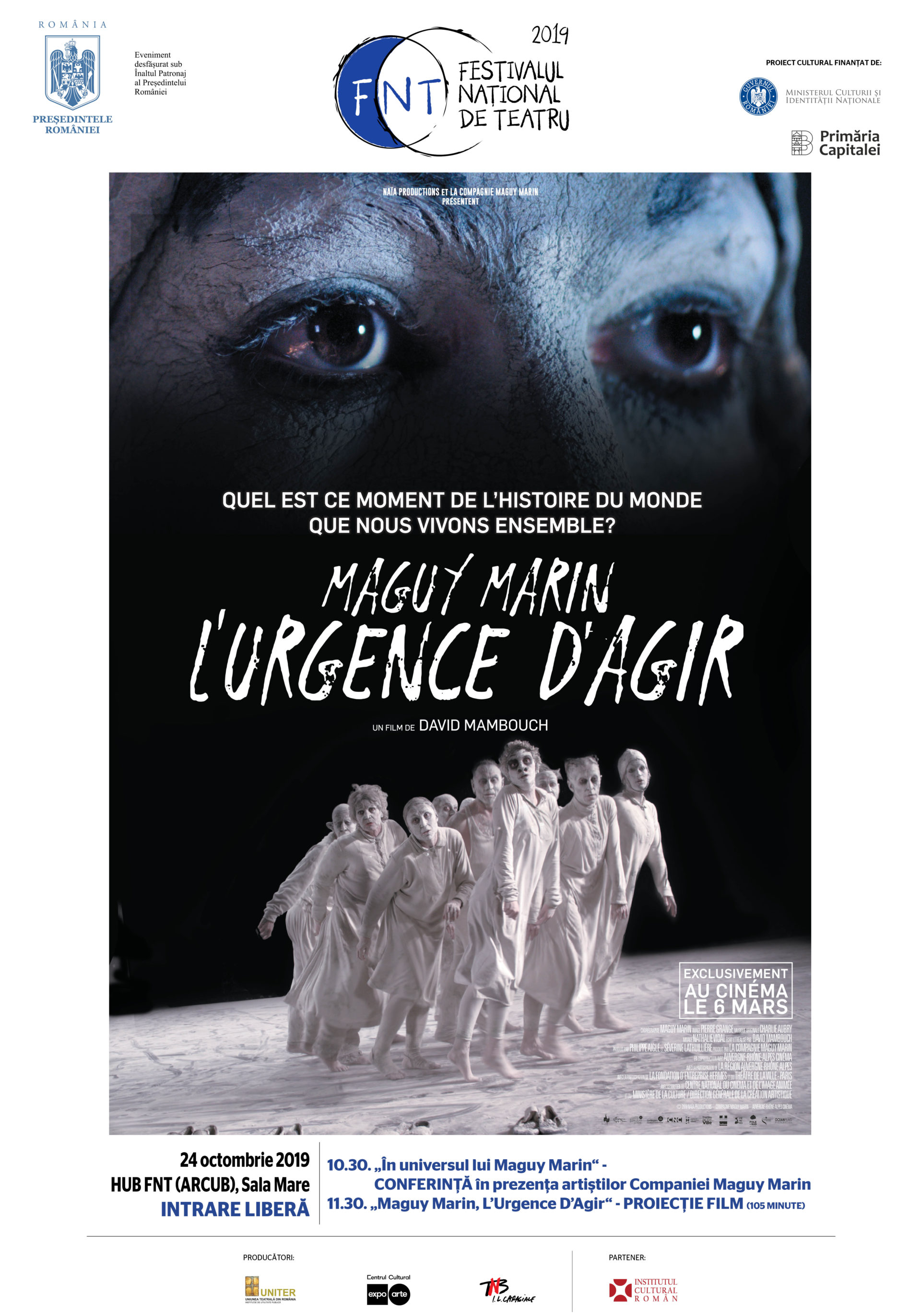 Wishing to mark the presence in the National Theatre Festival 2019 of an extrordinary company – Compagnie Maguy Marin – and to create a comprehensive vision of the phenomenon represented by "May B", a reference point in contemporary dance, the National Theatre Festival has scheduled a special event on October 24.
The Big Hall of the National Theatre of Bucharest hosts the screening of "Maguy Marin – L'urgence d'agir", a film by David Mambouch. The motto on the film poster thoroughly explains the importance of this European cultural event: "What is this moment in history we are living together?"
Maguy Marin is one of the artists leaving deep traces and shaking up destinies. She has been one of the most important choreographers of the global stage for over 35 years. She was born in a family of Spanish immigrants. Her work is metaphorically comparable to a joyful, yet furious fist to the face of barbarity. Her career, as well as political statements, impel to bravery, boldness, and fight.
Today, more than ever, she is strongly determined to invest in children and to give further her know-how. In 1981, her cult performance "May B" is an upheaval in the contemporary dance milieu, a blast whose echo can still be heard today.
Maguy Marin's work is a vast movement of bodies and hearts, an adventure of our time, recorded and transmitted through film images, by combining grace and fury, art and politics, with "May B" at its core.
 The screening will be preceded by the conference 'In the Universe of Maguy Marin', in the presence of the artists Laure Delavier, Ulises Alvarez, Louise Mariotte and Laura Frigato, members of Compagnie Maguy Marin.
Written and directed by: David Mambouch
Choreography: Maguy Marin
Camera: Pierre Grange
Original Score: Charlie Aubry
Editing: Nathalie Vidal
Producers: Philippe Aaigle, Séverine Lathuillière (La Compagnie Maguy Marin)
Co-produced by: Auvergne-Rhône-Alpes Cinéma
With the participation of: La Région Auvergne-Rhône-Alpes / La Fondation D'entreprise Hermès / Théatre de la Ville – Paris
With the support of: Centre National Du Cinéma Et De L'image Animée / Ministère de la Culture – Direction Générale de la Création Artistique
1 h 30 min (no intermission)
France 2019