fnt.ro
Between 18 and 27 October 2019, the 29th edition of the National theatre Festival will bring to Bucharest prestigious international theatre productions, following the tradition of bringing world famous performances to Bucharest which was inaugurated in 2006 by critic Marina Constantinescu, in her first mandate as the Director of the Festival. Here are the foreign performances selected by Marina Constantinescu to be part of NTF 2019:
MAY B 
Choreography: Maguy Marin
Costumes: Louise Marin
Co-production: Compagnie Maguy Marin and Maison des Arts et de la Culture de Créteil, France
The performance had its premiere on 4 November 1981, at the Théâtre Municipal d'Angers – France.
With well over 500 performances internationally in 25 years of success, "May B" represents an extremely rare phenomenon, a contemporary dance performance on stage for almost 40 years, in more than 40 countries worldwide. The creation of famous choreographer Maguy Marin, beyond being a bestseller of contemporary dance, has become a historic reference point, a tragic saga of a terrifying humanity. "«May B» is a piece of humanity: an archaic chorus of characters who seem shaped in clay, timeless witnesses of an infinite wandering", confessed Maguy Marin, who also added: "Maurice Béjart worshipped the body. Everything was youth, virtuosity, radiance. I, for one, wondered about the other bodies, the stumbling, petrified, clumsy bodies that can hardly stand…" said Maguy Marin, who added: "With Maurice Béjart, the body was worshipped. Everything was youth, virtuosity, radiance. I wondered what about the other bodies, the limp, the stoned, the clumsy bodies which can hardly stand…"
Samuel Beckett's work inspired Maguy Marin to create her broken lives which celebrate a unique, excruciatingly burlesque form.
"MAY B" the theatre and dance performance is scheduled in the NTF programme on Wednesday 23 October at 9 p.m., in the Studio Hall of the "I.L.Caragiale" National Theatre, Bucharest.
Choreographer Maguy Marin's longeous stage production career will be illustrated by Jean Louis Fernandez and Laurence Danière, open to the public from 18 to 27 October 2019, in the Foyer of the Studio Hall of the National Theatre, Bucharest.
Moreover, aiming to offer an even larger vision of the phenomenon represented by this reference point of contemporary dance, the National Theatre Festival has scheduled for 24 October at 12.00 in the NTF HUB, the Big Hall of ARCUB, the screening of a film by David Mambouch called "Maguy Marin – L'urgence d'agir". The motto on the poster of the film fully explains the importance of this European cultural event: "Which is the moment in the world history which we live together?"
The theatre-dance performance "MAY B", the photography exhibition and the film which you are going to watch at this edition of the festival mark the main event of the NTF. Marina Constantinescu, the director of the Festival, who changed the NTF image, chose it starting precisely from the performance that she attended last winter at the Théâtre de la Ville Paris, on the 50th anniversary of the institution. In the foyer of the prestigious theatre, there was a unique exhibition of photography of the artists as they were preparing for "MAY B". one of those photos, taken by Louis Fernandez, has become the image of the NTF 2019. Marina Constantinescu was impressed by its message. "It was precisely what I was looking for. "MAY B" talks about school, tradition, model, rigour. What the Romanian theatre does brilliantly and has been doing in freedom after the fall of the Iron Curtain." (Marina Constantinescu)
CE QUE LE JOUR DOIT À LA NUIT / WHAT THE DAY OWES TO THE NIGHT / CEEA CE ZIUA DATOREAZĂ NOPȚII
A performance by: Hervé Koubi
Produced by: Compagnie Hervé Koubi, France
Premiere: 31 January 2013, at the Pavilion Noir d'Angelin Preljocaj – Centre of Excellence in the Art of Dance, Aix-en-Provence, France.
                                                 CE QUE LE JOUR DOIT À LA NUIT. Foto: Liliana Mora
The choreographic performance "Ce que le jour doit à la nuit" by Hervé Koubi is an outstanding example of art dedicated to the ancestral memory of mankind – as part of a community, as much as at the individual level.
In order to talk about his Algerian origins, French-born choreographer Hervé Koubi chooses Dance. As the young boy, an ordinary hero from the eponymous novel by Yasmina Khadra, Hervé Koubi embarks as an explorer of his own history.
Twelve Algerian and Birkina Faso dancers, mostly coming from street dance, from hip-hop, have furnished the necessary effort for this long-term project. Fed by Orientalist paintings, the stone filigree of Islamic architecture, Koubi traces his own path, made of entanglements, a complex weave. "Ce que le jour doit à la nuit" is a story about roots, bonds, time, humanity.
"It is like an orientalist of the 19th century came to Algeria to give life to his dreams of the Orient; I would like to give life to my dreams as a child born in France, and who discovered belatedly his true origins and those of his parents, Algerians from birth." (Hervé Koubi)
"What The Day Owes to the Night" is scheduled on Friday 18 October starting at 8.00 p.m., in the Big Hall of the "I.L.Caragiale" National Theatre, Bucharest.
The day prior to the performance, on 17 October, choreographer Hervé Koubi invited 25 Romanian choreographers and dancers to attend a theoretical presentation of his artistic approach and practical exercise of few fragments of his show.
EUGENE ONEGIN / EVGHENI ONEGHIN
Based on the novel in verse by Alexander Pushkin
Choreography: Boris Eifman
Producer: Eifman Ballet, Saint-Petersburg, Russia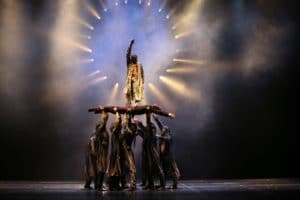 EVGHENI ONEGHIN. Foto: Dmitry Sobolev
The performance is the dance version of Alexander Pushkin's novel in verse. Boris Eifman, one of the greatest contemporary choreographers, called "theatrical magician extraordinary" by the New York Post, combines elements of classical and modern dance, in a sound universe in which Pyotr Tchaikovsky's music alternates with Alexander Sitkovetsky's rock. Eifman's version is an ingenious and refined contemporary interpretation of a well-known classical story imagined two centuries ago by unrivalled Pushkin.
Boris Eifman is the founder and artistic director of Eifman Ballet Company, Saint Petersburg, Russia. Born in 1946 in Siberia, he attended the Leningrad Conservatory, then the Vaganova Ballet Academy. In 1977, he started creating for his ballet dancers ensemble, later called ballet theatre. The change in name reflects Eifman's essential creation formula, which aims and fully succeeds in transmitting emotion, energy and ideas, through body language, actors, lights and sets, intertwined with Russian ballet tradition and modern technology.
"When I rely on great literature in my ballets, I do it in an attempt to express, by means of choreographic art, the emotional impact of the wisdom and creative power of our great predecessors. Word is an instrument of both creation and destruction; it can crush as easily as breathe new life.
The language of body movement, the oldest known way of self-expression, projects universal spiritual and emotional values that anyone can understand. Thus, using a literary source I set myself a specific task: to raise issues that really matter to my contemporaries, and those that can be conveyed solely by the great art of dance. One may ask: why did I choose Alexander Pushkin's versified novel Eugene Onegin for my ballet? What is important to me in it? Literary critics and scholars have called this book "Encyclopedia of Russian Life". Pushkin, by extraordinarily vivid and scrupulously exact mastery of word coupled with a great talent for psychological insight, depicted the Russian national character of his time, created the poetical image of the Russian soul – mysterious, unpredictable and unparalleled in its sensuousness.
With my art I have always endeavored to decipher the enigmatic Russian soul. My choreographic interpretation of Eugene Onegin is only another attempt to express through dance the mystery of human spirit." (Boris Eifman)
"Eugene Onegin" is scheduled at the NTF on Friday, 25 October, at 9.00 p.m., in the Big Hall of the "I.L.Caragiale" National Theatre, Bucharest.
RICHARD III OR ABOUT POWER AND ITS MANIPULATORY FORCE
For the first time in the NTF, in the same sets, two versions of a theatre performance by the same author, created on two different European stages, one year apart one from another, with two different theatre companies. Director Andrei Șerban worked on William Shakespeare's famous "Richard III".
The stage versions belong to "Radnóti Miklós" Budapest, Hungry and to "Lucia Sturdza Bulandra", Bucharest.
"Richard III brings to light a world that the author almost photographed, similar to a document of his time. The minute report is not only political and social. It is another mirror of the soul, stressing new and shocking aspects of the reasons which caused the disaster not only at an individual level, but also of a country in ruin." (Andrei Şerban)
SHAKESPEARE: RICHÁRD III – by William Shakespeare
Translated and adapted by: István Vas, Andrei Șerban, Daniela Dima
Directed by: Andrei Şerban
Costumes: Nagy Fruzsina
Light Design: Baumgartner Sándor
Produced by: "Radnóti Miklós" Theatre Budapest, Hungary
Premiere: 17 February 2018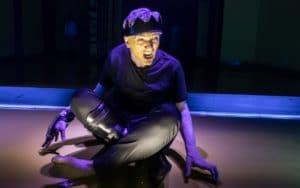 The performance SHAKESPEARE: RICHÁRD III is scheduled on Tuesday, 22 October, at 7.00 p.m., in the "Liviu Ciulei" Hall of the Bulandra Theatre, Bucharest.
*
RICHARD III – by William Shakespeare
Translated and adapted by: Daniela Dima
Director and Set Designer: Andrei Şerban
Costumes: Fruzsina Nagy
Light Design: Andrei Şerban
Produced by: "Lucia Sturdza Bulandra" Theatre, Bucharest
Premiere: 15 March 2019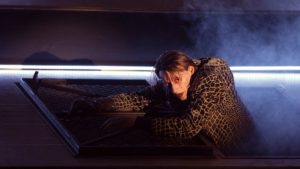 Foto: Livia Vișănescu
"RICHARD III" performed by the Romanian artists is scheduled in the NTF on 20 October at 7.00 p.m., in the "Liviu Ciulei" Hall of the Bulandra Theatre, Bucharest.
The two performance will be followed by a challenging debate, starting from the topics of Shakespeare's text and the way Andrei Șerban worked on them. The debated, called "RICHARD III OR ABOUT POWER AND ITS MANIPULATORY FORCE" will take place on Wednesday, 23 October, at 11.30 a.m., in the "Liviu Ciulei" Hall of the Bulandra Theatre, Bucharest.
The protagonists of the two theatre companies (Radnóti and Bulandra) will join director Andrei Șerban for the debate.