26 October| 19:00 – ARCUB – The Cultural Centre of Bucharest, Big Hall
27 October| 19:00 – ARCUB – The Cultural Centre of Bucharest, Big Hall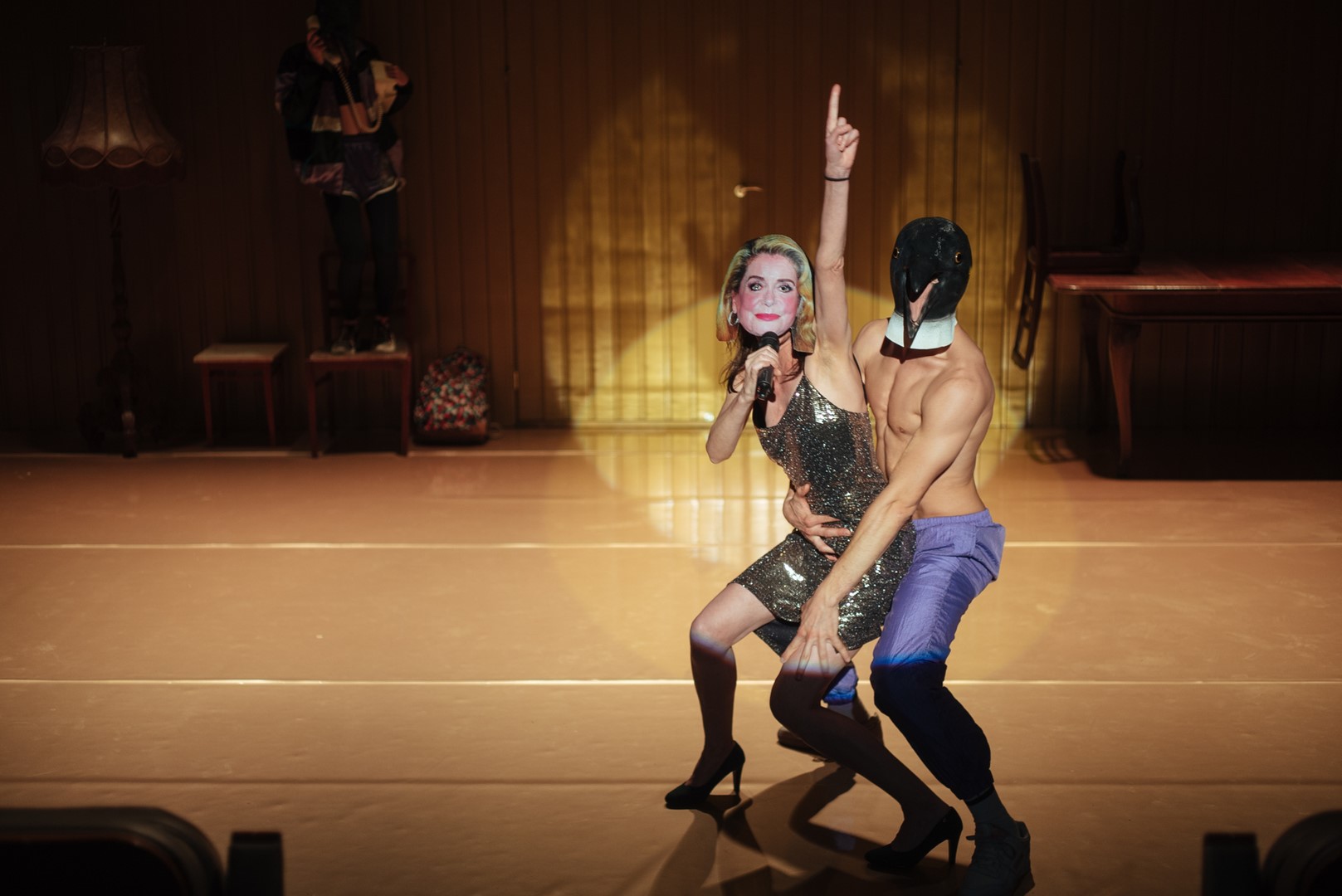 While all kinds of nationalist movements make our old continent shiver, two artists, one from Romania and the other from France, bring together actors from the two countries to raise a question about the European values and the status of theatre, in the context of the social and political changes nowadays.
Staging: Yann Verburgh
Cast:
Olga / Corina / Big Penguin Sister: Ioana Bugarin
Irina / Mother Penguin's Mother: Clémence Laboureau
Ștefan / Little Penguin Brother: Nicholas Cațianis
Arlequin / Youngest Penguin Brother: Radouan Leflahi
Masha / Penguin Mother: Ilinca Manolache
Flaminia / Imaginary friend of the Youngest Penguin Brother: Claire Puygrenier
Penguin Father (video): Alex Călin
Directed by: Eugen Jebeleanu
Set Design: Velica Panduru
Set Design Assistants: Ana Ienașcu, Nina Tanné
Light Design: Marine LeVey, Alexandru Macrinici
Sound creation: Remi Billardon
Duration: 2 h 30 min  (no intermission)
ARCUB –  Bucharest Cultural Centre and Compagnie des Ogres
In Romanian, English, French, German and Berber
The surtitles are part of the multi-lingual concept and ensures the public's understanding of all the moments of the performance.
Suitable for ages 18 and above
From East to West, from Bucharest to Paris, the theatre of Eugen Jebeleanu and Yann Verburgh takes out from the actuality, and from the performers' lives, the essence of their fiction, dealing with corruption, migration, melting of the ice cap in Greenland.
The performance begins with a fable describing an emperor penguin family leaving the Land of Ice for a place where they hope to find a better life and a brighter future for their cubs. From here, by an inlaid writing, arise a lot of multilingual scenes, in which languages confront, understand each other and reply to one another, in a journey between reality and fiction, fairy tale and document, character and personal life, alterity and identity. The testimonial monologues of the actors become indignation and a manifesto of the citizen-artist, caught between power relations and performing codes, looking for his place on stage and in society.
 "Itinerary. One Day The World Will Change" is a statement performance about the identitary construction of a changing territory and to the fight mechanisms between the individual and the community, in a permanent game which explores our intimate frontiers as compared to the ones that set the limits of 21st century Europe.
In co-production with Maison de la Culture d' Amiens, Le Phénix Scène nationale Valenciennes, Théâtre de Choisy-le-Roi, Le Gallia Théâtre, La Comédie de Béthune and Centre Dramatique National du Nord-Pas-de-Calais, with the support of the La Chartreuse de Villeneuve-les-Avignon, Le centre national des écritures du spectacle, of SPEDIDAM and of POROSUS Donations Fund. It is one of the events organized on the occasion of the 2019 Romania-France Season, with the support of the French Institute and the Comité des Mécènes of the 2019 Romania-France Season, chaired by Frédéric Oudéa, general manager of Grupului Société Générale.
Foto: Adi Bulboacă