20 October| Vernissage: 11:00 – NTF HUB, 'Coloane' Hall
21 – 27 October|  NTF HUB, 'Coloane' Hall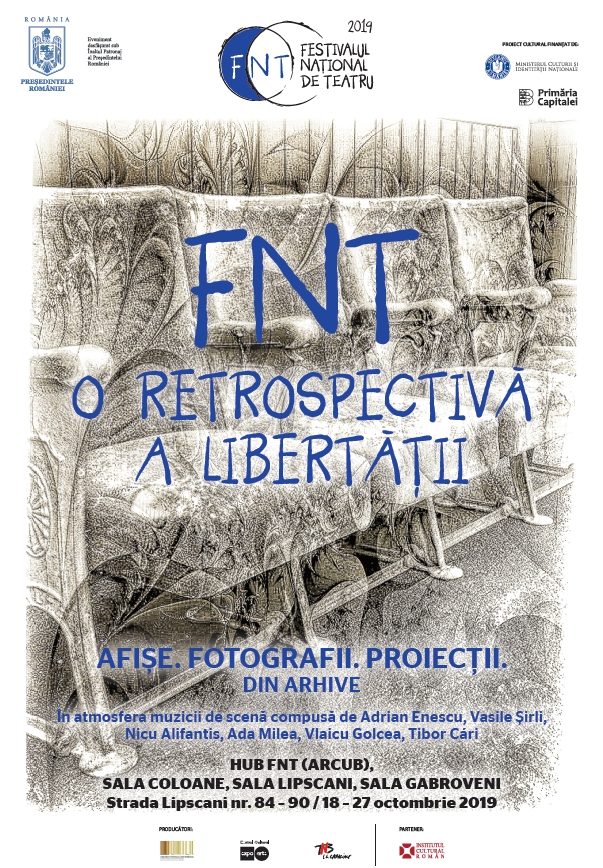 This year's NTF edition is dedicated to the 30 years since the events of December 1989, which put Romania back on the democratic map of the world. And theatre, regardless of the stories described, is always about the here and the now.
This exhibition aims to capture the magical and ephemeral moment of the theatre, in order to keep it alive in the memory of the visitor through photos, posters, and sounds – fragments that are part of a story of the Romanian theatre.
By following these images – regardless of their means of display – one can recompose and redefine the route of the Romanian theatre after the moment of the radical changes of 1989: tendencies, directions, disruptions, the strength and maturity of some directors, the debut of others, their evolution… It is an exercise for memory and its importance. Because, if we do not rely on memory and landmarks, we eventually forget who we used to be and we will not know who we are, neither today, nor tomorrow… Without memory, we have no chance to go further.
From the perspective of the National Theatre Festival, it is an important effort to find and retrieve those testimonies. In the new millennium, the world has changed radically: this is why we forget (in the exhaustive opulence of the present), that digital photography did not exist until recently, nor did electronically assisted print materials or pocket-size computers. We forget that photography was stingily executed on film, and that posters were hand-made, drafted in pencil, on the board. We forget that archives were at the mercy of the paper, and that archiving was volumetric. In addition to that, the present moment was rather lived than immortalized for posterity. That is why access to tangible information can be unbelievably difficult. That is also why focus on a particular moment in time may seem uneven in this retrospective exhibition, which tries to provide the viewer with an overview of the size of the Romanian theatre, in a moment of reflection and analysis.
The exhibition dedicated to the memory of the theatre history during 30 years of freedom displays over 200 posters, photographs, and screenings from the archives, including those of the National Theatre Festival.
The exhibition offers a wide selection of theatre posters from the last 30 years, NTF posters, posters of foreign performances invited to the Festival over the years, or those of valuable exhibitions that have often accompanied the Festival events. We also programmed several screenings – in digital format – of a series of stage or behind-the-scenes photos, captured during the 29 editions of the NTF. In order to facilitate the immersion of the spectator into the convention of this universe of memory, music composed for the plays will resonate in the exhibition halls. The excerpts belong to well-known composers, such as: Vasile Șirli, Adrian Enescu, Nicu Alifantis, Ada Milea, Vlaicu Golcea, Tibor Cari etc.