19 October| 18:30 – Metropolis Theatre, Olga Tudorache Hall
20 October| 19:00 – Metropolis Theatre, Olga Tudorache Hall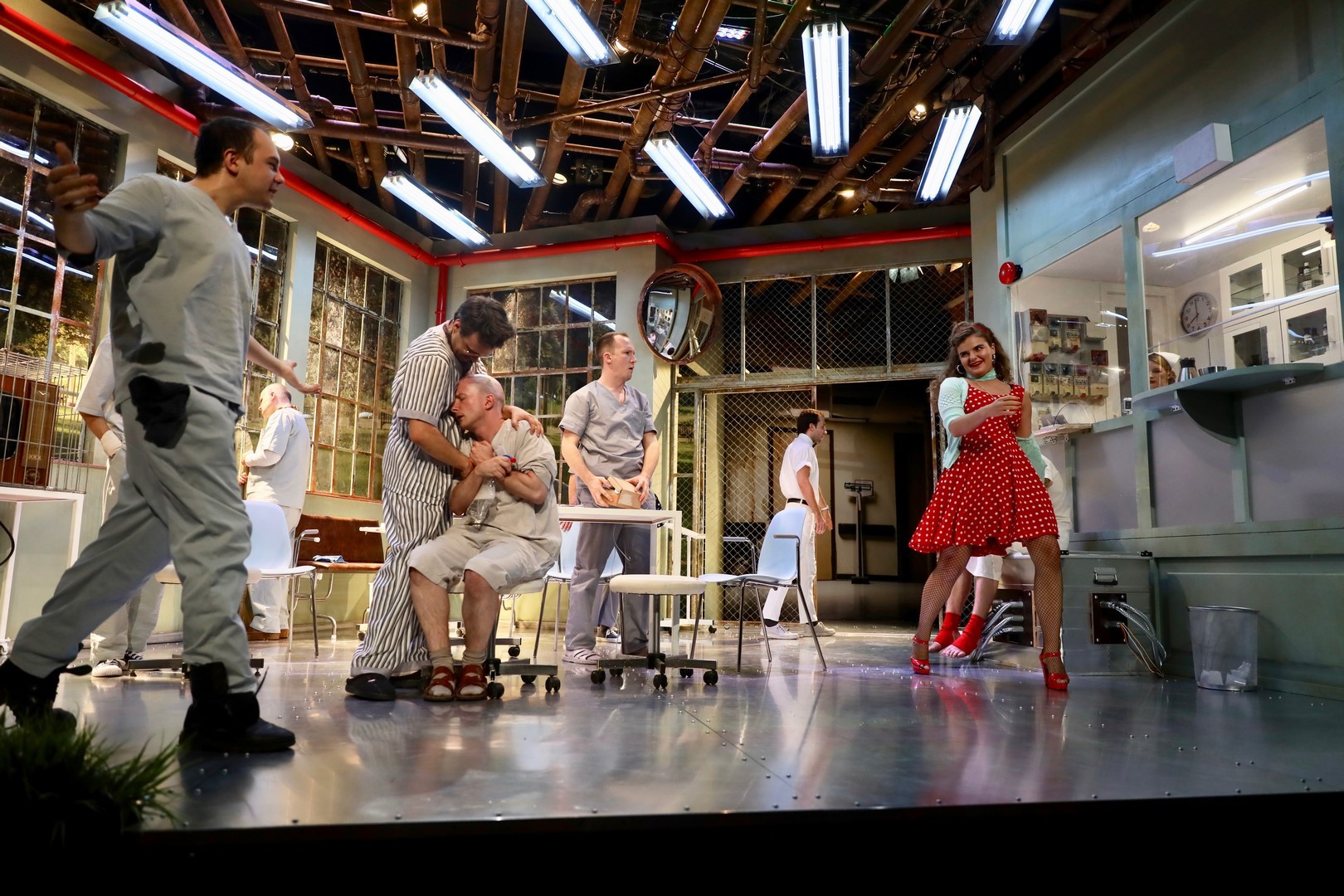 One Flew Over the Cuckoo's Nest, the novel by Ken Kesey was at a time considered the most important literary work describing the psychiatric institutions in The United States.
Translated by Adrian Nicolae
Cast:
Chief Bromden: Alin Florea
Dale Harding: Sorin Miron
Billy Bibbit: Voicu Aaniței
Scanlon: Codrin Boldea
Cheswick: Adrian Nicolae
Martini: George Costin
Ruckly: Carol Ionescu
Randle P. Mcmurphy: Andrei Huțuleac
Aide Warren: Andrei Redinciuc
Aide Williams: Sorin Flutur
Dr. Spivey: Alexandru Pavel
Chief Nurse Ratched: Nicoleta Hâncu / Corina Moise
Nurse Flinn: Alexandra Colci
Guardian Turkle: Ionuț Iftimiciuc
Candy Starr: Ana Crețu
Sandra: Nicoleta Hâncu / Corina Moise
Alex, an aide: Alexandru Grădinaru
An indian child: Anton Miron-Presan
Tudor, a patient: Tudor Cucu Dumitrescu
A Patient: Petronela Purima
Directed by: Victor Ioan Frunză
Set Design: Adriana Grand
Casting: Alexandru Pavel, George Costin
Light Design: Victor Ioan Frunză
Original Score: Andreea Csibi
Duration: 2 h 45 min / (with intermission)
Metropolis Theatre, Bucharest
Suitable for ages 16 and above
Adapted into a play by Dale Wasseman, the action is focusing the attention on the obssesive compulsive chief assistant Ratched, aiming to control everyone, opposing Randle McMurphy, a hustler with a noble heart. The director Victor Ioan Frunză focuses his attention towards the struggle and the power issues, and the price needed to be paid in order to obtain it. Uniquely flavoured by live music, "One Flew Over the Cuckoo's Nest" emerges as one of the most powerful and earth-shattering stories ever written, and reminding, through its quality and homogenity, of the spectacular theatre performances of the 1980s.
Foto: Adriana Grand