24 October| 18:00 – Bulandra Theatre, Liviu Ciulei Hall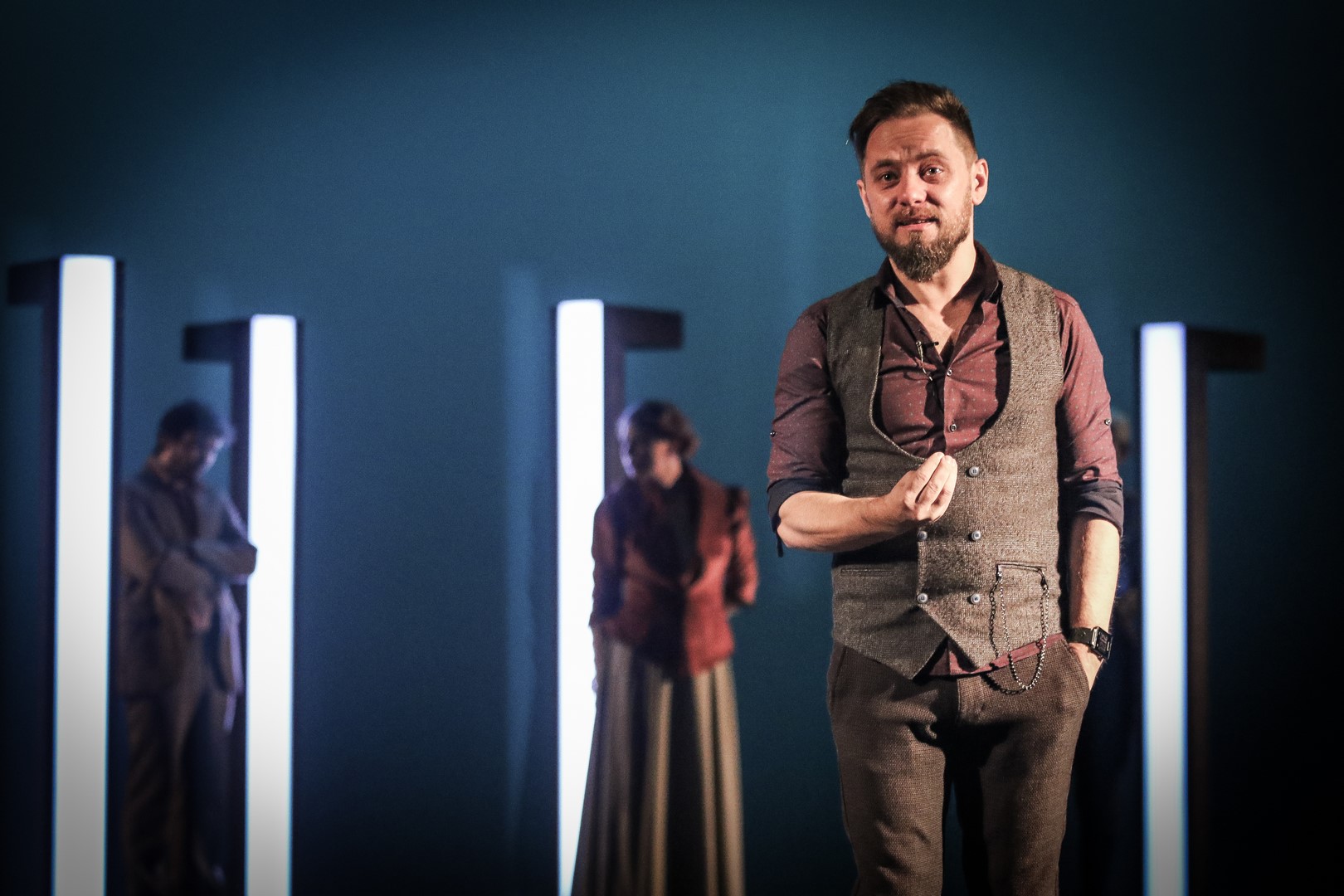 An empty stage. A boy plays an old piano. Some actors are getting ready for a show, they warm up, tune their instruments. They're waiting for something. And we, the audience, are waiting with them.
Adapted/Dramatized by Dálnoky Réka & Vladimir Anton
Hungarian version by Benedek Marcell
Romanian version by Radu Lupan
Cast:
The Director: Barabás Árpád
Mr. Webb: Dunkler Róbert
Mrs. Webb: László Kata
Mr. Gibbs: Szűcs-Olcsváry Gellért
Mrs. Gibbs: Bekő Fóri Zenkő
George Gibbs: Jakab Tamás
Emily Webb: Kőmíves Boróka/Nagy Xénia-Abigél
Rebecca Gibbs: Kőmíves Boróka/Nagy Xénia-Abigél
Simon Stimson: Pál Attila
Howie Newsome: Esti Norbert
Mrs. Soames/Professor Willard: Pál-Varga Márta
Police Officer Warren: Tóth Árpád
Prompter: Pásztor Márk
Little Girl: Dunkler Helka
Wally Webb: Dunkler Krisztián
Joe Crowell: Szűcs-Olcsváry Zete
Si Crowell: Szűcs-Olcsváry Zámor
"Balázs Ferenc" Mixed Choir: Bíró Edith, Tóti Ágoston, Crețu Mária, Both Emese, Szőts Gabriella, Nagy Katalin
Students: Márton András, György Laura, Birtalan Alexandra, Jenei Bence, Bereczki-Orbán András, Bereczki-Orbán Péter, Lukács Lilla, Balázs Ádám, Gudor Hunor, Pálfalvi Eneh, Tódor Erika, Péter Mónika, Gelei Erika, Barabás Ágnes, Szőcs Réka, Tifán Gellért, Asztalos Ágota
Music and Sound Effects: Barabás Árpád (vocal), Pál Attila (piano, violin, banjo, double bass), Esti Norbert (vocals, drums, piano), Pásztor Márk (guitar, banjo), Tóth Árpád (double bass), Márton András (piano)
Directed by: Vladimir Anton
Set Design: Szűcs-Olcsváry Gellért
Set Design: Eranio Petrușka
Costume Design: Biró Boglárka
Light Design: Toásó István
Sound Design: Boca Hunor-Lehel
Duration: 2 h 30 min  (with intermission)
"Tomcsa Sándor" Theatre, Odorheiu Secuiesc
In Hungarian with Romanian surtitles
Suitable for ages 12 and above
Are we waiting for the lights to go out? Or the start of the show we bought tickets for? Maybe. Or maybe we're all waiting for something different. Something simpler and more elusive. Something we're a little afraid of, but don't want to admit. Maybe that's why we're nervous.
Suddenly, without any set, the empty stage is transformed into an entire town. A large street crosses it, the street of all our childhoods. The actors become parents, grandparents and neighbours we remember so well. We even seem to recognise the milkman! Our classmates are there as well. We thought we've forgotten them. Oh, how we stuttered when we first fell in love!
When did all of this pass us by? And why didn't we stop for a second to enjoy it?
Is there anyone who understands the joy of life, every waking minute? Only poets and saints… perhaps.
And I start to realise what I was waiting for before the lights went out.