19 October| Vernissage: 11:00 – "I.L.Caragiale" National Theatre, Rotonda Hall
20 – 27 October| "I.L.Caragiale" National Theatre, Rotonda Hall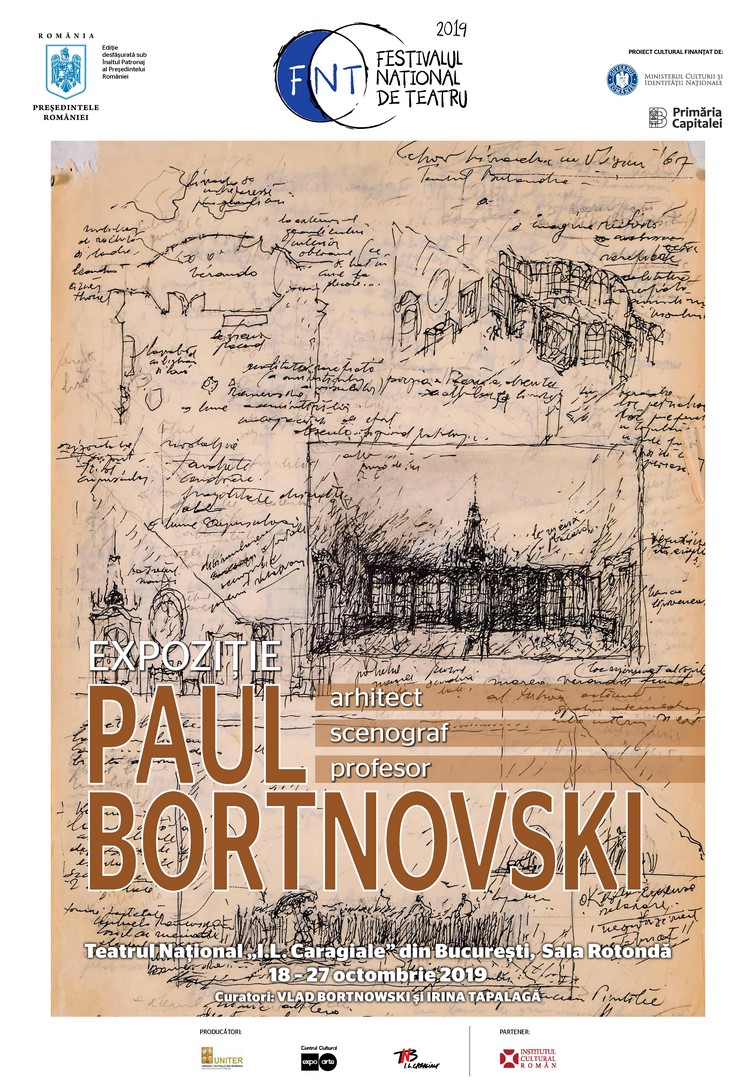 At the Rotonda of the Bucharest National Theatre, the Romanian audience has the opportunity to meet – for the first time in an exhibition space –  the work of the architect and designer Paul Bortnovski.
This gesture of appreciation for a great artist is part of the constant concerns of the National Theatre Festival to appeal to the memory of Romanian values. Thus, it naturally completes a series dedicated to the work of great Romanian designers – started in 2005 with the exhibition dedicated to Vittorio Holtier, and continued with others dedicated to Helmut Stürmer, Doina Levintza, Dragoș Buhagiar, Lia Manţoc.
Curators: Vlad Bortnovski and Irina Tapalagă
"It is a moral duty – besides the professional one – of a national festival dedicated to the theatre to restore in true and fair light complex artistic personalities, as are the great set designers of the performing arts. This event is dedicated to the fascinating artist Paul Bortnovski – one of the most important and inspired designers of the Romanian avant-garde, from a strong School of Architecture; it rounds up the circle we opened back in 2005." – Marina Constantinescu
Paul Bortnovski's creation has marked the world of theatre, film, theatre architecture and design education in Romania in the second half of the 20th century. A complex personality, with a profound modesty, he has attempted and succeeded along his career to find simple technical solutions with deep artistic sensitivity.
The selection of artefacts displayed in the exhibition – chosen from a vast work very difficult to calibrate – was made by the son of the architect, Vlad Bortnowski, who set out to create an emotional route meant to help the viewer enter into the mind and personality of this great artist: "The choice of the presented material, the display modality inspired from some of his sets, the "scenography" of the exhibition hall, were the product of virtual conversations with my father, scrutinized through teamwork with the Festival's curators and the actual construction team." – Vlad Bortnowski
For a creator, the workroom is a special place: research, retreat, introspection, dreaming, and construction of the work. Paul Bortnovski's studio is rebuilt on the 1:1 scale in the very centre of the exhibition: an intimate, austere, creative space. The walls of the room lined with a library full of art catalogues, sketches, photographs and small memories, are brought to the exhibition by a trompe-l'œil effect. The working board, with pencils, heels, rulers (the marks of an architect-visual artist), illuminated by the simple working lamp, made of brass (a personal creation) – also finds its natural place in the studio. His inventive spirit, of a surprising graphic logic, was the inspiration for the panelling on the side walls. Galvanized sheet panels complete the atmosphere of Bortnovski's Universe, on which original sketches are attached with magnets. Simplicity, essence and inventiveness.
The exhibition "Paul Bortnovski: architect. designer. professor." will be open during the whole festival.
*
Location: "I. L. Caragiale" National Theatre in București, Rotondă HAll
Period: 18 – 27 October 2019
Opening hours: Mon-Sun: 11.00 – 18.00