23 October | 11:30 – Bulandra Theatre, "Liviu Ciulei" Hall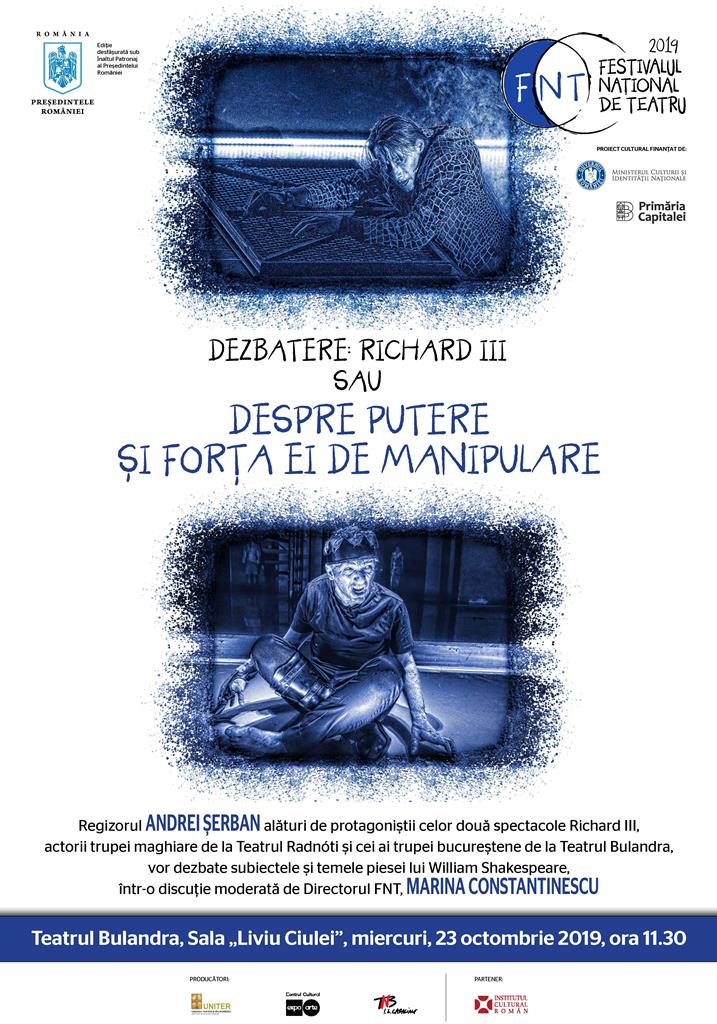 For the first time in the NTF, in the same sets, two versions of a theatre performance by the same author, created on two different European stages, one year apart one from another. Two different theatre companies, one concept.
The National Theatre Festival presents the two stage versions of William Shakespeare's famous "Richard III", directed by Andrei Șerban, with the actors of two theatre companies, "Radnóti Miklós", Budapest and "Lucia Sturdza Bulandra", Bucharest.
On this special occasion, NTF Director Marina Constantinescu and director Andrei Șerban set up a challenging debate, taking as their starting point the plot and the topics of Shakespeare's text and the way in which the director chose to deal with them in two two productions.
The stage of the "Liviu Ciulei" Hall of Bulandra Theatre will host not only the two performances of "Richard III", but also a dialogue moderated by Marina Constantinescu, with special guests: director Andrei Șerban, Daniela Dima, the actors of the two companies: Róbert Alföldi, Eliza Sodró, Adél Kováts, László Zsolt, Marius Manole, Rodica Lazăr, George Ivașcu.
"In 1593 Shakespeare wrote a play about a country rotten by corruption, whose reigns get in the hands of a pervert monster. Today, from America to China, passing through Hungary and Romania, "Richard III" continues to mirror the world we live in.
Marina Constantinescu created a unique coup de théâtre by inviting two famous companies, Bulandra from Bucharest and Radnóti from Budapest to play in the same sets. Is it going to be the same play? We shall see. Working on the two projects, I felt part of the borderless community of art. An profound joy. And, despite the political aspect, I do not believe that theatre can change the world. Instead, it can deeply touch our human core. At least, that is what I hope it does. – Andrei Șerban
In the presence of  director Andrei Șerban and the cast of both "Richard III" performances: Radnóti Theatre, Budapest and Bulandra Theatre, Bucharest