23 October| 18:00 – I.L.Caragiale National Theatre, Big Hall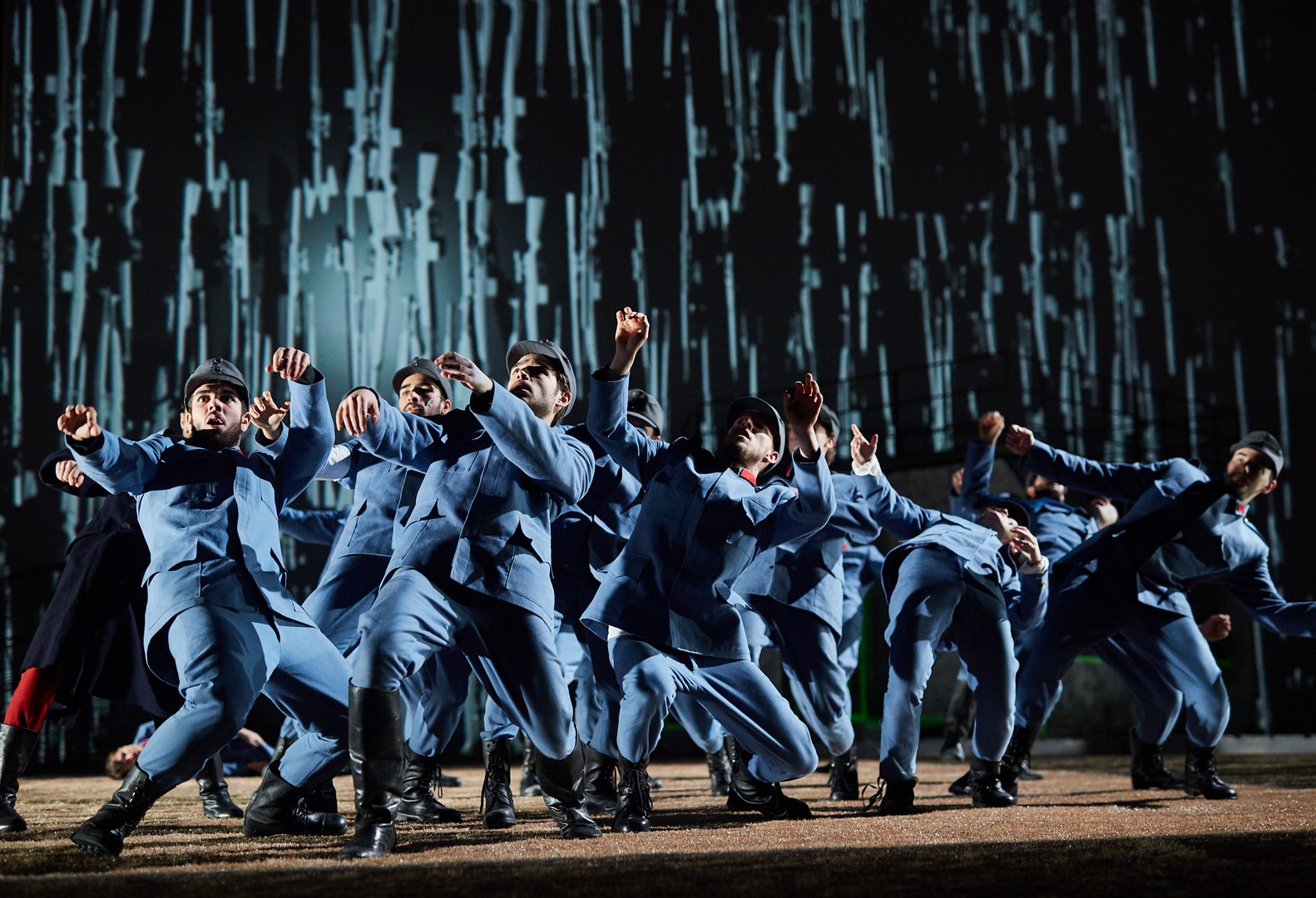 In a world dominated by war and death prowling around, the grandiose Austro-Hungarian Empire is agonizing.  The nations dream of their autonomy by throwing to death soldiers who wear their uniforms on behalf of unknown ideals and of a home which is not theirs at all.
Script by Radu Afrim
Cast:
Apostol Bologa: Alexandru Potocean
Conscience: Marius Manole
Klapka: Richard Bovnoczki
Petre: Ciprian Nicula
Ilona: Raluca Aprodu
Lt. Varga, G-ral Karg: Istvan Teglas
Paul Vidor: Vitalie Bichir
Mrs. Bologa: Natalia Călin
A Peasant Woman: Ada Galeș
Priest Boteanu, a Musician: Florin Călbăjos
Priest's Wife, a Nurse: Alexandra Sălceanu
Corporal, a Musician: Emilian Mârnea
Cervenco: Liviu Popa
Gross: Cristian Bota
A Soldier: Alexandru Chindriș
A Soldier: Octavian Voina
Military Doctor, a Soldier: Andrei Atabay
A Soldier: Vlad Galer
A Peasant Woman, a Soldier: Flavia Giurgiu
A Soldier: Cosmin Ilie
Vasile, A Soldier: George Olar
A Soldier: Ciprian Valea
Teenager, a Soldier: Tiberiu Enache
A Soldier: Silviu Mircescu
A Officer: Bogdan Iacob
Soldier and Poet: Vlad Ionuț Popescu
Interpreters: Lenuța Purja, Teodora Purja
Direction and Sound Universe: Radu Afrim
Assistant Directors: Victor Tunsu, Flavia Giurgiu, Mădălina Ciupitu
Set Design: Cosmin Florea
Set Design Asistant: Gabi Albu
Costume Design Assistants: Andreea Diana Nistor, Alexandra Budianu
Choreography: Andrea Gavriliu
Video Mapping: Andrei Cozlac
Light Design: Mircea Mitroi
Sound Design: Călin Ţopa
Duration: 3 h 30 min  (with intermission)
"I.L. Caragiale" National Theatre, Bucharest
English surtitles
Suitable for ages 14 and above: scenes with an emotional impact, nudity, scenes of a sexual nature, length which is beyond their capacity of attention.
Because of the strobe light effects, of short length and duration, the performance is not recommended to photosensitive and to epileptic persons!
From the depressing picture of a huge artificially contrived conglomerate of peoples built by means of oppression and lies, a series of destinies, love stories and stirring dramas come to light.
The young lieutenant Apostol Bologa, painfully torn between duty and honour, is looking for the truth on the troubled horizon of the war. The hero's moral restlessness is exacerbated when his national identity has to face challenge on the background of the rise of nationalism, and when, being called in the Martial Court, he is asked to oversee the execution of a deserter.
Far away from any form of nationalism, the performance leads us to a lucid reflection on the state of the nation, a clear confrontation with our historical past, a dialogue between the voice of the present and the voice of history. A deaf, whispered or blunt, insinuating or disturbing voice through which the events of a world of massacre are spreading their true name in time, a voice that has the particular temper and intonation belonging to the director Radu Afrim.
Foto: Adi Bulboacă