26 October | 10:30 – 16:00 – Aula of The Ministry of Culture and National Identity
27 October | 10:30 – 16:00 – Aula of The Ministry of Culture and National Identity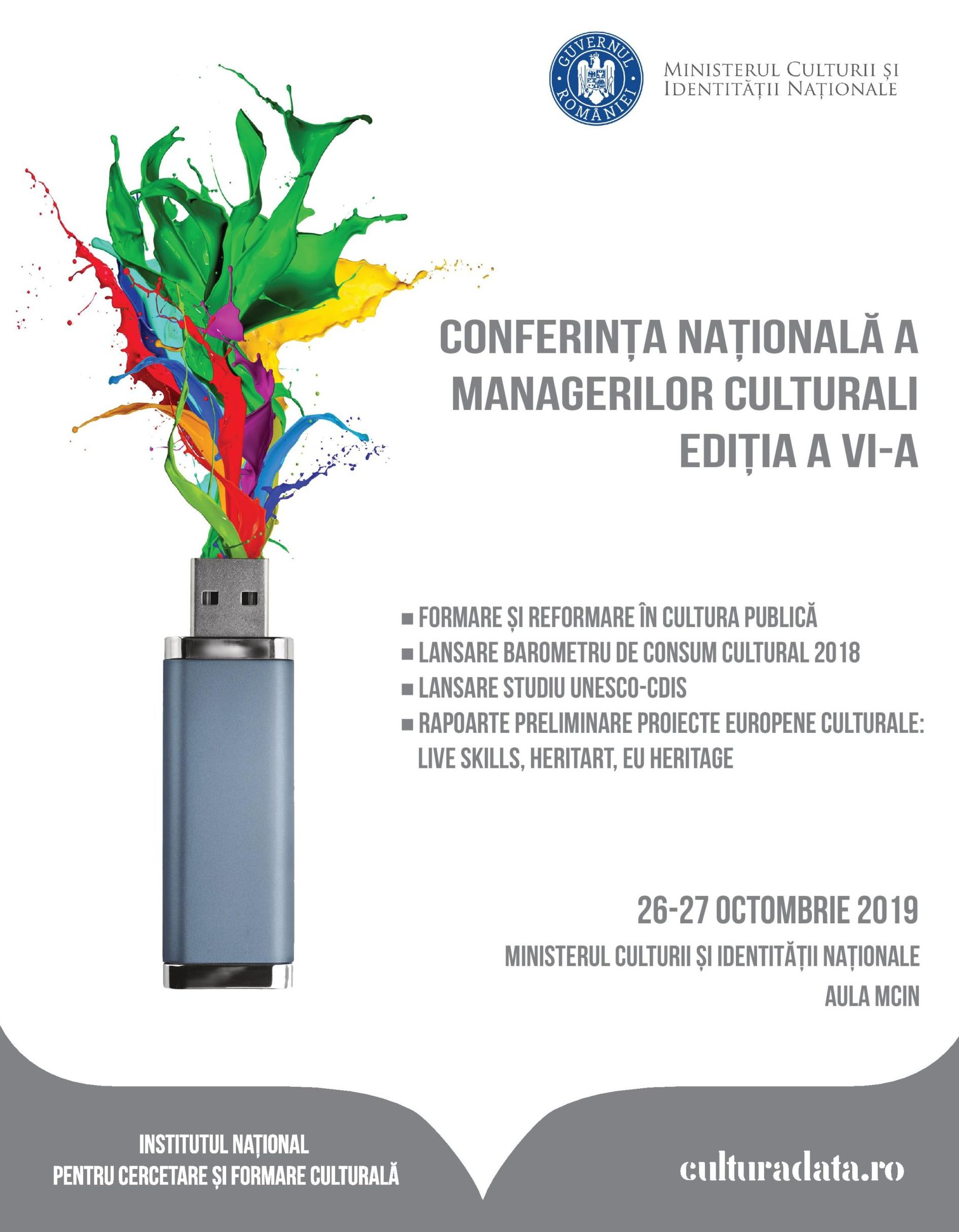 The National Conference of Cultural Managers is the most important event-debate developed by the National Institute for Cultural Research and Training (NICRT), organised each year since 2014. A platform for debate and dialogue, the conference has quickly become the most important reunion of managers from public cultural institutions, of cultural independent entrepreneurs in Romania, of cultural management experts, as well as representatives of funding authorities.
 The theme of the 6th edition is "Training and reforms in public culture".
On this occasion, two of the most important studies of the National Institute for Cultural Research and Training will be released: "The Cultural Consumption Barometer 2018" and "UNESCO Culture for Development Indicators". Another presentation will take place: the preliminary reports of the following European projects: Live Skills, EU Heritage, and Heritart.
The "Cultural Consumption Barometer" is the largest national study, which measures the practices, preferences and trends of cultural consumers in Romania. The 2018 edition of the publication will have as central themes: the analysis of cultural tendencies and practices before and after the context of the celebration of the Centenary of the Great Union; as well as the highlighting of the indissoluble relationship between culture and education.
The "UNESCO Culture for Development Indicators (CDIS)" are an instrument of political support developed between 2009-2014 under the 2005 Convention on the Protection and Promotion of the Diversity of Cultural Expressions. CDIS combine expert knowledge with a proven methodology adapted to the context and needs of low-income countries. The research report for Romania was prepared by the NICRT, in close cooperation with the Ministry of Culture and National Identity.
 The 6th edition of the National Conference of the Cultural Managers is trying to find answers to the following questions:
How can we map Romania's emergencies in terms of positioning its policies and strategies in line with Europe's agenda?
How could we easily identify the qualification needs adapted to new technologies?
How could we rebuild the connection between education and culture, as fundamental areas of social impact?
 We invite you to discuss and come up with solutions to all these topical issues, together with representatives of the academic environment, interested bodies and organizations, cultural institutions and cultural operators.