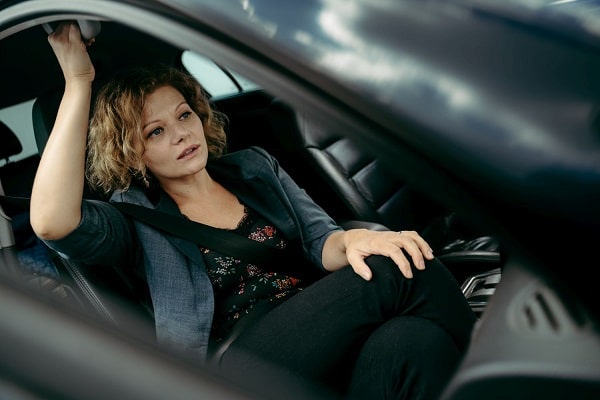 The show has been available

for viewing from Tuesday, November 9, from 21.00, until Thursday, November 11, at 21.00.

English translation.
"We searched for a text that could speak about this time when we experience life very differently, separated from the things we love, far away from the others, a time when we feel even lonelier and much more confronted with life itself.
Autobahn
is about the Now."
Author: Neil LaBute
Translation by Mihaela Sîrbu
Cast:
Ep. 1 – "Funny": Cendana Trifan and Mariana Mihu-Plier
Ep. 2 – "Bench seat": Gabriela Pîrlițeanu and Horia Fedorca
Ep. 3 – "All apologies": Adrian Matioc and Raluca Iani
Ep. 4 – "It goes": Ofelia Popii and Ciprian Scurtea
Ep. 5 – "Long division": Marius Turdeanu and Viorel Rață
Ep. 6 – "Road trip": Adrian Neacșu and Cezara Crețu
Ep. 7 – "Autobahn": Diana Văcaru Lazăr, Mihai Coman and Iustinian Turcu
Direction: Andrei and Andreea Grosu
Set design: Vladimir Turturică
Assistant director and prompter: Corina Predescu
Project manager Claudia Maior
Image director and video editing: Alexandru Condurache
Original music: Mihai Dobre
"Radu Stanca" National Theatre Sibiu
Duration: 3 hrs
Performance in Romanian with English subtitles
Produced with the support of BRD Cultural Hotspot, The Romanian Cultural Institute
It has the tragedy of ancient times and the action of the contemporary, mixed with the cinematographic intimacy that allows you to create a theatre-film performance. Scenes of two persons each, in a car, 7 stories, 7 cars. It could be all of us there, closed between four car doors and a wind shield. The whole world in a car.
We might be heading towards anything; we might get anywhere or we might stop. We have absolutely no clue where the road we chose will take us.
Take a turn here. Why aren't we going already? The wind shield is broken. Take the Division Road. The back seat of the car. It's just like there, on the highway. Take care on the road." – Andrei and Andreea Grosu
Adapting the Autobahn project for the stage reveals subtleties from beyond the cinematographic image. Because theatre is a living thing. And Neil LaBute's text is about life – our life, all those small and big failures that define our existence, the roads that each of us has to follow towards our own goals. In this frantic race on the limitless highway, in which we all intersect our pieces of loneliness in random ways, what might we discover? Perhaps the futility of any attempt to hide, and the impossibility of saving ourselves, or perhaps the absurdity of life?
The routes of the characters in the cars of their own destinies sideslip in a fast-moving pace on the theatre stage, in a final confrontation with their own fears and hopes. The stage becomes a natural extension of the camera, opening secondary interpretations or closing the characters' destinies under the seal of a relentless and tragical destiny. Gestures become more precipitous, domestic rituals go crazy, artificial smiles fade away. Emotions become more intense. There is no room left for small talk. There is just life!
Photo credit: Rareș Helici