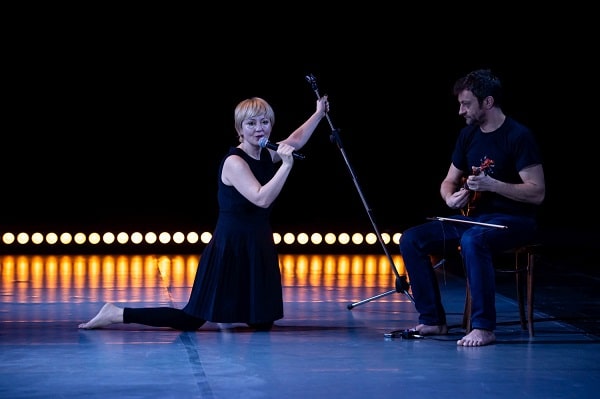 The show has been available

for viewing from Friday, November 12, from 23.30, until Sunday, November 14, at 23.30.
An electric poetry performance on poems by Federico Garcia Lorca
"Like in a jazz improvisation, the sounds of the violin and Lorca's poems blend and get together in a continuous transformation, the movements are interrupted by a thought and then set off again alongside new light beams. In Green Moon, together with Cezar Antal, Andrei Délczeg and Dan Iosif, we sought to disrupt the stillness of 'inner and outer waters', to transcend the boundaries of fi fixed art forms and to let ourselves be discovered by the viewers, thus hoping to get to encounter their fragility and, together, to become stronger."– Alina Berzunțeanu
An electric poetry performance on poems by Federico Garcia Lorca
Translation by Teodor Balș
With: Alina Berzunțeanu, Cezar Antal (electric violin)
Original music: Cezar Antal
Light design: Andrei Délczeg
Odeon Theatre
Duration: 1 h
"As a child, I lived in the midst of nature and I granted each thing, object, tree or stone, a personality and a soul. I talked to them and lived them." – Federico García Lorca
In this one-hour performance, accompanied by Cezar Antal's live music, Alina Berzunţeanu, walks in the footsteps of poet Garcia Lorca. A poetry, music and movement performance, in which the senses merge. Bare footed, wearing a simple black dress, the actress modulates her highly expressive and well conducted voice in a sort of chant, following traceable yet not at all simplistic pattern, with a few rhythm breaks that signal the transition from a poem to the other. An interpretive formula which, as she confesses in the presentation of this performance on the theatre's webpage, she owes to baritone Nicolae Gafton, her singing teacher at the Theatre and Film University, known for creating the method that bears his name.
"The music was born during the rehearsals, it came to be from one day to the next, at first we brought in various instruments and I tried to 'integrate' as a character communicating not through words but through sounds. Step by step it all got simplified from this point of view, and the violin remained the only musical instrument we chose, as it seemed to both Alina and myself that it would be the most appropriate as 'the voice' expressing the meaning we were looking for. I tried to explore the sound possibilities of this instrument, to achieve sounds that are less commonly used in interpretations. The sheer improvisation, which remained at the core of the sound universe of this recital, progressively got the shape of a few fixed melodic lines, acting as a theme of the performance. Besides these, the jam session feeling makes this performance keep a certain air of aliveness and unpredictability." – Cezar Antal
"Remarkable in the construction of this performance is the fact that movement does in no way disturb the verbal recital and, even more so, has almost no illustrative meaning, sometimes even going against the text. Equally, the wonderful music that Cezar Antal composed for this performance seems to follow a path of its own, thus becoming a character by itself. The appropriate, required tension is born out of the conjunction and confrontation of these three elements: voice, movement and music."– Liviu Ornea, "Lună verde. Un ritual", liternet.ro / 11 October 2021
Photo credit: Mihaela Tulea