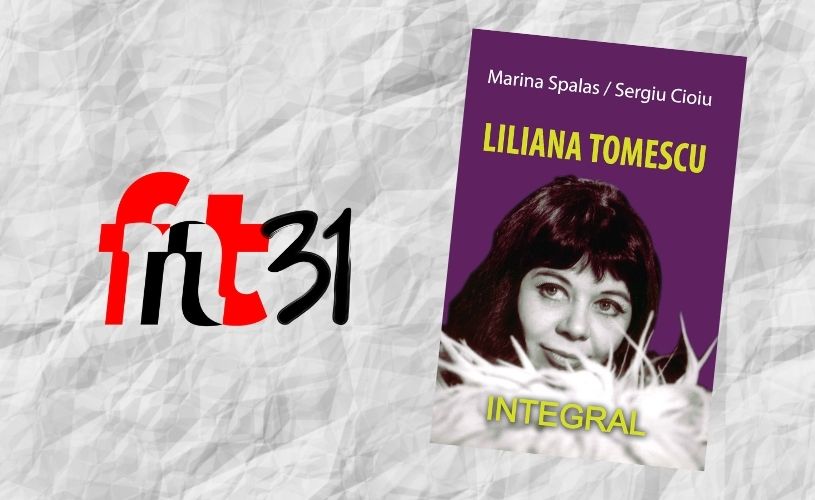 by Marina Spalas, Sergiu Cioiu
Tracus Arte Publishing House, 2021
Price: 39,99 ron
The book can be purchased here:
Online bookshops: eintegral.ro (worldwide delivery), elefant.ro, emag.ro, librarie.net, libris.ro, librariadelfin.ro
Cărturești, Librarium, CLB (Sadoveanu and Papirus), Libris, Sedcom, Eminescu bookshops
Actress of the Nottara Theatre in Bucharest for over 30 years, Liliana Tomescu managed to achieve incredible, impossible to equal success. "Pygmalion" had over 500 presentations, "The Lark" –400, "A Moon for the Misbegotten" over 600, while "Goodbye, Charlie!" was performed 870 times. In 1964, at 35, she was granted the "emeritus artist" title; she was the youngest actress ever to receive it.
I kept wondering how to build this book. As an interview (as it has been done previously) or a sequential story, with interventions of people who knew Liliana and had the opportunity to see her acting? Using quotes from the reviews of the time, testimonies of her 30 years of theatre, together with exceptional actors and directors. That first part of her life, until the age of 50, in Romania, and then, the second life, with Lucian, in the last 40 years spent in Sweden?
How would Liliane tell the story of her life, sitting on a deck chair, now, at 90 and still having absolute vigour of spirit, a vivid memory and a precise description full of charm, salt, pepper and metaphor?
Sergiu Cioiu
Her acting was noble, elegant, aggressive, enveloping, distinguished, free of sentimentalism and of the ordinary frills of interpretation. She had a fever of lucidity. She was eager for immortality through her elegant play. She radiated and provoked the nuances of an inner vision, meticulously building a harmony of opposites. She victoriously balanced certainties. On stage, Liliana Tomescu was an unknown secret of life… A great actress, sensual to the point of becoming equivocal and thrilling, with an ardent imagination, lusting for interpretive meaning, she deeply and clearly performed a magical chain of ambiguities. Her acting contained the twilight of unsettling joy and the illumination of loneliness. Her body spoke, confessed, loved and offered itself to acting. This tension of her acting was lucidly covered in a layer of cruel humour of wisdom.
It would be great for today's Romanian theatre to have an actress with the brilliant intelligence and charm of Liliana Tomescu's femininity!
Alexa Visarion