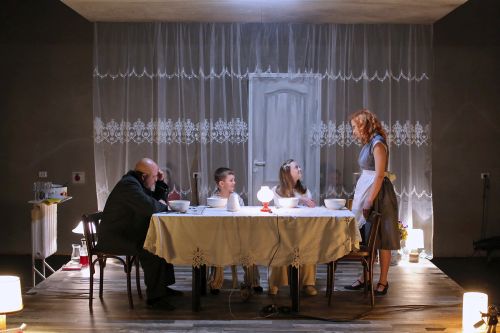 The show has been available

for viewing from Thursday, November 11, from 0:00, until Friday, November 12, at 24:00.
by Eugène Ionesco
Translation and adaptation by Vlad Russo și Vlad Zografi
Distribuția:
Mrs Smith: Clara Popadiuc
Mr Smith: Cătălin Ștefan Mîndru
Mrs Martin: Delu Lucaci
Mr Martin: Cosmin Panaite
Mary: Diana Lazăr
Fire Chief: Răzvan Bănuț
Direction: Alex Bogdan
Stage design: Tudor Prodan
Original music: Mischa Blanos
Matei Vișniec Municipal Theatre Suceava
Duration: 2 hrs (no intermission)
Eugène Ionesco's famous Bald Soprano, directed by Alexandru Bogdan at The Municipal Theatre "Matei Vișniec" Suceava, is a text that marks the beginning of the great playwriter's career, being considered the play that inaugurates the theatre of the absurd.
As the author himself confesses in "Notes and Counternotes", The Bold Soprano represents the image of the bourgeois society which lives with ready-made ideas, the society who simply conforms and becomes automated.
"I am trying to show the text of Ionesco is not absurd at all. These damaged characters, who have been robbed of any plans for the future, are really all of us! Scared, suspicious, aggressive, estranged from humanity, repetitive and lonely. I would have liked to annunce you're going to watch a comedy, but I cannot ignore what I'm currently feeling about the world. And I am sure, if you will see this performance, that you as well sill be feeling the same about how important it is to allow our souls to be healed by theatre. If seeing The Bold Soprano will make you ask yourself some questions, if it will make you a better person, a kinder one towards others, if at home, in your intimacy, you will open up more and not afraid to be vulnerable, then we will have reached a bit our goal" – Alexandru Bogdan, director
"What does The Bald Soprano speak about in Suceava? About loneliness and becoming lonely, isolation, about clichés, anger, frustration, hypocrisy, masks, labels, about barriers, words, language, about life and death, about becoming nothing, violence, abuse, about meaning and the search for it, relationships, society, about man, humanity and the lack of it, innocence, anxieties, failure, uniformization, about who we are. How does it speak about all these things? Without bitterness or obvious things, with a lot of subtleties, symbols, lots of nonverbal interpretation, holding the text in high esteem, at the same time building nuances from many other things except from words (…).
The performance works like a charm because every piece of the mechanism functions impeccably, from the screenplay to the music Mischa Blanos composed for it, to the play of the actors and the whole direction concept." – Luana Popa, luanapopa.wordpress.com, 21 April 2021