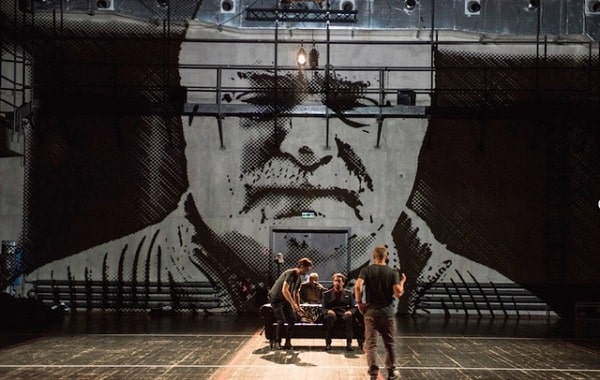 The show has been available

for viewing from Sunday, November 14, from 22.00, until Tuesday, November 16, at 22.00.

To activate the Romanian translation, press the CC button in the bottom bar of the video.
Kuba Roszkowski's play
Wałęsa in Kolonos,
directed by
Bartosz Szydłowski, showcases the deadlock of the Polish people, trapped in their eternal controversies, which brings to light the idea of fate, thus confronting the Polish people with the future. Szydłowski and Roszkowski place us all, alongside the main character, on the edge of the abyss described by Wyspiański in
Marriage
.
Author: Jakub Roszkowski
Casts: Marcin Kalisz, Mateusz Janicki, Marta Zięba, Szymon Czacki, Dominik Stroka, Jerzy Stuhr, Agnieszka Przepiórska, Anna Paruszynska-Czacka
Amateurs: Marta Mirek, Maria Bareła, Hanna Napora, Patrycja Walczykowska, Julia Goryczko, Julia Marzec, Wilhelm Fik, Grażyna Ladra, Izabela Szalewska, Monika Ciesielska, Aleksander Kopański, Natalia Kowalik, Stanisław Dziedzic, Małgorzata Ciaranek, Nina Zarzycka-Bem, Magdalena Kostrubiec, Agata Ordys, Barbara Dziedzic, Barbara Borkowska, Dominika Zając, Iwona Karcz, Diana Kaczor, Małgorzata Ordys-Marzec, Włodzimierz Bareła, Paulina Napora, Wiktoria Wilk, Beata Hejmo, Ewa Skolias
Direction: Bartosz Szydłowski
Choreography: Tomasz Wesołowski
Music: Dominik Strycharski
Production Design: Małgorzata Szydłowska
Light Engineering: Małgorzata Szydłowska
Costumes: Małgorzata Szydłowska
Stage Manager: Marcin Stalmach
Łaźnia Nowa Theater
Duration: 75 min
Performance in Polish with Romanian subtitles
Everything starts with the funeral of Wałęsa, that's when the abyss opens, regardless of how loved or hated the politician has been – because, more importantly, Wałęsa represented for ten million Poles and their families the hero that was meant to bring them back their freedom and hope. It is also meaningful that the performance, hinting at the importance of the community, is performed in Łaźnia Nowa from the Nowa Huta neighbourhood (Krakow), and it is galvanized by a strong desire to rebuild the community. The disintegration of the society as a community is an even more terrible experience."
"It would have been better had we died right then, after the killing of the Sphynx. And even right there, at the monument, in the pages of history. No ifs or buts" – Jerzy Stuhr