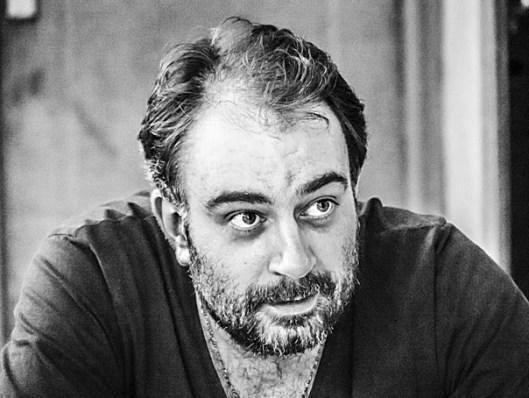 Regizorul Claudiu Goga a lucrat un spectacol pe un text "supralicitat" în această stagiune, fiind jucat în montări diferite, în trei teatre importante din ţară. Este vorba de "Vizita bătrânei doamne", de Friedrich Dürrenmatt. Spectacolul care poartă semnătura sa, producţie a Teatrului Naţional "Vasile Alecsandri" din Iaşi, se joacă astă-seară, de la ora 20.00, la Sala Studio a TNB.
October 29th 2015
Director Claudiu Goga worked on an "overstrained" text this season, a text staged in three of the important Romanian theatres. It's Friedrich Dürrenmatt's "The Visit". Claudiu Goga's production with the "Vasile Alecsandri" National Theatre Iaşi, is due tonight, at 20.00, at the Studio Hall of the National Theatre Bucharest.
Interview by Florina Tecuceanu
A (happy) coincidence to have three performances of "The Visit", in three different stagings: at the National Theatre Bucharest, at the Hungarian State Theatre in Cluj and at the National Theatre in Iaşi. Have you seen any of the other two?
Claudiu Goga: No, I haven't seen them. When I did my documenting, I saw pictures of the performances in Bucharest and in Cluj. As much as one can understand from pictures, I have the impression that my performance would be somehow closer, stylistically, to that one in Cluj, but anyhow you should take into account that this assertion of mine has a very high potential of being incorrect. What I find important, is that three directors and three National Theatres have decided to choose this play in such a short time span. Why did that happen? Maybe because the topicality of the play simply demanded it. There are moments and places in which great texts almost ask to be staged, due to their topicality. And I think "The Visit" is one of these texts- here and now.
Do fellow directors' stagings get analyzed in a director's "laboratory"?
I have fellow directors I believe in and other I don't believe in (I can't be a hypocrite). But this isn't important. The important thing is that I am always glad to see a good performance and sad to see a bad one, whoever the director is. Imposture and derision at the cost of public money are getting on my nerves!
Why is this text ("The Visit") of such interest both for directors and actors?
The text has a lot to offer. It tackles the major themes like love, death, guilt, the journey from individual guilt to collective guilt, to sin and the path from individual sin to collective sin and the power of money, the fragility of values, etc. It's important what light you shed on them, as a director, what you want to convey through this performance, because it's preferable not to do this text if you can't show a personal vision of this world. It has a Shakespearean force and complexity and, like all other texts of such scope, it is sure to offer great partitions to the actors. The problem is to find actors who can sustain them.
Teodor Corban played in all of the five productions you did in Iaşi. He seems to be your favorite actor. How was your collaboration with the actors in Iaşi?
Yes, I worked with Teo Corban for all shows I did in Iaşi and it was a joy each and every time. When I chose to do The Visit, in Iaşi, I did it because Teo was the best Ill one could want. If you want to do Hamlet, you have to have Hamlet. If you do The Visit…you have to have Ill. It's hard to speak about working with Teo Corban, because I'd like to avoid clichés. I'd say he's the ideal-intelligent, creative, sensitive, unpredictable (what a rare quality that is nowadays!), having reached his artistic maturity, knowing how to work with the director and inside the director (another rare quality). I've been saying over the past few years that Teo was one of the greatest Romanian actors, and many gave me weird looks. A few films and a nomination in Berlin were necessary for some of the highbrows of Romanian theatre to start seeing the kind of actor Corban is. I hope this part will also contribute to strengthening the respect Corban deserves. Again, he is one of the best actor this country has, he is one of the few giants of Romanian theatre.
Now regarding the ensemble of the theatre in Iaşi, I do appreciate them a lot; they are dear to me, second to the ensemble in Braşov. It's en ensemble I trust a lot and after each new performance we have the feeling that together we can do more. There are excellent actors there, I will not name them since I am likely to forget someone…
Teodor Corban called you a director- educator. Very few artists have the capacity and the generosity to transmit their art. Are you honored by such appreciations?
I saw that Teo says nice words about me. I'm honored because I know he believes in what he says, he wouldn't say it otherwise. Those who know him, know how profoundly he thinks and he judges theatre. But I wasn't surprised by what he said, and I think he won't be surprised by my words either. And this not because we would ever have said great things to each other- we're both too shy for that- but because theatre has created this special connection between us. We both know that we would anytime be confident to take another difficult journey together.
What is it that impresses the audiences in your version of "The Visit"?
I don't know. Or, in fact,I do, butit's not my business to answer this question.
You have graduated from technical studies (Faculty of Electronics) in 1994. In 1999 you finished your studies at the theatre directing department of the Theatre and Film Institute. Why this change in your professional orientation? Where was your passion for theatre hidden before you took this radical decision?
For a long time I thought that my passion for theatre was born out of my passion for film. Now I'm sure it came out of the passion for life, my sometimes dangerous, absurd and surely impossible to accomplish, that of understanding life.
Does your technical formation help in your work as a director?
It mattered that I got into theatre school with more mature, more experienced and that I got to be in professor Valeriu Moisescu's class. I was lucky to have met him.
Let us remain there, at the beginnings of your career as a director: you were awarded the UNITER Prize for best debut the year of your graduation, for "Master Leonidas Faces the Reactionaries". It must have been an encouraging award! Does the "start" matter in this profession?
It did matter, at that moment to receive the UNITER Prize for Best Debut. I'm not sure it still matters now, you should ask those who get it. In fact, the question would be: do UNITER awards still matter?
What is the next performance you prepare and when will it have its premiere?
My next project will be at the theatre in Braşov. I don't want to unveil it, it should be a surprise to the actors.
INFO
The Visit
By Friedrich Dürrenmatt, directed by: Claudiu Goga, set design by: Ştefan Caragiu, costumes design by: Lia Dogaru, "Vasile Alecsandri" National Theatre Iaşi / 2h 30min with intermission.
Performance in Romanian with English surtitles.
The performance will be live streamed on www.adevarul.ro
29-10-2015 | 20:00
"I.L.Caragiale" National Theatre Bucharest, Studio Hall
Photo credit: Teatrul Nottara
October 29th 2015