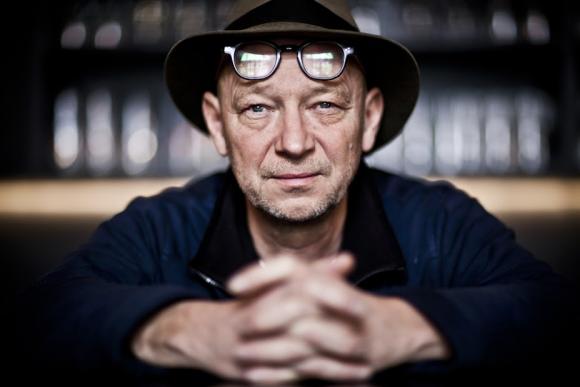 Cunoscutul regizor belgian Luk Perceval soseşte astăzi în Bucureşti, în calitate de invitat special al Festivalului Naţional de Teatru.
October 26th 2015
NTF's special guest, well known Belgian director Luk Perceval arrives today in Bucharest.
Marina Constantinescu, the artistic director of the festival has invited one of the most representative performances directed by Luk Perceval.
In the past season, at the Thalia Theatre Hamburg / Germany, Perceval staged an impressive performance called "FRONT" / a theatricalwork that marked 2014's European theatre by the profound way in which it approaches one of the key topics of the world we live in: war and its effects upon the human being.
"War is a kind of fever. Nobody actually wants it, but suddenly it is there. We didn't want war, the others say the same / and yet half the world is engaged in it."
(Erich Maria Remarque, All Quiet on the Western Front)
Based on the characters in Erich Maria Remarque's novel All Quiet on the Western Front, on Henri Barbusse's Le Feu and on numerous other literary and historical sources, FRONT is set in Belgium, during WW1.
French, English, Belgian and German men are situated hardly 100 meters away from each other, in opposite trenches. They shoot at each other, dig themselves in and are plagued by rats, lice, damp and hunger. Created in four different languages, the performance presents the point of view of the front line soldiers. A hundred years after ceasefire, Flemish director Luk Perceval transposes his 11 actors and, together with them, the spectators into the apocalyptical universe of World War 1.
The sole presentation of FRONT is scheduled for tomorrow, October 27th, at 20.00, at the Studio Hall of the "I.L.Caragiale" National Theatre Bucharest. Duration of the performance: 2h (no intermission).
During his stay in Bucharest, Luk Perceval will also give a workshop for ten Romanian actors, as part of the creative encounters the artist conducts. The workshop is called "Peace for the monkey mind" / "A calm, perfectly concentrated mind", and the director will share his own solutions, results of an intense artistic experience, for a harmonious intertwining of yoga technics and working with actors on texts by Shakespeare and Jon Fosse. The actors who will benefit of this special encounter are: Mihai Bisericanu, Lia Bugnar, Antoaneta Cojocaru, Alexandra Fasolă, Radu Iacoban, Conrad Mericoffer, Crina Mureşan, Gabriel Răduță, Mihai Smarandache, Alin State.
Luk Perceval's workshop will take place between October 27th– October 30th at the Arcelor Hall of the ARCUB Gabroveni Cultural Centre, as part of the National Theatre Festival.
PRESS RELEASE
UNITER
October 26th