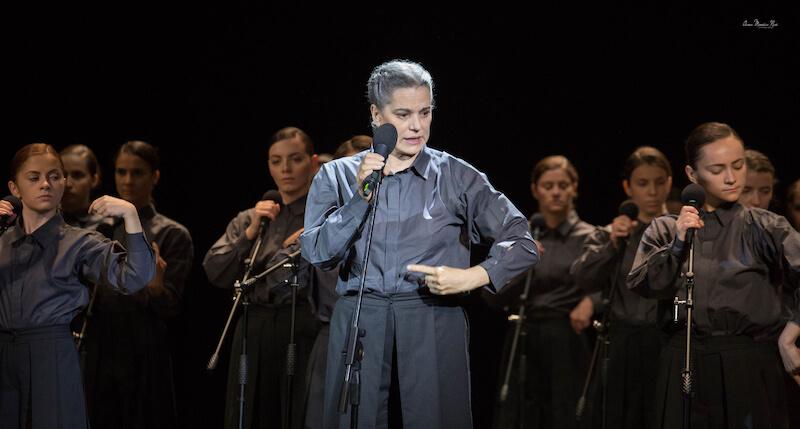 The show has been available

for online viewing from Tuesday 24 November 22:30 till Thursday 26 November 22:30.
The monodrama written by Austrian author Brigitte Schwaiger is more than a thorough introspection in the psyche of a woman who focuses her life on the figure of the Führer and the principles of Nazi ideology, her fascination for the Nazi leader becoming an obsession.
Cast:
Führerin: Maia Morgenstern
Children: Raluca Radu, Ştefania Misăilă, Alexandra Duşa, Maria Teișanu, Bianca Bor, Teodora Budescu, Eva Danciu, Mariana Gavriciuc, Ana-Maria Iorga, Teodora Tudose, Marina Flueraşu, Aura Goia, Adela Mihai, Elisabeta Râmboi, Delia Riciu, Cristina Simion, Ana-Maria Pop, Claudia Ene, Selina Colceru, Ada Dumitru, Eliza Păuna, Nicoleta Marica, Cristina Negucioiu and Cristiana Ioniță
Translated by: Dan Stoica
Directed by: Mihai Măniuțiu
Set by: Adrian Damian
Costumes by: Claudia Castrase
Choreography: Andrea Gavriliu
Musical Illustration and  Sound Design: Șerban Ursachi
Light Design: Cristian Șimon
Duration: 1h 10mins
Producer: Jewish State Theatre, Bucharest – 2018
Not recommended for viewers under the age of 12
The genesis of the play is probably directly related to the fact that Brigitte Schwaiger's grandmother, opera singer Carola Seligmann, was a victim of Nazism, dying at the Theresienstadt concentration camp. "At your command, Führer!" was written when the war was already over, when its wounds had to begin to cicatrize, but when the questions were still painful. The most common question in the world was: How was it possible? And how did it all happen, that totalitarian hysteria encompassed so many people? How did Nazism became a religion? How could victims get to worship their executioners? And to obey them?
Photo credit: Oana Monica Nae