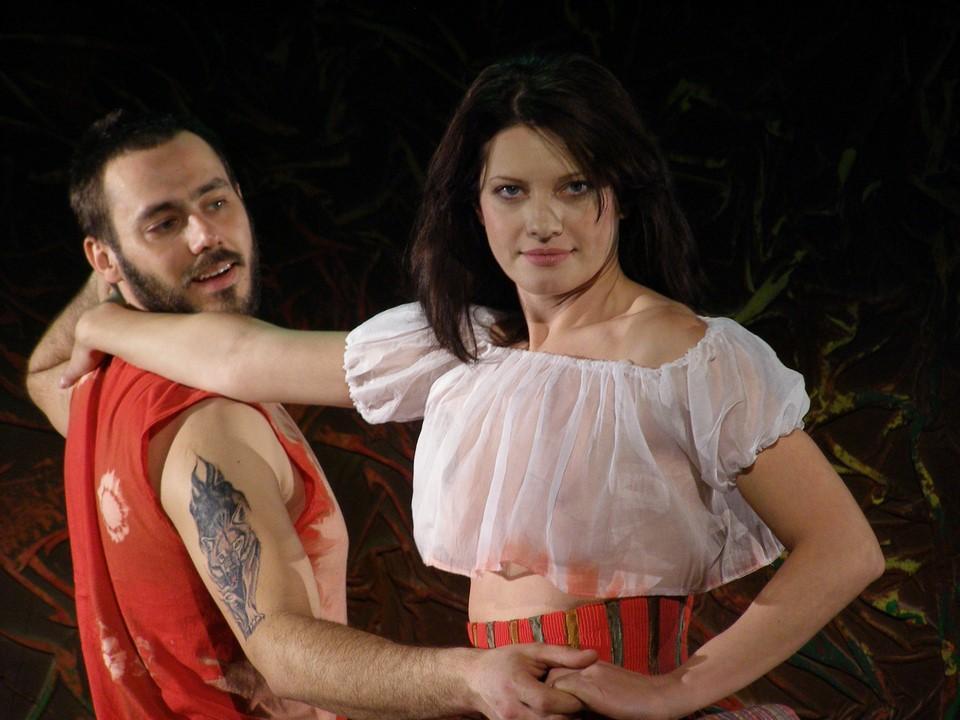 The show has been available

for online viewing from Wednesday 25 November 19:30 till Friday 27 November 19:30.
The Winter's Tale is a performance about…the tale, the tales that dominate us and that we dominated by, a tale about power, love, jealousy and hope. A performance in which laughter and sorrow continuously intertwine, in which the human being walks down the road that separates inferno from paradise. A winter's tale which, like  all winter tales, powerfully thrives towards spring and rebirth.
Translated by: Peca Ștefan
Cast:
Leontes: Ion Rizea
Hermione / Perdita: Claudia Ieremia
Polixenes: Ovidiu Crişan
Camillo: Damian Oancea
Paulina / Dorcas: Ana Maria Cojocaru
Antigonus / Lieutenent: Colin Buzoianu
Florizel / The Bear/ Officer: Victor Manovici
Autolycus / Cleomines: Cătălin Ursu
The Shepherd: Doru Iosif
Lieutenent/ Clown: Benone Viziteu
Lieutenent/ Clown: Ioan "Uțu" Strugari
Dumb woman/ Mopsa: Alina Ilea
Invalid / Lieutenent: Valentin Ivanciuc
Invalid / Animal: Laura Avarvari
Invalid / Animal: Luminiţa Tulgara
Invalid / Animal: Sabina Bijan
Mamillius: Mircea Ionuț Pandele
Directed by: Alexander Hausvater
Set design: Lucian Lichiardopol
Costume design: Stela Verebceanu
Choreography by: Mălina Andrei
Music: Dan Jinga
Light design: Lucian Moga
Duration: 2h 30mins
Producer: National Theatre Timişoara – 2009
With English subtitles
Together in the fire of fight, ruling the world together, the tale brings Leontes, the Sicilian tyrant and his wife, Hermiona, together with Polixenes, the King of Bohemia, into the inferno of jealousy and death. Leontes is unable to stand against paranoia, loosing his wife, son and best friend in the very same instant.
Still, the story follows it's thread…and nothing can stop that, not even time. 16 years later, the kingdom of Bohemia.  Florizel, Polixenes' son, breaks his father's authority out of too much love for Perdita, a beautiful shepherd's daughter.
There's only one moral in the unexpected end, when love, memory, regrets and friendship recompose things: destiny itself is a story, the human being is at the same time,  actor and aspectator.
Photo credit: Adrian Pîclișan, Maria Ștefănescu