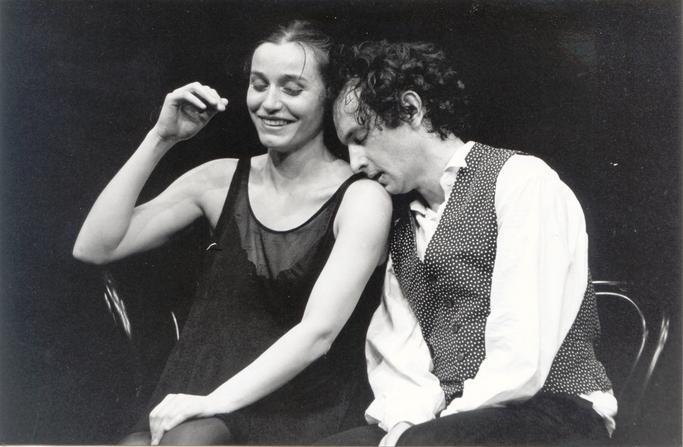 The show has been available

for online viewing from Friday 27 November 22:00 till Sunday 29 November 22:00.
Pantomime, music, dance, a performance full of sensibility and humour. A hipnotising story with and about love. The joys and the bitterness of love, irresistible demonstrations of love, in the most diverse places and stances.
Cast:
She: Carmen Ungureanu
He: Dan Puric
Written, directed and designed by: Dan Puric
Choreographed by: Malou Josef
Duration: 1h 06 mins
Producer: "Passe Partout Dan Puric" Theatre Company, 1997
TVR Team:
Musical illustration: Gheorghe Adamschi
Set design: Liliana Cenean
Tap Dance Master: Sandu Fayer
Technical director: Ladislau Kalitzky
DOP: Laurențiu Popescu
Editor: Zoe Bălan
Project manager: Ion Parhon
TV Artistic Directors: Silvia Ionescu, Silviu Jicman
Filmed for TVR, 2005
"A charming performance, simple without being easy, refined but still accessible,  presented by two artists with a wide range of skills. The plastic of movement, the precise executing, the very adequate music, the well tempered playfulness, the tender irony of the script create the premises of an all- conquering "joie de vivre" …
For an instant, Dan Puric and Carmen Ungureanu reveal us a corner of a lost paradise… (Saviana Stănescu, Adevărul)