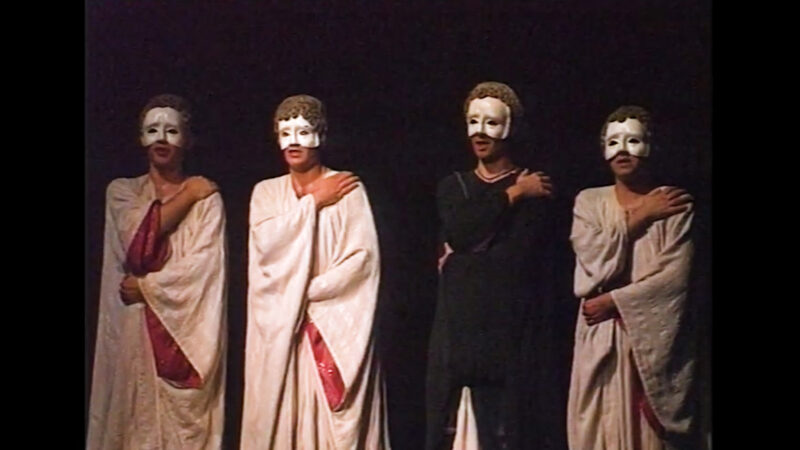 The show has been available

for online viewing from Thursday November 26, 15:00, till Saturday 28 November, 15:00.
A cinematic approach, a plunge into the rehearsals and the premiere of Sophocles' Antigone, attempting to discover the artistic personality of director Alexandru Tocilescu, as he was in 1992. Corina Tudose discovered this great Romanian director, coming back from Germany in his Latin and Balkanik space, called Romania, as an elevated communicator, who can only be creative  in an intense, emotional and moral climate.
A documentary by: Corina Tudose
After the performance "Antigona" / Bulandra Theatre, Bucharest
Duration: 50 min
A video film d'auteur from 1992
In Romanian with German subtitles
The group of actors, cast for Antigona, were subjected to an artistic and moral indictment, throughout the summer 1992 rehearsals at the Bulandra Theater.
Alexandru Tocilescu wanted the message of his staging to unite the times of the world and to create its salvation through love and emotional communication. Antigona still stands as a successful theatrical experiment on  Tocilescu's directorial method.
During the rehearsals of Antigona, Alexandru Tocilescu analysed  the immense creative power he could obtain through emotional communication. All steps in the making of Antigone are imprinted by the type of communication, exercised by Alexandru Tocilescu. He thus sent a message about the need that generations be builders of humanity and solidarity.
Corina Tudose considers Alexandru Tocilescu to be THE MILITANT MESSENGER.