22 November| 20:00 – Watch on TVR 3 Channel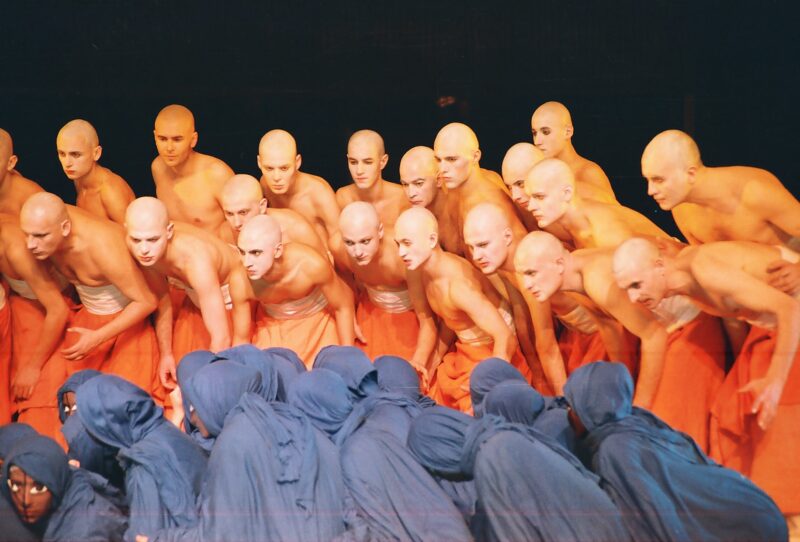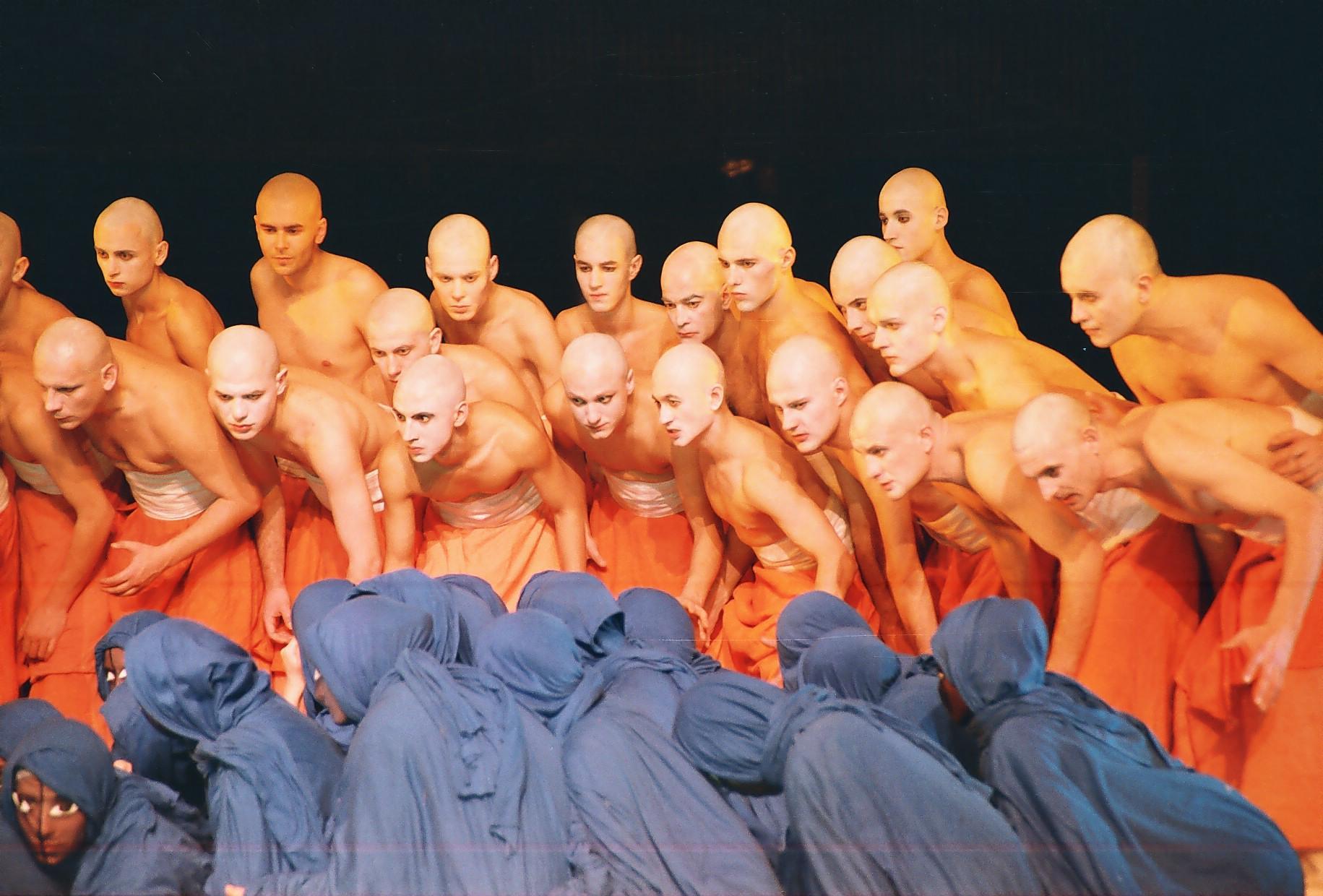 Silviu Purcărete creates an original script, a reconstruction of Aeschylus' lost tetralogy, of which only the first tragedy, The Danaids (The Suppliants), has been preserved. The show is built on the idea of ​​exile, has two ancient chorus of 50 actors and addresses the themes in the myth of supplicants: emigration, the right to choose, the right to political asylum, crime, marriage, sexuality, gender conflict, racism, relationships with divinity, tolerance, revenge.
Translated into French: Paul Mazon
Translated into Romanian: Alexandru Miran
Danaos: Coca Bloos
Artemis / Io: Mariana Buruiană
Hera: Micaela Caracaș
Zeus: Radu Beligan
Hermes: Mihai Dinvale
Apollo / Pelasgos: Victor Rebengiuc
Poseidon: Alexandru Repan
Dramatised and directed by: Silviu Purcărete
Set design by: Ștefania Cenean
Costumes design: Liliana Cenean
Original musicIosif Herțea
Light design: Silviu Purcărete, Vadim Levinschi
Sound design: Silviu Purcărete, Valentin Pîrlogea
Make up: Minela Popa
Chorus of the Danaides:
Carmen Albu, Gianina Aron, Ramona Atănăsoaie, Alina Avram, Viorica Bantaș, Mihaela Bețiu, Oana Bojescu, Cristina Caragea, Mariana Căpățână, Delia Ciorășteanu, Daniela Cristea, Bogdana Darie, Mirela Dolana, Ramona Drăgulescu, Corina Druc, Cristina Dumitra, Mihaela Dumitru, Cerasela Filin, Coralia Dolea, Aura Gaidarji, Daniela Gheorghiță, Anca Herțea, Elena Iofcea, Silvana Ionescu, Adriana Irimescu, Petronela Lazăr, Rodia Lăpuște, Mariana Liurca, Olga Maxim, Mihaela Măcelaru, Corina Merișescu, Ariana Migleczi, Luminița Militaru, Claudia Motea, Cornelia Niculescu, Angela Oprea, Carmen Pandia, Andreea Pârvu, Raluca Penu, Floriana Petcu, Mirela Popescu, Ancuța Preduș, Adelina Ribac, Monika Rusz, Maria Stănculescu, Cristina Șerban-Ionda, Luana Șireanu, Doina Șoproni, Gabriela Tuduran, Doinița Țecher, Camelia Vlăduț, Mădălina Voicu
Chorus of the  Egiptians:
Iulian Andrei, Valeriu Andriuță, Gică Andrușcă, Carol Becher, Daniel Bucur, Iulian Burghelea, Nicolae, Calistru, Dan Căpățână, Paul Cheloiu, Radu Constantin, Virgil Constantin, Eneia Dabija, Marius Daea, Robert Dobrescu, Lucian Dolgan, Eugen Drăghin-Rus, Corneliu Dumitru, Viorel Florea, Cătălin Fumuru, Ionuț Gheorghiu, Ilie Ghergu, Eugen Giuglea, Mihai Giurițan, Adrian Grădinaru, Alin Holcă, Cristian Iacob, Ovidiu Ianu, Gabriel Ilie, Marius Iliescu, Daiel Iordan, Vlad Jipa, Ionuț Lazăr, Ioan Lemne, Florin Nan, Adrian Neacșu, Cristinel Nicolaie, Paul Nicolae, Alin Olteanu, Daniel Păun, Gabriel Popescu, Cosmin Popovici, Dan Posescu, Gabriel Poșoi, Cristian Radu, Andreas Schaser, Cristian Stanca, Bogdan Șerban, Oliver Toderiță, Claudiu Trandafir, Radu Trifan, Marinel Țigănuș, Geroge Tudor, Remus Vlăsceanu
TVR Team
Project coordinator and text adaptation: Corina Constantinescu
Editor: Doina Teodoru
DOP: Laurențiu Popescu
Directed for TV by: Constantin Dicu
Duration: 1h 50mins
Coproduction: "Marin Sorescu" National Theatre Craiova, Holland Festival, Wiener Festwochen, Festival d`Avignon, Grande Halle de la Villette, 1995
Associated Co-producer: TOFAN Theatre and Film Foundation
Filmed for TVR, 1997
The Danaids is the story of the 50 daughters of Danaos, who flee Egypt and refuse the incestuous marriage imposed on their cousins. The suppliants seek asylum in Argos, but the 50 Egyptians pursue them and land in Argos. The Danaids are captured, but take revenge on their wedding night when they kill their 50 grooms. The Danaids are sacrificed by the gods themselves. Only one of them, Hypermnestra, spares her husband Lynkeus, and her destiny begins to resemble that of the wandering Io, in the protective arms of Poseidon.