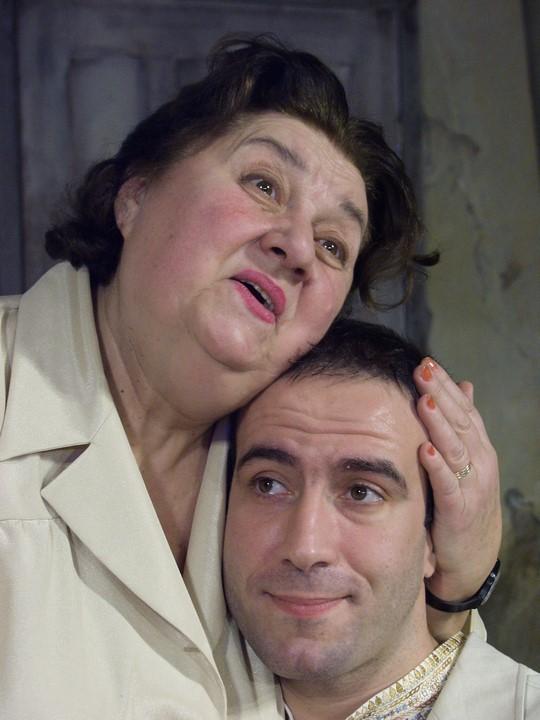 The show has been available

for online viewing from Saturday 28 November 22:00 till Monday 30 November 22:00.
The main character of "Nephew" is not the title figure, but his aunt, the "mother" that adopted and raised him.
Cast:
Floarea: Tamara Buciuceanu-Botez
Nephew: Șerban Pavlu
Directed by: Horațiu Mălăele
Set design: Anca Marcu
Costumes design: Adriana Popa
Musical comment: George Marcu
Duration: 1h 20mins
Producer: Fundația "Teatru Contemporan", Comedy Theatre and TVR, 2007
TVR Team
Technical manager: Silviu Stoica
Assistent to the technical manager: Laurențiu Ungureanu
Sound: Dan Guinea, Stelian Miu
Camera assistants: Dănuț Ștefan, Mihail Drăgoiaș, Petrișor Cantacuz, Anton Stoica, Costel Bălan, Mircea Georgescu
Lights: Sorin Vilău, Adrian Nicolae, Laurențiu Mihalache, Mircea Rizac
Editors: Monica Andrei, Ionuț Andrei, Marius Bărbulescu
Cameramen: Gabriel Oprea, Mircea Filimon, Mihai Nagy, Rodica Sandu, Constantin Ticu
DOP: Cristian Stoian
Editiong coordinator: Judith Georgescu
Producer: Zoe Bălan
TV Director: Silviu Jicman
Co-producers: "Teatru Contemporan" Foundation and The Comedy Theatre, Bucharest – 2005
Recorded for TVR, 2007
A former party activist, Floarea Plătici, now lives in a retroceeded house, she deliberately floods her neighbours, especially the owner of the building, she still keeps a drawerfull of her famous "chignons" (to be worn at congresses, at visits), because one never knows…she might need them again. She speaks on the phone with some other "ex", still reporting fake economic data to keep the illusion going.
[…]Anca Marcu's set invites the audience to penetrate Comrade Plătici's apartment, where her nephew, her "son", who had fled to America right after 1989, for having been unable- so his "mother"- to understand the benefits "the regime" would have granted him (excerpt from "Râsul cui/ Whose laughter" by Alina Mang – Teatrul Azi, nr. 6-7-8/2005).
Robust like a German locomotive, strong and violent just like the Los Alamos bomb,
sweet and meowing like a cartoon kitty, beautiful as she once could be, anxious and with a hig-pitched voice, melancholic and mellow like Bollywood films, dancing and bouncing at an age when other women have already given in to resignation, singing "falsetto"- like me, or- truly- like Frank Sinatra, unpredictible like tomorrow, Tamara Buciuceanu is an immense plant floating on the surface of the ocean of dramatic arts, a unique marvel, born to astonish us all. – Horațiu Mălăele
Photo credit: Lucian Năstase