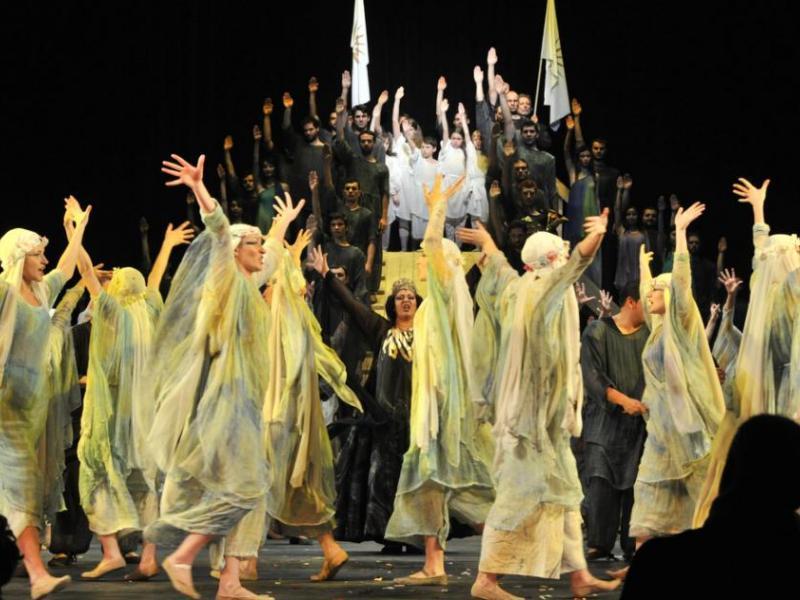 The show has been

available for online viewing from Sunday 22 November 11:00 till Tuesday 24 November 11:00.
Film-portrait of theatre director Andrei Șerban. The film describes the creative process and Șerban's way of working, following the rehearsals of the plays reunited under the title of "An Antique Trilogy" ("An Antique Trilogy- Medeea",  "An Antique Trilogy-Electra",  "An Antique Trilogy- The Trojan Women", at the National Theatre Bucharest, in 1990. The team of the perfromance brought  Liz Swados (original music), Doina Levintza and arh. Dan Jitianu (set design) together. The title remained on the repertoire of the National Theatre Bucharest until 1996.
Photo credit:  National Theatre Archives
Translated and adapted by: Catinca Marinescu
Directed and lensed by: Alexandru Doru Spătaru
After the performance "An Antique Trilogy" / National Theatre, Bucharest
Duration: 30 mins
Producer: TVR, 1991
In a top published by the online magasine Yorick (www.yorick.ro) in 2011, over 20 critics rated Andrei Șerban's "Antique Trilogy" as the best performance produced in Romania after the Revolution. EAch of the participating critics have put togeher a personal Top 3 performaces in post- December 89 Romania.
Alice Georgescu stated "a stageing that proved that theatre means, beyond words (and thus beyond reason and logic), feelings and sensations, pure emotion, a complete experience. A performance that decided destinies and- surely-"pulverised" and institution and lead to its rebirth."