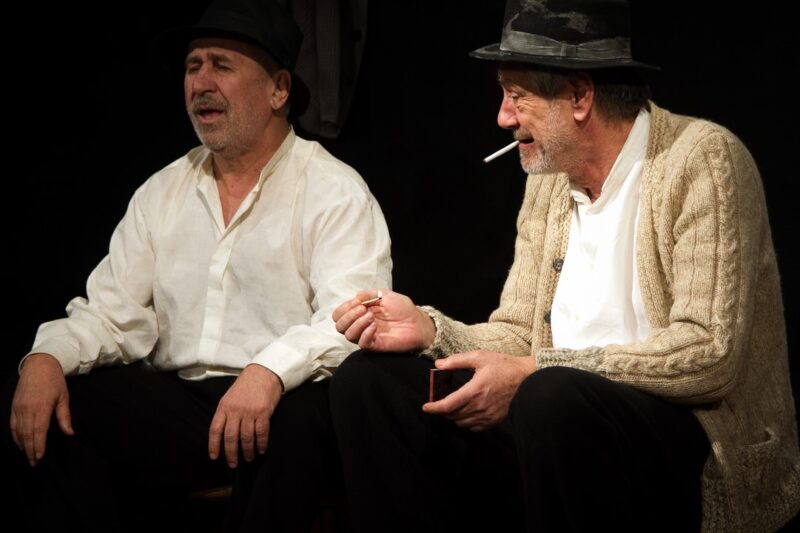 The show has been

available for online viewing from Sunday 22 November 22:00 till Tuesday 24 November 22:00.
After the series of performances which bring back in the limelight the stories and the act of storytelling, the ACT Theatre returns with a unique proposition in the space of the theatrical stage in Romania. This is a performance after a text which starts off from the iconic novel of the post-war Romanian literature – "Moromeţii" – by Marin Preda.
Theatre adaptation by: Cătălin Ștefănescu
Cast:
Moromete: Marcel Iureș
Cocoșilă: George Mihăiță
A performance by: Alexandru Dabija
Sound Design: Ovidiu Păcurar
Music: Răzvan Mirică
Duration: 1h 25mins
Producer: Teatrul ACT, București – 2014
We therefore suggest a meeting-event and a continuation of our exploration in the world of stories and the act of storytelling. Two extraordinary actors, Marcel Iureș and George Mihăiţă become two characters which narrate again, in a totally different manner, the story of the novel which marked so many generations of readers. Two characters who miraculously rebuild through stories the entire image of a novel dedicated to the human universe, little before the outbreak of World War II. The story of a space between two worlds and the characters who populated the universe of the famous novel of the Romanian literature come back to life from the perspective of Alexandru Dabija, the director who put his artistic imprint onto the most important performances of the ACT Theatre.
Photo credit: Alexandru Iureș