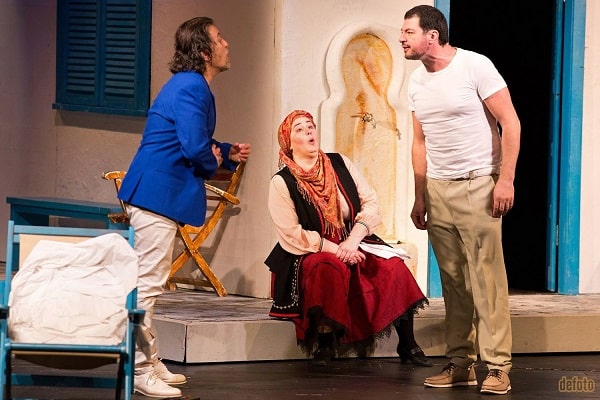 Available for viewing (only in Romania) from Friday, November 12, from 17.00, until Sunday, November 14, at 17.00.
Two brothers return to their parents' house to be with their sick father. Under the pressure of his imminent death, truths and interests that have not been uttered until then, come to surface. Hence, a roller coaster out of control situations is triggered.
Author: Thanasis Papathanasiou and Mihalis Reppas
Translation by Athena Demetriad
Cast:
Vaso: Ioana Dragoș Gajdó
Veska: Mirela Niță Lupu
Geny: Adela Lazăr
Roy: Gabriela Codrea
Panaiotis: Sebastian Lupu
Hristos: Sorin Ionescu
Direction: Radu Nichifor
Set design and costumes: Daniel Divrician
Regina Maria Theatre Oradea
Duration: 3 hrs
Not suitable under 14 years of age
The relationship between the brothers becomes more tense than before, their wives openly expose their dislikes, a neighbour is way too involved in their family problems, yet the biggest surprise, triggering a whole wave of happenings, turns out to be… the Bulgarian nurse the brothers hired to take care of their father. One thing is certain. They all pursue the same goal: an inheritance that will ensure a better life for them, for which they are capable to even commit murder. A stunning contemporary comedy, in which humour takes on dark nuances, without becoming any less humorous.
"Tragicomedy is an area in which I feel very comfortable as a director. The mix of comic and dramatic is highly appealing to me. I think it is also very suitable for the times we are living, and I am convinced that it's only through humour that we will manage to move through and beyond what is happening right now.
This performance underlies the degradation of human relationships, caused by an insatiable hunger for money which starts at the core of family relationships. Normal connections between parents and children, husbands and wives, between sibling, are wrecked by this unfathomable yearning for money. Which, unfortunately, has become one of the main traits of contemporary society. An out-of-control level of greed… The more you have, the more you want, it doesn't even matter that it is all too much for you. Almost nothing matters anymore, neither family nor respect. This is an essential topic, that I have developed together with the actors, but from a humorous point of view.
My intent is to try to create performances in contexts where I can have actors able to comply accordingly to both the requirements of the text and my directorial vision. Hence, another strong reason for which I chose this kind of text is that I knew that at this theatre I could find a very appropriate cast." – Radu Nichifor, director