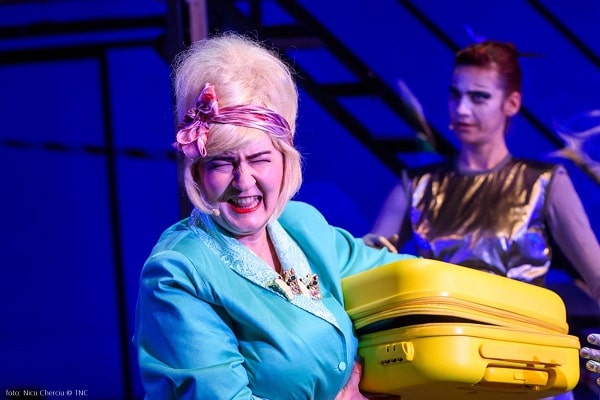 The show has been available

for viewing from Sunday, November 14, from 17.00, until Tuesday, November 16, at 17.00.

To activate the English translation, press the CC button at the bottom of the video.
Society is full of noisy and incompetent Chiritzas (and I do not necessarily only mean women). We turn on the TV and they're streaming in. People who have no respect for values, labour and common sense are to be found everywhere. The new performance depicts Chiritza's home quarantine, an operation financed by her husband, the Prefect Bârzoi (who can easily afford renting a robot for annihilating his wife's solitude in isolation).
After Matei Millo
A theatre-concert performance by Ada Milea
Cast:
Chiritza Bârzoi: Anca Hanu
LuLu: Sânziana Tarța
LeO / MeMe 602: Matei Rotaru
The programmer: Radu Dogaru
Bârzoi: Cornel Răileanu
Aristitza: Mihnea Blidariu
Calipsitza: Cristian Rigman
Gulitză: Miron Maxim
Direction: Ada Milea, Andrea Gavriliu
Set design: Alexandra Constantin
Costumes and set adaptation: Zsófia Gábor
Choreography: Andrea Gavriliu
Original music: Ada Milea, Anca Hanu
Light design: Jenel Moldovan
Electronic adaptation: Radu Dogaru
For the online version:
Audio capture: Radu Boancă, Andrei Florea, Cătălin Cornea
Mixing, mastering an postproduction: Victor Panfilov
Bass guitar: Vladimir Ivanov, Victor Panfilov
Camera crew: Dragoș Popa, Cristina Rădulescu, Alin Budiu
Lucian Blaga National Theatre Cluj-Napoca
Duration: 1 h 10 min
Performance in Romanian with English subtitles (Cezar Popa)
https://www.teatrulnationalcluj.ro/piesa-716/chiritza-in-carantina/
"I have kept a lot of Millo's text, even if I let go of the quarantine waggons. The people and viruses of the 19th century are strikingly similar to the ones in the show we are all watching nowadays, despite the presence of robots. The story is just as much about money, important jobs, scams, stealing and about those who feel they are entitled to not respect the laws. I have changed a few of the characters: the doctor and the health inspector have become employees of a home quarantining company (with so-called expert people and expert robots), and Gulitză is a shady business partner to various political VIPs (not an anarchist who threatens all with throwing bombs, as it was in the original text). The events have been adapted to the new stage situations and some have developed differently. The one pretending to be in love with Chiritza and planning to escape with her money, in our version of the story, is caught and beaten up in an unexpected way. The end provides us with yet another surprise related to the characters in the previous Chiritza, but I will not spoil it for you." – Ada Milea
"Alongside her team, Ada Milea managed this time as well to create an enjoyable performance, with enticing musical parts, lots of humour and good spirits, a performance in which she ironically shows various aspects of the world of the Chiritza's, but also makes fun of the whole current pandemic context." – Tamara Constantinescu, "O carantină… de neratat! Chirița în carantină", liternet.ro, Mai 2021
"The playful and slender key of Ada Milea's stylistic makes for songs that flow in an orderly line. The lyrics are lean, full of friendly taunts (…), because the aim of comedy is to make a caricature of the world in order to fix its flaws (….). The Cluj theatre team is excellent, including actors of all ages, with lot of potential, an open mind and certified achievements (…) This collective resourcefulness fills up the stage with spontaneity and energy." – Oltița Cîntec, "Când Chiritza vrea să evite izolarea", in Observator cultural, 13 Mai 2021
"Delicious from the first moment to the last guitar note or spoken word, Chiritza in quarantine shifts the paradigm not only for its main character but also for the whole universe that she masterfully stitches together through music from the beginning to the end." – Roxana Țentea, b-critic.ro
Photo credit: Nicu Cherciu