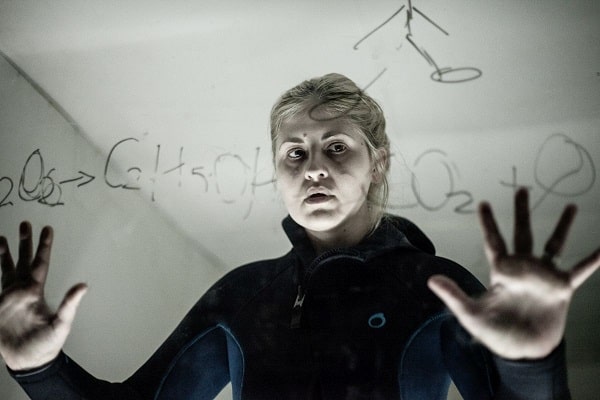 The show has been available

for viewing from Thursday, November 11, from 21.00, until Saturday, November 13, at 21.00.

To activate the English translation, press the CC button at the bottom of the video.
True to the spirit of the ATELIER Festival – whose winner for directing he was in 2019 – Andrei Dinu explores not only the hidden spaces of theater but also their potentially redeeming role, reminding us that, like the great cathedrals where people of the Middle Ages took refuge during the plague, theatre as well can be a place of refuge for our bodies and souls. And that's exactly what the characters in the ten spaces of DEKAROOM are talking about.
Cast: Ioan Costin, Alexandra Vanci, Carmen Bulancea, Inna Andriuca, Aurora Prodan, Iulian Bulancea, Denisa Blag, Petru Damșa, Alex Macavei, Eduard Bîndiu, Izabela Tsujimoto
Direction: Andrei Dinu and Raul Hotcaș
Script: Mihai Vălu
Video mapping: Norbi Mezei
Video projections/ photo: Teo Molnar
Choreography: Raul Hotcaș
Drawings: Daiana Nițu
Light design: Marin Codrea, Sandu Șimonca
Sound design: Dan Prodan
Baia Mare Municipal Theatre
Duration: 2 hrs (no intermission)
Not suitable under 16 years of age
The theatre-labyrinth is the living metaphor waiting to be known and assumed, this time in the itinerant show of an initiatory journey. Its mysteries are now in the spotlight, and the theatrical reserve is capitalised on in a postmodern manner. The dangers encountered are overcome one by one, so that in the end you are left to face yourself. What you discover has to do with the emotion you will learn to master. Theatre is for the people and the gods within ourselves.
"Walking amongst places/ spaces we would have sworn to know, very awkward sensation of aliveness pulsated through each room. In the silence of a world that was put on hold, the memory of these places was more alive than ever. Randomly left or forgotten objects, the colour of the walls, the small cracks through which daylight enters – everything had a certain charm of beauty and loneliness. When the world took off again, we returned to explore these things. And filled them with looping pieces of loneliness…" – Andrei Dinu & Raul Hotcaș, directors
"Dekaroom is one of the most spectacular stagings of 2021 and utterly deserves to be taken into consideration by curator and theatrical juries. Imagined as a quest of the audience – in couples – through various spaces and facing/ assimilating various alter-human experiences, Dekaroom is a sort of jump in an exploration of the Self and the path of one's own existence, regardless if assumed or hidden deep within the subconscious, no matter if your personal experiences are anything like the stories of these characters or not (…). You feel well protected, like in a cocoon, in this performance, one that is not comforting, does not comfort you but rather shakes you to your core – somehow still making you feel comfortable. Four hours later, when it's all over, you would surely like to go back to at least one of the scenes you witnessed." – Claudiu Groza, Tribuna, nr. 457/2021
Foto: Teo Molnar