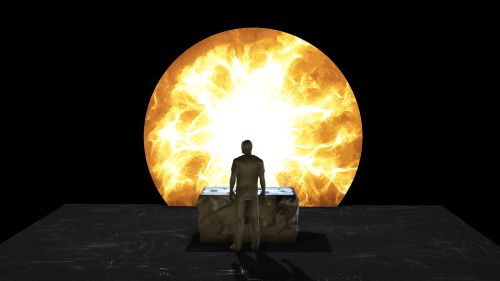 Available for viewing from Wednesday, November 10, from 16.00, until Sunday, November 14, at 24.00.
This interactive video installation explores the moment when the individual becomes deprived of the social dynamic. Created by Andrei Cozlac in collaboration with artist Silviu Apostol.
The installation tries to explore the moment in which the individual becomes deprived of social dynamics, when the human consciousness turns introspective and searches for an inner momentum by accessing memories and rewriting them through dreams.
The project is set up in two segments: a physical one and a virtual body. The physical element represents an interpretation of a human consciousness frozen by the confrontation with solitude, a loop of thought which becomes reality, a shapeless mass which apparently creates a stream of thought whose reactions are directed not towards a real space but rather the own mind. The viewers can interact with these ideas by touching the images through the vessels on the TV screen.
The virtual body symbolizes the material character of this stream of thought, an oversized character or an abstract space which becomes the witness of its own transformations, an alter ego, an inner voice that turn out to be, in fact, still just us.