7-14 November | I.L. Caragiale Theatre Bucharest, Rotonda Hall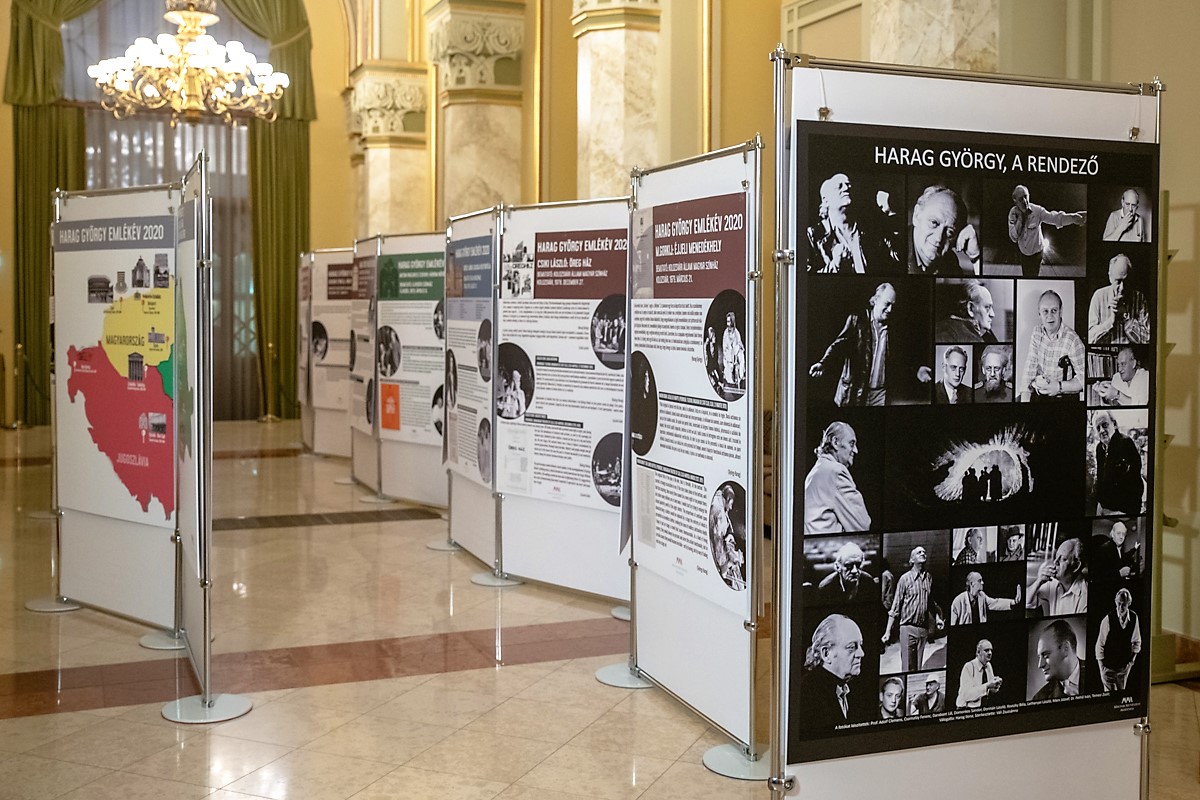 Visiting schedule: 7-14 November, 14:00 – 22:00
This touring exhibition about the director's work is made of 45 billboards including around 200 pictures with comments and memories of peers, theatre professionals and critics, alongside texts by Harag in Hungarian, Romanian and English. The exhibition is available thanks to the Hungarian Art Academy in Budapest.
Organiser: Liszt Institute –The Hungarian Cultural Centre Bucharest, together with the Hungarian Academy of Arts
Partners: The National Theatre Festival, I.l. Caragiale Theatre Bucharest, TVR Production House
Due to the partnership with the TVR Production House, there will be three screenings of performance directed by Harag: The Cherry Orchard (recorded in 1985 in Romanian at the National Theatre in Târgu Mureș, the last project the director worked on; A star on the pyre/ Csillag a mágján (a 1977 recording from the Hungarian State Theatre in Club, with Romanian subtitles, and The Bear by Chekhov a 1975 TV show featuring actors Csorba András, Széles Anna and Tarr László, also with Romanian subtitles.
In loving memory of Harag György (1925-1985), the past main director of the Hungarian State Theatre in Cluj, an amazing Transylvanian creator of theatre art an history in both Hungary and Romanian, the Hungarian Academy of Arts (MMA) organised in 2020 various anniversary year events.
The highly diverse programs recall theatre evets from the 1960-1980, calling upon all available documents, documentaries, photos, movies, testimonials and personal memories – a real treasure trove for historians researching the history of theatre, but at the same time a fond remembrance for theatre lovers. Last but not least, this shows a human model from the art world that can be an inspiration for generations to come.
Hoping that those who will see the opening of the exhibitions, will view the documentary about the director's life and will have a look at the magnificent volumes, will get a taste of the admirable past of theatre. I am extremely grateful to Harag Ilona, Harag György's widow, for honouring us with her trust and providing us not only with an invalulable heritage but also with personal stories and experiences." – Vashegyi György, președinte Academiei Maghiare de Artă