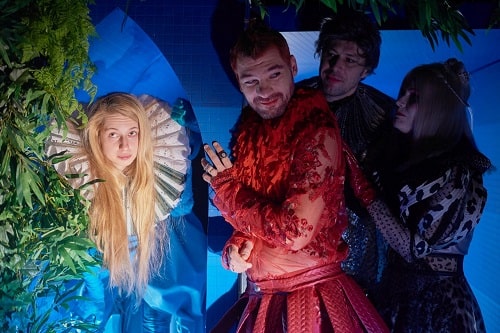 Due to an actor falling ill, Romeo and Juliet directed by Vidnyánszky Attila jr., a production of the Hungarian State Theatre Cluj, will not be livestreamed in the 31 edition of the NTF
After William Shakespeare
Based on the Hungarian translation by Dezső Mészöly
Cast:
The Prince / Peter: Lóránd Váta
The Nurse: Csilla Albert
Capulet / Lady Montague: Ervin Szűcs
Lady Capulet / Montague: Imola Kézdi
Friar Lorenzo: Zsolt Bogdán
Romeo: Tamás Kiss
Julieta: Eszter Román
Mercutio: Éva Imre
Benvolio: Zsolt Gedő
Paris: Loránd Farkas
Tybalt: Balázs Bodolai
Direction: Attila Vidnyánszky Jr.
Stage set design: Csaba Csíki
Costumes: Zsuzsánna Kiss
Stage movement Ferenc Sinkó
Hungarian State Theatre Cluj
Duration: 3 hrs (with intermission)
Not suitable under 14 years of age
Performance in Hungarian with English subtitles
https://www.huntheater.ro/ro/spectacol/534/romeo-si-julieta/
"If the actor manages to be free inside of a redetermined structure, then he will become just like a song, a perfume, a poetry, which give meaning to everything, the meaning it needs in that particular evening. I still haven't been able to find this in a very concrete manner, and of course this isn't even something one can achieve but merely giving instructions. But I do believe in such an approach, and I also believe that Romeo and Juliet is just the right kind of material or such a search." – Attila Vidnyánszky Jr.
A highly dynamic performance, bedazzling through the direct connection between viewers and characters – feedback is requested, answers are waited for from the audience – and also a disarmingly honest one. (….) Romeo and Juliet, in Attila Vidnyánszky Jr.'s view, has one paramount quality: it surely does not leave one not caring about it! IT challenges you to take a stand. You wither love it completely, or almost not at all and will exit the theatre hall. This is a manifesto for art by this young director, which nowadays, more than ever before, gains consistency and intrinsic value." – Nona Rapotan, "Despre dragoste la superlativ – Romeo și Julieta în secolul XXI", 11 July 2021
https://bookhub.ro/despre-dragoste-la-superlativ-romeo-si-julieta-in-secolul-xxi/
Photo credit: Biro Istvan