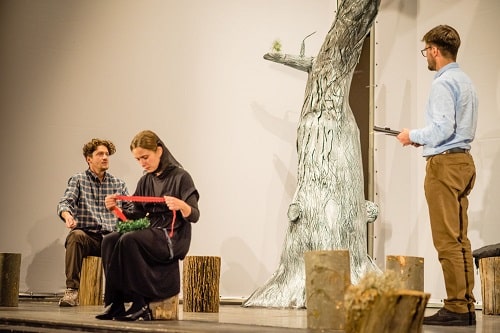 The show has been available

for viewing from Sunday, November 7, from 21.00, until Tuesday, November 9, at 21.00.
A young widow from a village in Maramureș, Romania, wants to find those responsible for the death of her husband, employed at the forest district in the area, who was killed while trying to stop an illegal transport of wood. Together with a young prosecutor sent from Bucharest, she manages to discover more and more information and details related to the crime that took place a few months ago. The show is inspired by the true story of the forester Liviu Pop, killed in 2019 by wood thieves.
Author: Alexandra Felseghi
Cast:
The Widow: Irina Sibef
Prosecutor: Florin Suciu
The Neighbour: Emanuel Cifor
The Mair: Răzvan Bănuț
Head of the Forrest District: Emanuel Cifor
Direction: Adina Lazăr
Set design and costumes: Andreea Tecla
Original music: Adrian Piciorea
Light design: Attila Almasi
Sound design: Adina Lazăr
Pro Teatru Assoiaation (Zalău)
Duration: 1 h 20 min (no intermission)
Not suitable under 12 years of age
Performance in Romanian with English subtitles
Nominated for the 2021 UNITER Awards, "Best Performance" Category
"Severed Green is presented in the National Theatre Festival. What an unexpected journey for this performance! While working on it, both I and the entire team had Liviu Pop on our mind, the forest ranger who was killed two years ago. The fact that this performance was seen and appreciated by critics was a great joy for us and gave us the validation we needed as artists. Now we wonder what is next for this performance and the cultural stage in Zalău?" – Adina Lazăr, director
"The documentation took up a substantial part during the elaboration process of the text. The situations and characters are based on real cases, because no pure fiction whatsoever would not have been able to compete with what we all too frequently see on the news. Even if I did not intend it as the script of a documentary performance, and I also took the liberty of fantasizing a lot on the subject, I did my best not to go beyond what is believable, because I felt it is precisely therein that the strength of this text lies." – Alexandra Felseghi, interview with Dranca Emilian, gazetadecluj.ro, 5 June 2021
"The saddest revelation is that it is not just people (collectively or individually) that are suffocated by the shackles of Mafia, but even the state powers (legislative, executive, judicial), through their institutions, are overwhelmed. Although these are supposed to work independently and balance each other out, in reality they work in a system of criminal complicity. That is the essential quality of this performance, the courage to tackle a highly sensitive, festering subject. Director Adina Lazăr manages all too well to highlight this strength of the performance: she leads the story with a steady hand, without overloading it, with a certain pace of the demonstration, maintaining the proportions of how much we are kept on the edges of our seats and carefully sculpting her characters." – Oana Stoica, "Cu Vitoria Lipan la Premiile UNITER", www.scena9.ro / 2 iunie 2021
https://www.scena9.ro/article/verde-taiat-spectacol-teatru
Photo credit: Adina Nedișan