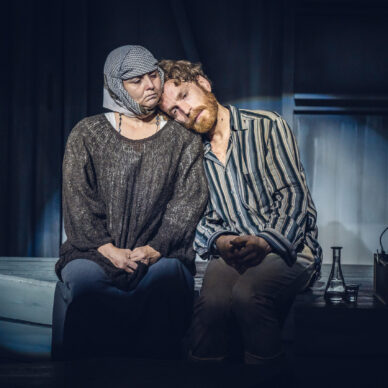 The show has been available

for viewing from Monday, November 8, from 17.00, until Wednesday, November 10, at 17.00.

To activate the English translation, press the CC button at the bottom of the video.
Nothing has been happening for a long time now. Nothing good. Does anyone truly know themselves? Does anyone know what lies within the Other? When was the last time someone died a natural death? The mine closed. Everyone left for the city. Time marches on. What a pity. At least we know how to keep the traditions alive. And to abandon ourselves to the forest. You know what? There`s no such thing as normal life. There's just life. And it`s happening now, not in a month or two. At this very moment.
Author: Csaba Székely
Translation by Sándor László and Csaba Székely
Cast:
Iván: Cezar Antal
Ilonka: Irina Antonie
Mihály: Bogdan Nechifor
Irma: Antoaneta Zaharia
Illés: Ioan Coman
Direction: Horia Suru
Set design and costumes: Raluca Alexandrescu
Original music Petre Ancuța
Light design: Andrei Marin
Romanian Playwrights Theatre Bucharest
Duration: 1 h 20 min
Not suitable unde 16 years of age
Performance in Romanian with English subtitles
"The world created here is one where the mine has closed, but the people are even more closed than the mine. A world where love can be far reaching but the universe ends in the next village. Where drinks are poisonous and poetry has no rime. It's a world in which tragedy is a daily matter and each attempt to escape or even to find some kind of meaning in this darkness can spark yet another disaster. And yet, it is so worth trying." – Csaba Székely
"Csaba Székely's characters are in a constant state of confusion and a constant need to adapt, they try to protect themselves by all means (particularly through unlawful ways), they are slaves to lust, they drink a lot, particularly palinka – as water is out of the question, they are dirty (from a moral point of view) and in search of a social compass that could help them put their lives back on track. All characters of this trilogy seem determined to remain at the entrance of the mine, on the water bank, even if what they declare sounds completely different." – Nona Rapotan, "Trilogie în cinci personaje", bookhub.ro
"Cynism is a feature of the humour in this trilogy. The rhythm is insane, with short, graphic lines, with threats or juicy profanities and a whole lot of humorous elements. Surely, various directorial additions also contribute, like the time when the drinkers struggle to recover the drop of palinka that was spilled for the deceased. But surely one consistent milestone of the comedy, in all three performances, is Antoaneta Zaharia. Her characters are round, complete and witty." – Cristina Rusiecki, "Teatru. Adevăr frust și umor în valuri", Revista Cultura, 13 September 2021