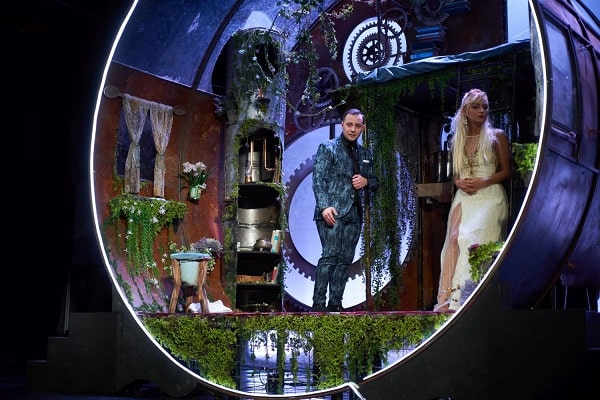 The show has been available

for viewing from Wednesday, November 10, from 21.00, until Friday, November 12, at 21.00. 

To activate the English translation, press the CC button at the bottom of the video.
In a small countryside town, in a train station where no high-speed trains stop, the gentle life of the inhabitants is ransacked by the arrival of a star "from the big world". A stranger with no train ticket or documents, a fugitive from the casino, she brings with her the subtle and dangerous sent of the fun rich people enjoy. In the arms of a shy astronomy professor, Mona discovers the great love. The real love. The cosmic love. And a star gets its name!
Author: Mihail Sebastian
Cast:
Mona (The mysterious girl): Narcisa Novac
Professor Marin Miroiu: Nicholas Cațianis jr.
Radu Udrea: Dan Moldoveanu
Miss Cucu: Monica Ivașcu
Ispas: Marcel Turcoianu
Grig: Adrian Ștefan
Student Zamfirescu: Blanca Doba
Mrs. Pascu: Elena Andron
Ichim: Ciprian Chiricheș
Direction: Cristian Ban
Set and costumes design: Cristina Milea
Set assistants: Carmen Rus, Mariana Bogdan
Light design: Bogdan Gheorghiu
Maria Filotti Theatre Brăila
Duration: 2 hrs (no intermission)
Performance in Romanian with English subtitles
https://www.tmf.ro/spectacole/sala-mare-stagiunea-curenta/807-steaua-fără-nume.html
"It is frustrating that this year we cannot meet in Bucharest, and I am so sorry that our work cannot be enjoyed pysically, but if there is anything good about this whole situation it is that, no matter where you are, you can get a glimpse of The Star With No Name from Brăila." – Cristian Ban
 "A performance that was born from the ashes of a pandemic year (….). A performance born out of utter love for theatre and built on the foundation of fully committed professionalism. Staging The Star With No Name in a parody key requires profound knowledge and carefully detailed research work (….).
There is a circular universe here, based on the fine movements of each singular mechanism, like a clockwork system that by no accident remain in the background until the very end. A performance reminding us that its not just the director and the actor who matter, but also the viewers in the theatre hall, without whom this convention that is theatre would turn useless or obsolete." – Nona Rapotan, "Cum se rescrie povestea", bookhub.ro
Photo credit: Adi Bulboacă