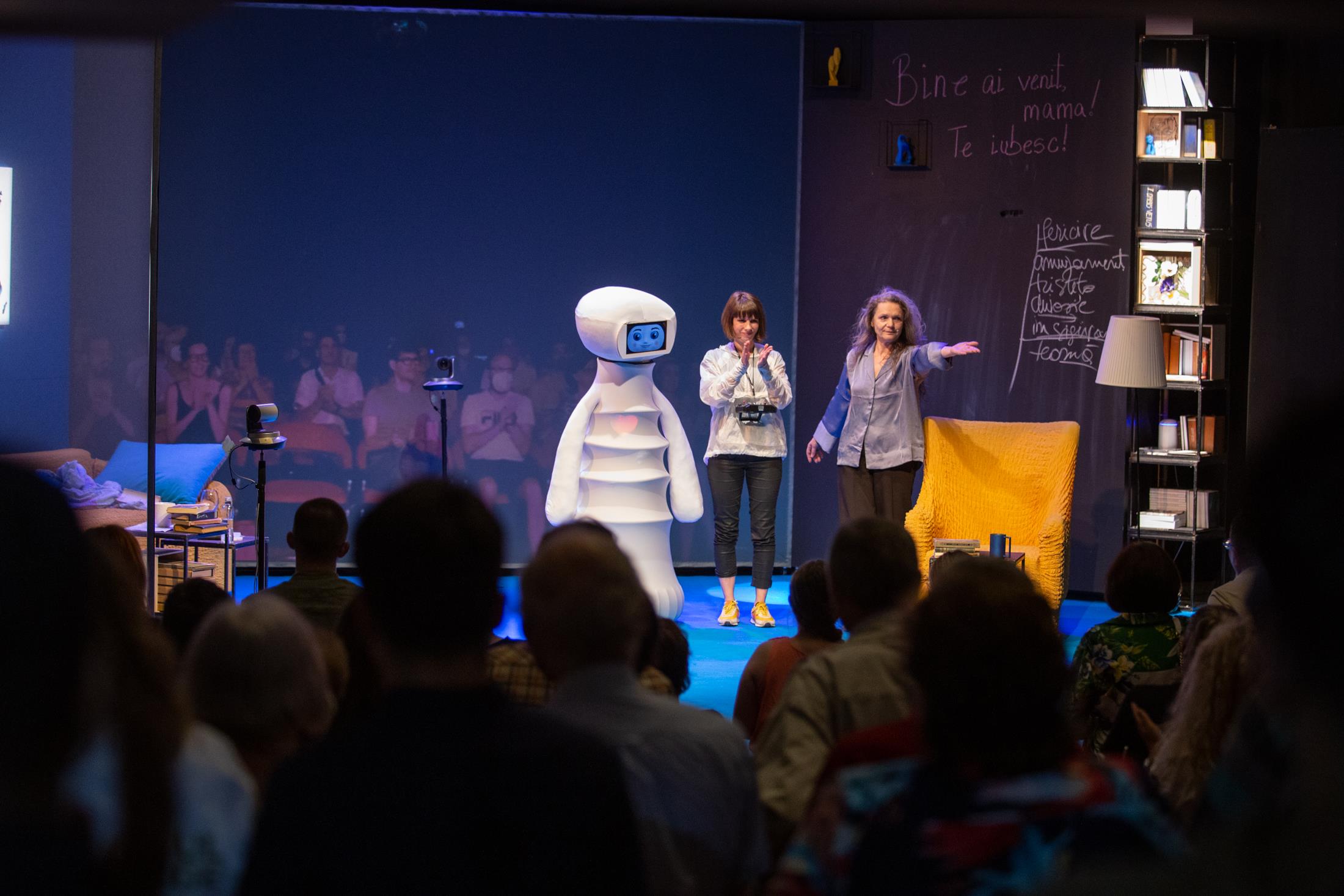 A story from the year 2032 about parents, children and robots.
By: Marina Hanganu și Bianca Trifan
Italian translation: Camilla Brison, Monica Buzoianu and Ioana Rufu
Cast:
Laura Mihalcea: Aura Călărașu (RO)
Ogmios Z42: Smaranda Găbudeanu (RO)
Virginia Visconti: Monica Buzoianu (IT)
Amalia Visconti: Francesca Fatichenti (IT)
Lorenzo Visconti: Giovanni Longhin (IT)
Directed by: Marina Hanganu (RO) and Camilla Brison (IT)
Assistant director: Bianca Trifan (RO)
Video director: Armine Vosganian (RO)
Assistant video director: Davide Nocera (IT) și Stefano Cozzi (IT)
Set design: Andreea Diana Nistor (RO) și Greta Gasparini (IT)
Assistant to set designer: Viola Aprile (IT)
Costumes: Marilena Montini (IT) și Andreea Diana Nistor (RO)
Original music: Andrei Petrache (RO)
Light design: Costel Baciu (RO) și Marco Grisa (IT)
Multimedia and communication and design platform, robot mechanics, modelling and 3D animation: Ygreq Interactive (RO) – Cristian Iordache (Technical Director ), Alexandru Andrei, Iulia Petronela Ioniță
Robot programming, mechanics and maintenance: Bucharest Robots (RO) – Ana-Maria Stancu (CEO) and eng. prof. Marius Dumitrescu
Robot exterior and martwatch: Lucian Păun (RO)
Video game illustrations: Alex Rusu (RO)
Live apps control: Filippo Di Dio (IT), Adrian Dragoman (RO), Marco Grisa (IT), Gabriel Ilie (RO), Gheorghe Ilie (RO), Agnese Manzella (IT), Enrico Mirante (IT), Davide Nocera (IT)
Coproduction: George Ciprian Theatre" Buzău (Romania) and Industria Scenica (Italy)
Duration: 1h 40min
General audience 
Performance in Romanian and Italian with English subtitles
After Laura suffers a heart attack, her daughter, who lives in Italy, buys her a social robot and connects their distant homes via an intelligent communication system. Ogmios Z42 and the video cameras thus enter the life of this geographically dispersed family. The ethical and relational implications of technology gradually start to surface.
The performance is a telematic one, as it takes place simultaneously in Romania and Italy, with actors and audiences in both countries. The actors in the two spaces interact in real time via the Internet.
Based on interviews with Romanian migrants and left-behind elderly parents, the play explores the theme of migration. The research phase for designing the robot included creative workshops with adults and children in Romania, Spain, and Italy.
Photo credit: Vlad Dumitrescu
(All pictures are from the stage version in Romania, which will be broadcast through livestreaming).