fnt.ro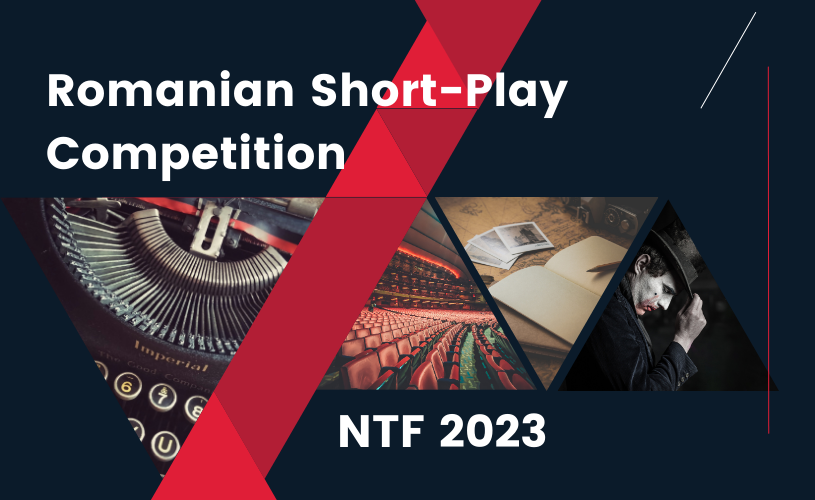 The 33rd Edition of the National Theater Festival, taking place between the 20th and the 30th of October, 2023 in Bucharest, is announcing a new short-play competition (duration: 10 minutes for a reading), with a subject of your choice. This is a call to all upcoming authors and playwrights, and an encouragement towards writing plays with themes and formats that match present and future playwriting.
Bogdan Georgescu, Petro Ionescu and Elise Wilk will be handling the selection process as a team. They are national and international-caliber playwrights, collaborating with state and independent theatres alike.
Following the selection, the chosen authors will participate in a playwriting workshop coordinated by Bogdan Georgescu, Petro Ionescu and Elise Wilk (both individual and collective working sessions). In this context, they will receive feedback and will be able to develop the writings they have submitted.
The selected plays will be presented in the form of Play-readings held within the National Theater Festival 2023, to be published on www.liternet.ro. By promoting modern local playwriting, NTF intends to serve as a space of support and visibility for new writing.
Competition and workshop time plan:
August 10th: Submission deadline
August 24th: Selection announcement
August 25th to September 25th: Online meetings with Bogdan Georgescu, Petro Ionescu, Elise Wilk
October 2-5th: Final working sessions with the authors and directors working on the play-readings for the NTF showcase
Requirements for participating:
Writer's resume
The short play (10 minute reading out loud time)
Declaration of conformity (I, the undersigned, declare that the text… belongs to me and I undertake that, in the event that I am selected, I will participate in the dramatic writing workshops).
The above-mentioned documents need to be submitted to this mail address: [email protected].
The NFT Curators, 
Mihaela Michailov
Oana Cristea Grigorescu
Călin Ciobotari