fnt.ro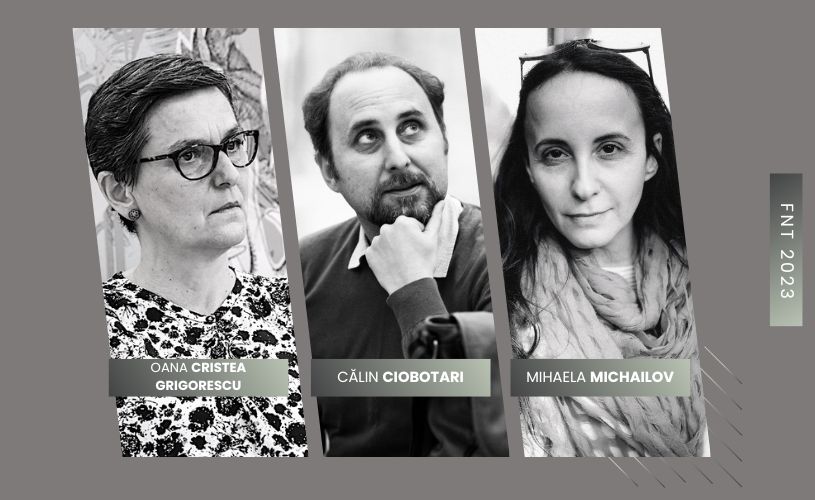 Motivation of the curators of the 33rd Romanian National Theater Festival. The curatorial team of the RNTF 2023 (Mihaela Michailov, Oana Cristea Grigorescu and Călin Ciobotari), after viewing more than 150 performances produced by state-funded as well as in independent theatres that premiered in the 2022-2023 theatrical year, opted for a series of productions they found corresponded to the theme of this year's edition: RNTF, the Laboratories of the Sensitive.
The general principles that guided the curators in our choices were:
the quality of artistic research of the performance. This feature had to manifest at one or more of the following levels: theme/ dramaturgy; the construction, by means of the director or the set-designer, of challenging stage realities and of unconventional artistic languages; exploration within the role. The selection process was also a search for artists and performers who contain inside themselves certain reflexes of "researchers", artists and performers who are willing to accept that art is not a given something, but a state of perpetual becoming something – not a certainty, but a continual try-out.
an air of a theatrical laboratory. Elements such as: experiment, risk, hypothesis, questioning, will to innovate, etc. had to be recognizable in the finished work.
a potential for growth. The curators strove to encourage the ascending trajectories of certain theatre groups and to highlight the stages of their growth.
representativity. Although the artistic value criteria do not always overlap with those of geographical distribution, a national festival requires a special kind of attention to regional theatre dynamics. To some extent, the curators' choices have also considered this aspect.
ethical component. While selecting the shows, the curators remained highly perceptive to creations in which the aesthetic built up against an ethical background, at the same time avoiding zones of moral ambiguity surrounding certain projects or creators.
preferences/ interests of the audiences. Last but not least, the curators considered the necessity to observe the interests of the audience, both in terms of relevance of certain themes and in terms of spectacular constructions themselves.
Further on, a brief and precise motivation for each title in the selection, as well as the structure of the side-bar components that round up the curatorial concept.
RNTF 33 PERFORMANCES
ACROBAȚII – 7 zile din viața unor profesori de țară/ THE ACROBATS – Seven Days in the Life of Some Rural Teachers
Written and directed by David Schwartz
Set design by Irina Gâdiuță
Music and lyrics by Paul-Ovidiu Cosovanu
Stage movement by Paul Dunca / Paula Dunker
Director and producer assisted by Eva Todică
Produced by Asociația O2G
Agnes, aleasa lui Dumnezeu/ Agnes of God
Written by John Pielmeier
Translated by Bogdan Budeș
Directed by Sânziana Stoican
Set design by Valentin Vârlan
Produced by Nottara Theater, Bucharest
Apocalipsa gospodinelor/ Housewives' Apocalypse
A performance by Nicoleta Esinencu, Doriana Talmazan, Paul-Ovidiu Cosovanu, Daniel Chirilă, Corina Grigoraș, Lucreția Mandric, Ruxandra Maniu, Iulia-Paula Niculescu and Daria Tămăslăcaru
Sound design by Paul-Ovidiu Cosovanu
Lighting design by Cristian Niculescu
Produced by Youth Theater, Piatra-Neamț
Băgău
After the novel written by Ioana Bradea
Directed by Cristina Giurgea
Set design by Ioana Ungureanu
Produced by "Marin Sorescu" National Theater, Craiova
Băieții de zinc / Zinc Boys
Stage version by Yuri Kordonsky, after the novel Boys in Zinc by Svetlana Aleksievich
Directed by Yuri Kordonsky
Set design by Nina Brumușilă
Produced by Bulandra Theater, Bucharest
Cameristele/ The Chambermaids
Written by Jean Genet
Directed by Hunor Horváth
Set design by Előd Golicza
Costume design by Zsófia Gábor
Dramaturgy and texts by Paula Breuer
Music by Magor Bocsárdi & "RakLap"
Produced by "Radu Stanca" National Theater, Sibiu, German Section
Când ploaia se va opri/ When the Rain Stops Falling
Written by Andrew Bovell
Translated by Radu Iacoban
Directed by Radu Iacoban
Set design by Tudor Prodan
Original music by Aida Šošić
Stage movement by Ștefan Lupu
Produced by Mic Theater, Bucharest
Delfini/ Dolphins
A rewriting by Adina Lazăr, after The Solitude of the Stones by Flavius Lucăcel
Directed by Adina Lazăr
Set design by Mihai Vălu
Sound design by Adrian Piciorea
Produced by Baia-Mare Municipal Theater
E adevărat, e adevărat, e adevărat! / It's True, it's True, it's True!                                                                                                     
Written by Breach Theater
Translated by Alexandru Mâzgăreanu, revised by Adrian Nicolae
Directed by Alexandru Mâzgăreanu
Set design by Alexandra Boerescu
Music by Alexandru Suciu
Produced by ACT Theater, Bucharest
Exil/ Exile
Written and directed by Alexandra Badea
Set design by Cosmin Florea
Original music by Călin Țopa
Produced by "I.L.Caragiale" National Theater,Bucharest
Exod/ Expulsion
Written by Marius Ivaškevičiusš
Translated by Raluca Rădulescu
Directed by Oskaras Koršunovas
Set design by Gintaras Makarevičius
Costume design by Corina Grămoșteanu
Choreography by Vesta Rasa Grabstaite
Produced by "Mihai Eminescu" National Theater, Timișoara
Hedwig and the Angry Inch
Written by John Cameron Mitchell
Text translated by Carmen Stanciu
Lyrics translated by Alex Ștefănescu
Music and lyrics by Stephen Task
Directed, choreographed and costume design by Răzvan Mazilu
Set design by Adriana Grand
Produced by "Stela Popescu" Theater, Bucharest
Ierbar/ Herbarium
Scripted by Radu Afrim after Cartea plantelor și animalelor, by Simona Popescu
Set design by Irina Moscu
Musical Illustration by Radu Afrim
Video by Trucza Samu
Produced by Târgu Mureș National Theater, "Liviu Rebreanu" Company
La Academie/ At the Academy
Written by Alexandra Felseghi
Directed by Andrei Măjeri
Set design by Adrian Balcau
Choreography by Victoria Bucu
Sound-design by Adrian Piciorea
Produced by "Mihai Eminescu" Theater, Botoșani
La Ronde
Written by Yann Verburgh, after Hands Around by Arhur Schnitzler
Directed by Eugen Jebeleanu
Set design by Cosmin Florea
Sound design by Eugen Jebeleanu & Rémi Billardon
Audio production by Marius Popa
Produced by "Andrei Mureşanu" Theater, Sfântu Gheorghe
Livada/ The Orchard
After A.P. Checkhov
Directed by Slava Sambriș
Set design by Răzvan Bordoș
Costume design byDiana Nistor
Sound universe by Dumitru Seretinean
Lighting design by Costi Baciu
Video design by Mihai Nistor
Produced by "Matei Vișniec" Theater, Suceava
Lysistrata, dragostea mea/ Lysistrata, mon amour
Written by Matei Vișniec
Directed by Zalán Zakariás
Set design by Andra Bădulescu Vișniec
Music by Hunor-Lehel Boca
Choreography by Alice Veliche
Musical training by Diana Roman
Videos by Andrei Cozlac
Video recordings by Andrei Botnaru
Produced by "Vasile Alecsandri" National Theater, Iași
Magyarosaurus Dacus
Written and directed by Gianina Cărbunariu
Translated and adapted for stage by Boros Kinga
Set design by Irina Moscu
Music by Trabalka Cecília
Produced by "Szigligeti" Theater, Oradea
Mansdorf
Written and directed by by Mihai Lukács
Set design by Oana Micu
Sound universe by Andrei Dinescu
Choreography by Michaela Zibileanu
Stage movement by Cabiria Morgenstern
Music master Bogdan Lifșin
Co-produced by Centrul Dialectic and Jewish State Theater, Bucharest
Mass
Written by Fran Kranz
Directed by Andrei and Andreea Grosu
Set design by Vladimir Turturica
Coproduced by "Radu Stanca" National Theater, Sibiu and unteatru, Bucharest
Neliniște/ Disquiet
Written by Ivan Vyrypaev
Directed by Bobi Pricop
Set design by Oana Micu
Produced by Odeon Theater, Bucharest
Nuntă în Oaș/ Wedding in Oaș
Written by Anca Munteanu
Directed by Cristian Ban
Set and costume design by Tudor Prodan
Folk costumes by Cristina Milea
Music by Vlad Giurge
Produced by North Theater Satu Mare, "Mihai Raicu" Company
Oglinda neagră/ The Black Mirror
Based on Luigi Pirandello's short stories The Wheelbarrow and A Breath
Translated by Maria Rotar
Directed by Roberto Bacci
Spatial concept by Ionuț Caras
Produced by "Lucian Blaga" National Theater, Cluj-Napoca
Oxigén/ Oxygen
Written by Ivan Vyrypaev
Dramaturgy by Deák Katalin
Directed by Pálffy Tibor
Music by Kónya-Ȕtő Bence
Visual effects by Rancz András
Produced by "Támasi Áron" Theater, Sfântu Gheorghe
Scorpia neîmblânzită/ The Untamed Shrew
after William Shakespeare
Written by Leta Popescu, after an adaptation by Maria Manolescu
Shakespeare texts translated by Violeta Popa
Directed by Leta Popescu
Set design by Bogdan Spătaru
Music by Radu Dogaru
Choreography by Andrea Gavriliu
Produced by "Lucian Blaga" National Theater, Cluj-Napoca
Seaside Stories
Texts by Marius Chivu, Lavinica Mitu, Dan Alexe, Simona Goșu, Tudor Ganea, Nicoleta Dabija
Scripted, directed and sound universe by Radu Afrim
Set design by Theodor Cristian Niculae
Produced by Constanța State Theater
Tinerii barbari/ Young Barbarians
Adapated after Miklós Vecsei H.
Directed by Attila Vidnyánszky Jr.
Set design by Csaba Csíki
Costume design by Zsuzsanna Cs. Kiss
Music by Dávid Mester
Choreography by István Berecz
Produced by Hungarian State Theater, Cluj
TSCHICK. De ce am furat mașina/ TSCHICK. Why We Took the Car
Written by Wolfgang Herrndorf
Adapted for the stage Robert Koall
Directed by Irisz Kovacs
Set and costume design by Clara Ștefana
Dramaturgy by Rudolf Herbert
Music and sound design by Adrian Piciorea
Produced by German State Theater, Timișoara
Visul/ The Dream
Written by Alexa Băcanu
Directed by Dragoș Alexandru Mușoiu
Set design by Mihai Păcurar
Choreography by Sergiu Diță
Music by Max Anchidin, Renata Burcă, Magor Bocsárdi, Csaba Boros, Tibor Cári, Radu Dogaru, Ada Milea, Adrian Piciorea, Corina Sucarov, Peter Visky, Anonymous composer
Musical training by Adonis Tarța
Produced by Reactor de creație și experiment, Cluj- Napoca
Acrobații/ The Acrobats – Seven Days in the Life of Some Rural Teachers
To the eyes of director David Schwartz, an artist with a constant interest in researching the political stakes assumed by documentary theatre, education is a theme of layered systemic reflection. In Acrobats, he uses an approache from the perspective of rural teachers. Education, like a ball of fragile threads, as a thin rope on which teachers constantly balance between precariousness and survival, between disinterest and wishful thinking, is explored theatrically with playful inventiveness and analytical acuity. Acrobats is the chronicle of an educational present torn by infinite paradoxes.
Agnes, aleasa lui Dumnezeu/ Agnes of God
Featuring a very talented double cast, the show presents the loss of innocence and the confrontation with the tragedy of life's realities, wrapped in a fake detective story. The strength of the acting confronts scientific reasoning and salvation brought about by Christian love. The tragedy of the main character resonates with the threat of obtuse faith, a theme very poignant in today's (Romanian) world, a world that has lived through a phase of denial of the pandemic, prone to ideas contradicting scientifically based theories.
Apocalipsa gospodinelor/ Housewives'' Apocalypse
In the collective vision of the creative team, Housewives' Apocalypse is a liberating live concert, concentrating stories of multiple forms of systemic violence against women, inspired by the personal stories of the actresses. A performative manifesto with an explicitly radical message, Housewives' Apocalypse has the choral quality of a statement of combat, combining acute emotional states and an assumed revolt against the perpetuation of abuse, having kept generations of women in gruesome silence, walled inside coercive myths.
Băgău
Using a theatrical melange of frustrated realism and expressive stylization, director Cristina Giurgea casts the light onto the universe of a cult novel of the 2000s, Băgău, written by Ioana Bradea. Constructed as a collection of short scenes alternating with concentrated monologues, Băgău is like a video clip of the beginning of the millennium, featuring the most contradictory elements of the dynamics of those times: addictions to erotic lines, families in search of an uncertain balance, precariousness, the illusion of redeeming love stories, without any sort of security beaming at the line of the horizon. Băgău thus becomes a theatrical X-ray investigation of the times that left their mark on post-World War II transformations.
Băieții de zinc/ Boys in Zinc
Boys in Zinc is a courtroom-show attributing the position of the jury to the audience. Seven actresses sitting at a table, throughout the trial and publicly testify to the tragedy of losing their sons/husbands during the war in Afghanistan (1979-1989). While the sharing their life stories speaking their intensely emotional monologues, a symbolic political trial unfolds, an accusation of the civilians against the Soviet regime. The very austere performance, the total simplicity of the directorial treatment, the seven exceptional actresses question the aggressive nature of the state and the inhuman treatment of its citizens. In keeping with Russia's current aggression in Ukraine, the theme of the performance is painfully recognizable and clearly states the anti-war conviction of Russian director Yuri Kordonsky.
Cameristele/ The Chambermaids
Director Hunor Horváth proposes an original, extremely courageous, radical view on Jean Genet's text. With firy live music rhythming the confrontations between reality, appearance and projection, into a redeeming imaginary, The Chambermaids turns out to be a performance about the exploitation and submission of the vulnerable ones, about constraint and transformative revolt, about the fluidity of identities that melt and get to be reborn from their own combustion, about the possibility of destabilizing pre-established social roles.
Când ploaia se va opri/ When the Rain Stops Falling
A world eroded by the disasters of global warming becomes the canvas of the backdrop against which the performance weaves its transgenerational stories together, a series of stories in which the departed and the remaining carry their memories on, responding to each other in an order that defies temporal boundaries, composing a dense narrative featuring explosive poeticism. When the Rain Stops Falling is about sons waiting to find their fathers somewhere, someday, and about mothers decisively breaking away from overwhelming grief. Director Radu Iacoban succeeds in valuing those intersections of numerous layers, an atmosphere allowing emotional states to build up gradually, to flare up and then to fall down without any sort of a safety net.
Delfini/ Dolphins
Dolphins questions the story of a family living on the edge. On the edge of the socially acceptable, on the edge of the tolerable.  Dolphins uses an empathic theatrical language, without turning pathetic, not even for one second. Adina Lazăr finds the perfect balance between filtering intense emotions and lucidly gaining a distance towards the existential drama, letting us sensibly witness the life of a child in search of words so hard to utter. In Dolphins we step into an aquarium of neurodivergence and navigate among powerful emotional states.
E adevărat, e adevărat, e adevărat! / It's True, it's True, it's True!                                                                                                     
The show is a re-enactment of a real court trial, reconstructed via documents saved along many centuries. The biography of female painter Artemisa Gentileschi serves as a feminist manifesto against rape and abuse, justified as they were, for centuries, by patriarchy. The direction focuses on building tension along the stating of the reasons, while the all-female cast supports the contemporary view of the story. With an audience sitting extremely close, filmlike facial expressions amplify the effect of the audience's direct involvement in the unfolding of the trial.
Exil/ Exile
In Exile, Alexandra Badea walks the path of disturbing political events in the present of a group of people seeking an emotional reconciliation with the past. Exploring the extremely sensitive theme of belonging and theatrically constructing intertwining layers of time, Exile is a performance-interrogation on the confrontations between macro-history and personal histories, as they become fragile by inherited silences, by ruptures with visible wounds, by departures and returns to places that still ache, by the memories of women who carry their traumas and search of healing words.
Exod/ Expulsion
The overwhelming relativity of that thing called home, the theme of migration, the national and individual traumas generated by the act and feeling of leaving, self-colonization, the problem of the stranger, the loneliness, despair and survival in another culture, all these are lines of socio-theatrical study opened by director Oskaras Koršunovas and playwright Marius Ivaškevičius, both from Lithuania, at the National Theater "Mihai Eminescu" Timișoara. Expulsion is a wide-ranging project, overwhelming in its violent-poetical realism, in its multitude of layers of meaning and in its ambition to reconstruct the terrible discomfort of a state of mind. With intense performances from actors and musicians, Koršunovas holds his disturbing topic wide open in front of our eyes: expulsion is not only a separation from a geographical place, but also from oneself…
Hedwig and the Angry Inch
Continuing his constant research in musical theatre, Răzvan Mazilu constructs a world balancing on the borderline between sordidness and kitsch, a world in which the marginalized, the people living on the outskirts of history, build their spaces of artistic expression, impossible to fit into fixed limits. Hedwig and the Angry Inch has the poetic and political vibrancy of a transfiguring search for the self, in the name of the freedom to shatter any barriers, anything that seems impossible to face and to confront. The show is the glam & queer story of the transformation of a 16-year-old teenager from East Berlin into a star. A star for whom existence has one single meaning: his quest for love.
Ierbar / Herbarium
Could language (still) create worlds? Could words (still) generate realities? Could poetry (still) save something or someone? These are some of the questions raised by this very fertile theatrical partnership between director Radu Afrim and poet Simona Popescu. Stage direction itself turns into poetry, just as poetry, through its power to organize the unseen, is symbolically invited to take over the functions of the stage direction. Beyond the linguistic explorations, the Afrimian Herbarium addresses the unsettling, ever more urgent theme of the alienation of the human being, it's loss of the connection to nature and the irreversibility of that process. Powerful in sound, visually complex, Herbarium addresses us directly, telling us, in various forms what we have been and what we have become.
La Academie
Andrei Măjeri's performance at the Theater in Botoșani, based on Alexandra Felseghi's writing, explores the Romanian countryside in a sensitive, ironical and empathetic way, explicitly aspiring to a type of "popular theatre" (in fact, similar to the "raw theatre" theorized by Peter Brook). The project follows the structural mutations undergone by one of the most ambiguous social categories, that of the peasant, in a quasi-methodological way, taking up Caragiale's "weap and laugh" formula. The research is being done not only in relation to the present, but also to eternity, as the director develops his unpredictable, ironically metaphysical tonalities. One more reason speaking up for this performance is the clearly detectable evolution of an artistic team and their necessary come back within the â national theatrical limelight.
La Ronde
La Ronde is a laboratory of emotions in constant evolution, a cabaret of erotic urges and of often uncontrollable emotions, with relationships evolving into a constellation of expectations, fantasies, frustrations, failures, reencounters, ways of escaping from normative constraints. Yann Verburgh's text, an inventive rewriting of Arthur Schnitzler's Hands Around, presents director Eugen Jebeleanu the space that lets him imagine the relationships between the intimate, the social and the political. La Ronde deepens both the need to belong and the liberating dream of defying exclusive belongings and of loving beyond the imposed or accepted limits.
Livada/ The Orchard
Director Slava Sambriș's The Orchard stands out for its refinement of the construction, for the elegance of some of the solutions employed, for the quality and richness of the work with the actors, for the surprising and provocative resizing of some characters. The Chekhovian text is moulded in the form of a laboratory in which the director and his collaborators study not only Chekhov's writing, but rather the human being of our times, not that orchard, but a multitude of other orchards on the verge of being wasted forever. Ranevskaya, Lopahin, Trofimov and all the others thus become delicate and problematic mirrors of the human beings living in the 21st century. Last but not least, the Orchard brings a memorable rendition of the character of Firs by actor Emil Coșeru.
Lysistrata, dragostea mea/ Lysistrata, mon amour
In Lysistrata, mon amour, Matei Vișniec initiates an exchange of ideas with Aristophanes, not without polemic overtones. The playwright takes up the central character and his theme (the plea against war and the "sexual strike" of women) as he investigates the consequences of a utopian, still very tempting scenario. Good quality humour is interwoven with serious reflections on questions such as: What is the use of war? Is peace a guarantee of happiness or just a stage during the transition to  yet another conflict? Is there a real evolution from the people of 2,500 years ago, or has humanity essentially remained unchanged?
Magyarosaurus Dacus
Continuing her long research in the direction of dramatizing significant historical events, Gianina Cărbunariu's Magyarosaurus Dacus brings baron Nopcsa Ferenc to the foreground and constructs a performance in which his identity becomes an alloy of contradictory perspectives, paradoxes, and questions. In the footsteps of a controversial personality, the director links interpretations of the past with deciphering the immediate present, structuring multiple derivations of one and the same destiny.
Mansdorf
Mansdorf is a performance-research, a retrieval of the history of Jewish theatre after the key moment of 1945, focusing on the story of the IKUF theatre group, setting out to produce Yiddish-language performances. The performance becomes a framework for a debate on the themes and forms of expression addressed in Yiddish-language theatre at that time, in direct relation to a traumatic history, while connecting the past – i.e. the discussions about financial problems, the topics presented in the performances, the relationship with the audience – to a present in which we recognize many traces of the evoked years.
Mass
Starting at Fran Kranz's highly disturbing text, Mass, Andrei and Andreea Grosu reveal a very subtle theatrical analysis of guilt. Together with four important Romanian actors and actresses (Ofelia Popii, Marius Turdeanu, Mihaela Trofimov and Richard Bovnoczki), the two directors step onto a problematic territory where, just like inside a kaleidoscope, pros and cons, strategies and self-illusions, accusations and positions, victims and executioners constantly change their polarities. An apparently simple question, "Who is the guilty one?", reveals, through theatre, its profound metaphysical, social, psychological, cultural, existential meanings.
Neliniște / Disquiet
The performence revolves around the character of the writer played with multiple nuances by Dorina Lazăr. Director Bobi Pricop leaves room for dialectical twists of the credibility of creation in the face of the facts of life, from which the disquiet disturbing the conscience of the characters erupts. The relatively static quality of the performance creates the backdrop for the confrontation of consciences in this veritable theatre of ideas. Disquiet is an unfolding of the fusion between fictions and contradictory realities, of all those things that cannot be fully said and of what is just invented, in order to make it all bearable, after all.
Nuntă în Oaș / Wedding in Oaș
Wedding in Oaș proposes an anthropological study of the transformation of the rural world in the Romanian region of Oaș, considered a place where traditions are preserved unaltered. Director Cristian Ban brings us a comedy with satirical accents and a cast that excels in female parts played by virtuosos. Roxana Fânață and Ioana Chereji are delicious in their roles of emancipated villagers, offering an image of the rural world and its irreversible transformation in the face of mercantile values.
Oglinda neagră / The Black Mirror
Ionuț Caras, an actor having reached a stage of high professional refinement, offers us a glimpse inside the delicate and profound mechanisms of the construction of a part. Inside the shadowy laboratory, man and character negotiate their territories, borrow their contours, and interrogate each other's levels of reality. Caras' immersion in Pirandello is not only a theatrical exercise, but also an existential one, designed to provide new horizons for reflection on the complicated relationships between the individual and society. From inside the character, the actor looks at himself, playing out his double destiny on stage and raising the stakes of the art of acting to a totally new level.
Oxigén/ Oxygen
In Pálffy Tibor's reading, Ivan Vyrypaev's play is not simply a text for the stage, it rather turns into a dialogue partner, leading a relationship with the characters in the cast. This seemingly paradoxical situation is relevant to the very stakes of the staging at the Támasi Áron Theater, that of retracing Treplev's metaphor of the search for new forms, appropriate for the present time. The result is a composition of an elaborate quality of sound and image, delightfully fluid in its form, with surprising reliefs, provoking dreamlike pulsations, but also cold, frontal meditations on the real. Atypical, strange and difficult to define, Oxygen could in fact be an echo coming from the future of performance art.
Scorpia neîmblânzită / The Untamed Shrew
The Untamed Shrew, rewritten by Maria Manolescu Borșa and director Leta Popescu for the National Theater Cluj, polemically reinterprets the Shakespearean text from a feminist perspective. The performance deconstructs the relationship between the characters, swinging between affirming and denying of the patriarchal tradition of the female-male power relationship inside society and inside the couple. Consistent with her yearlong directorial project, Leta Popescu associates her laboratory of contemporary retrieval of popular theatre forms with producing dramatic texts nurtured by the themes of the present.
Seaside Stories
Radu Afrim undertakes a vast affective-theatrical investigation on the fragile human relief, featuring the sea, the coast, the holidays, considered as landmarks for an intimate landscape of wandering and finding oneself. At the dramaturgical level, the director's proposal, a collage of poetic-narrative structures, based on contributions from the well-known Romanian writers, opens up the theme in a pluri-perspectival way, locating it at the same time in an autochthonous, familiar and nostalgia generating mental space. Seaside Stories also reveals a diverse and strong group of actors, their genuine creative sensibilities. Collaboration with Radu Afrim might lead to a revival on the long-term of this theatre troupe.
Tinerii barbari / Young Barbarians
Young Barbarians at the Hungarian State Theater, Cluj, directed by the young Hungarian director Attila Vindyánszky Jr., proposes an intense and sharp response to the ideea of nationalism as a state ideology. The performance is a polemic squabble against the ideologization of the Hungarian culture in authoritarian regimes. The fragmentary biography of the friendship between Béla Bartók and Zoltán Kodály during their musical folklore gathering campaigns dismantles the concept of national cultural identity. The iconoclastic character of Béla Bartók, a mixture of physical debility and self-sacrificing effervescence, reveals the gap between the nationalist confiscation of music/culture and its vital purity.
TSCHICK. De ce am furat mașina/ TSCHIK. Why We Took the Car
The show has the freshness of adolescence and the flavour of the discovery of the world. The young director Irisz Kovacs invites us to see an initiatory adventure in the adult world through the eyes of the two characters, two adolescents. Inspired by the aesthetics of comic strips, so familiar to young people, the set design is all about suggestion, whereas the acting leaves room to the imagination of the spectator, whom they take along on a journey to a never to be reached, imaginary Wallachia. Tschick… is a show about friendship and about growing up, but above all about the value and limits of freedom.
Visul/ The Dream
Conceived as a musical, The Dream becomes a kind of laboratory for dissecting the relationships between teachers/professors and male/female students, exposing dramatic situations with a critical attitude, with irony and poignancy of analysis. On the fine edge between internalization, normalization and precise identification of abuse, The Dream deepens the power relations in the academic environment and thus becomes a performance, a reflection on how learning spaces can produce trauma.
FOREIGN PROGRAM
Catarina and the Beauty of Killing Fascists
Written and directed by Tiago Rodrigues, with the artistic collaboration of Magda Bizarro
Set design by F. Ribeiro
Lighting design by Nuno Meira
Costume design by José António Tenente
Sound design and original music by Pedro Costa
Master of choir, vocal arrangements João Henriques
Choreography by Sofia Dias, Vítor Roriz
Produced by the National Theater D. Maria II (Lisbona), Portugal
Coproduced with Wiener Festwochen, Emilia Romagna Teatro Fondazione (Modena), Théâtre de la Cité – CDN Toulouse Occitanie & Théâtre Garonne Scène européenne Toulouse,  Festival d'Automne à Paris & Théâtre des Bouffes du Nord, Teatro di Roma – Teatro Nazionale,  Comédie de Caen, Théâtre de Liège, Maison de la Culture d'Amiens, BIT Teatergarasjen (Bergen), Le Trident – Scène nationale de Cherbourg-en-Cotentin, Teatre Lliure (Barcelona), Centro Cultural Vila Flor (Guimarães), O Espaço do Tempo (Montemor-o-Novo).
Oh, My Sweet Land, Syria
Concept by Corinne Jaber
Produced by Young Vic Theater, Théâtre de Vidy
Pieces of a Woman
Text and dramaturgy by Kata Wéber
Directed by Kornél Mundruczó, with the artistic collaboration of Soma Boronkay
Set and costume design by Monika Pormale
Music by Asher Goldschmidt
Lighting design by Paulina Góral
Produced by TR Warszawa, Poland  
Truth's a Dog Must to Kennel
Written, directed and performed by Tim Crouch, with the artistic collaboration of Brian Ferguson and Adura Onashile
Music by Pippa Murphy
Lighting design by Laura Hawkins
Produced by The Royal Lyceum Theater, Edinburgh, Great Britain
PROGRAMS AND EVENTS
RNTF EDUCATIONAL
Initiated in 2022, the RNTF Educational module continues in 2023, focusing on two components: theatre workshops dedicated to special schools and high schools for children and teenagers with different types of impairments (Special Technological High School "Regina Elisabeta" in Bucharest – educational institution for students with visual impairment; Special Vocational School for the Hearing Impaired "Saint Mary") and theatre performances and performances brought to schools and high schools in Bucharest, addressing children and teenagers aged 6 to 18.
Mâine nu ne mai sperie (așa tare)/ Tomorrow Doesn't Scare Us so Much (Any More) (15+)
By and with: Ada Ciocârlan, Dări Tămăslăcaru, Denisa Moisă, Elena Bogdan, Eli Deliu, Iulian Stoian, Paul Timofte
A performance devised during a series of residences within the program "CEVA peren. Intervenție culturală continuă în mic urban".
Directed by Petro Ionescu
Dramaturgy by Ștefan Mako
Set design by Flavia Stroe
Choreography by Filip Stoica
Music by Oana Maria Zaharia & Ștefan Botezatu (POETRIP)
Artistic consultant Irina Slate
Produced by Platforma culturală Frilensăr
Organised by Centrul educațional de arte performative CEVA, Târgu Neamț
Muzicanții din Bremen/ The Town Musicians of Bremen (6+)
Adapted after the Grimm Brothers,
Directed and adapted by Adam Boboc
Set design and sculptures by Ana Catrințașu
Music by Adam Boboc, Florin Andrea.
Produced by "Prichindel" Theater, Alba Iulia
N-am văzut nimic/ I Haven't Seen Anything (15 +)
By Andreea Tănase
Directed by Mara Oprea
Set design by Gabi Albu
Produced by Arte dell'Anima Theater, Bucharest
O lume de la zero/ A World Starting at Zero (6+)
A performance by Beatrice Iordan
Directed and designed by Beatrice Iordan.
Costumes by Viaceslav Vutcariov
Music composed by Florin Iordan.
Produced by "Ion Creangă" Theater, Bucharest
Poveștile României – Constantin Brâncuși/ Romania's Stories– Constantin Brâncuși (12+)
Written by Ema Stere
Directed by Attila Vizauer
Produced by Țăndărică Theater, Bucharest
Profil: +/- om mare (Cea mai frumoasă parte a vieții tale, gen')/ Profile: +/- adult (Like the Best Time of Your Life) (15+)
Written by Ioana Toloargă
Directed by Luana Hagiu
A performance devised within the program #oradedirigentie
Produced by Excelsior Theater, Bucharest
Punctul Nemo/ Point Nemo (15 +)
A production by Alexandra Caras, Selma Dragoș, Catinca Drăgănescu, Oana Hodade, Mihai Păcurar, Adonis Tanța.
Dramaturgy by Selma Dragoș and Catinca Drăgănescu
Co-producers: Reactor de creație și experiment (Cluj), Centrul Cultural Clujean (Cluj), Pogon (Zagreb), L'arboreto – Teatro Dimora (Mondaino)
Stai jos sau cazi/ Sit Down or Fall (12 years +)
Written by Bogdan Munteanu
Directed by Cristi Avram
Produced by "Luceafărul" Theater for Children and Youth, Iași
Vulnerabil/ Vulnerable (15 years +)
Written by Alice Monica Marinescu and Vera Ion
Set design by Irina Gâdiuță
Sound by Teodora Retegan
Produced by Asociația OV05, Bucharest
Play readings
The reading performances are an opportunity to first discover plays by European (including Romanian authors), texts built around themes and topics of the acute realities.
While last year the reading performances were directed by Bobi Pricop, this year the readings of the chosen texts will be directed by emerging directors: Anda Drăgan, Tania Drăghici, Mihai Gligan, Luiza Mihăilescu, Larisa Popa, Monica Stoica.
Each performance-reading will be followed by talks with the audience, with the participation of the creative team, as well as an expert on the topic constituting the central theme of the performance.
In the framework of this module, the RNTF hosts a competition dedicated to new Romanian playwriting. The selected authors (deadline for submitting the texts: August 10) will be offered the opportunity to work for a month with established playwrights – Bogdan Georgescu, Petro Ionescu, Elise Wilk, in order to develop their work. RNTF thus becomes a platform creating visibility for new theatre text.
The RNTF's Play Reading module is coordinated by director Bobi Pricop.
Laboratory Capsules Inside Romanian Theater Faculties
Spaces for laboratory and research par excellence, spaces for testing little-explored work formulas, spaces for expanding the specific sensibility of the experiment, the Theater Faculties all about the country will provide an opportunity for encounters between established artists, graduates and students. For two days, an authority in the field of performing arts in Romania and a graduate of the faculty will lead an applied laboratory, using a specific methodology. The laboratory capsules will turn into mini-centres for research and exploration, offering students the opportunity to approach new models of performance pedagogy.
RNTF Debates
The National Theater Festival will host, just like all its previous editions, a series of debates on topics of great interest in the performing arts in Romania. The debates offer a framework for analysis and reflection on important topics for specialists in the field and for audiences. Work ethics in performance institutions; redefining dramaturgy and reconfiguring the position of the playwright in the theatre of today; what and how we document in theatre are some of the topics to be tackled during the debates.
Focus on the National Dance Centre Bucharest
Since the very creation of this institution, the National Dance Centre has sought to systematically develop its research and performance education programmes, developing an artistic strategy focused not only on production, but also on the fragility of the laboratory and the experiment. The RNTF will present various research projects structured by the centre, along the years.
Focus on Spaces of Research and Performative Laboratory: Teatrelli, Areal- Space for Choreographic Development, Linotip – Independent Choreographic Centre, SAC (Malmaison), ArtHub.
Development of the vision of some of the spaces dedicated to laboratory and artistic research, spaces that test new formulas of creation and production, spaces that boost the artistic environment and diversify forms of expression: RNTF 2023 proposes a discussion with the curators of these spaces, focusing on the question of the stakes of artistic research and laboratory in a context dominated by production imperatives.
Theater Book Marathon
For the 2022 edition, the RNTF curatorial team proposed a new format for theatre book launches, which will be continued in 2023. Over several days, the books will be launched at the Cărturești bookshop, each presentation taking up a 30-minute slot of the launch marathon.
Exhibitions
RNTF 2023 will host a series of exhibitions dedicated to personalities and moments that have left and are still leaving their imprint onto the performing arts in Romania.
FITS at RNTF
The National Theater Festival will cast the light on the Sibiu International Theater Festival, a festival at its 30th edition. In this respect, the presentation of Games, Words, Crickets…, directed by Silviu Purcărete, produced by the National Theater "Radu Stanca" Sibiu, will be a symbolic recognition of the major role that FITS played and plays in Romanian culture. Hopefully such inter-festival communication forms will gradually turn into a tradition of the RNTF.