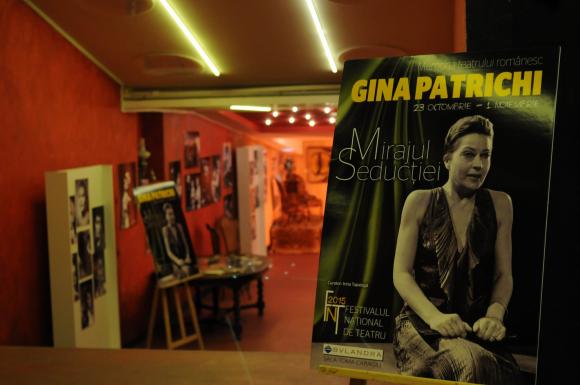 A novel, intimate, emotional exhibition: « The Miracle of Seduction », presenting the universe of a great theatre and film actress, Gina Patrichi, passed away 21 years ago, has brought together, on Saturday afternoon, her closest friends, colleagues as well as admirers of her art.
For the exhibition dedicated to Gina Patrichi within the National Theatre Festival, there couldn't have been a more suitable space for the exhibition than the foyer of the "Toma Caragiu" (Grădina Icoanei) Hall of the Bulandra Theatre. This is the space connected to most of her artistic life, the theatre where she created her characters, that she is artistically most connected to.
At the launch on Saturday afternoon, the atmosphere was that of a party like thos to which Gina Patrichi used to invite. Bits of her home: numerous pictures from her performances, her films, her family life, photographs taken together with friends and admirable colleagues, pieces of furniture from her home, where she used to rehearse her parts, dresses she had worn, jewelry, other objects kept with lots of love by her daughter, Oana Anagnoste.
The event was opened by Marina Constantinescu, the artistic director of the National Theatre Festival: "We are here, together with Gina, a few of those who loved and appreciated her, who played with her, partied with her, enjoyed with her…it's very important to preserve memory in Romanian theatre. There are months of work behind this exhibition. Oanei Anagnoste's love for theatre, for the memory of one of the greatest actresses is materialized here. We have tried to reconstruct a little bit of the atmosphere that most of you have known, along with the history that remained after her career.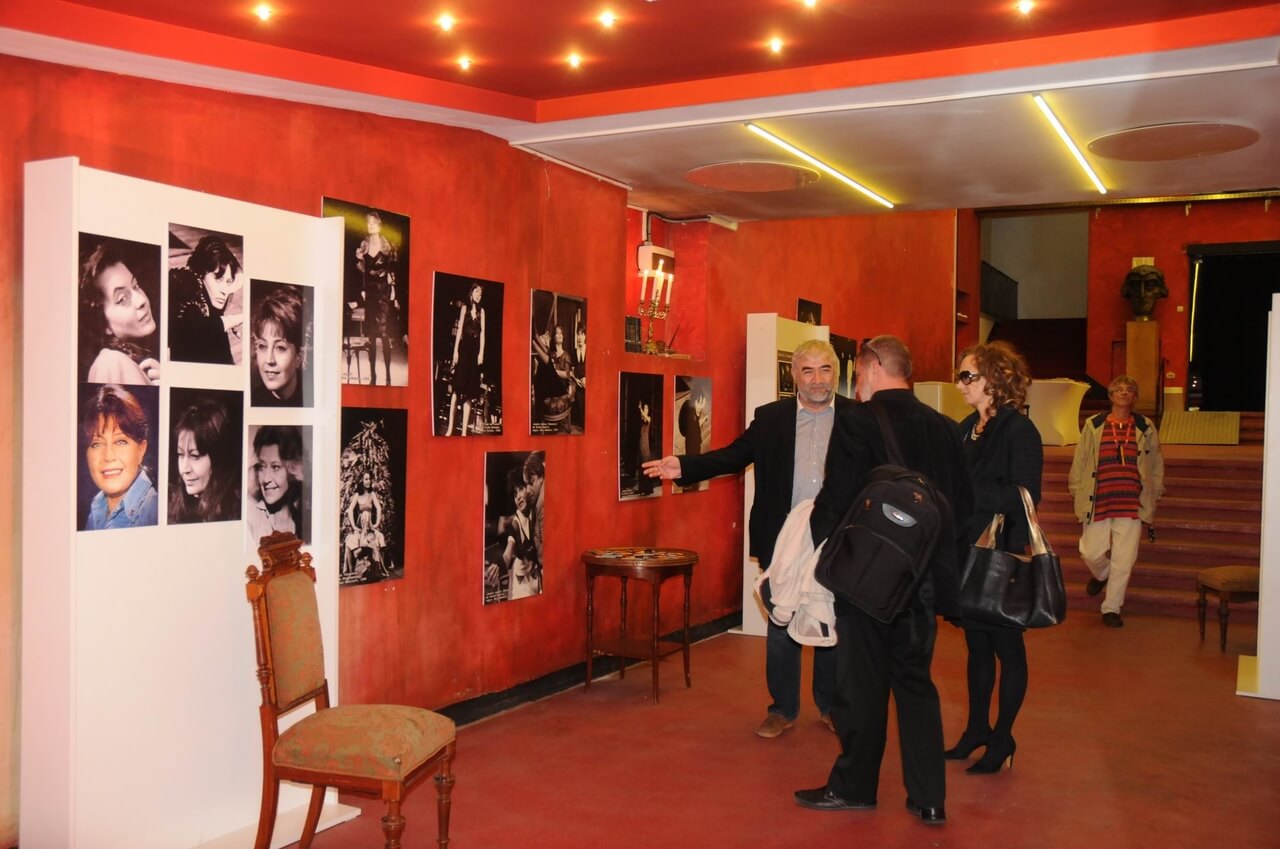 Click on the image go to the PHOTO GALLERY of the event
Many knew her in rehearsals, on stage, at her crazy parties- this is why we are now playing Gabriella Ferri's, this beautiful fool's music, to which she was listening in her moments of "unsettling" in the background.
The visitors get to see pictures of her while she was acting at the State Theatre in Galaţi, where "Valeriu Moisescu discovered her, cherished her talent and put her in the center of his world", so Marina Constantinescu. The story of this unequalled actress continues with images of her at the "Bulandra", and the last performance she was in: "Anthony and Cleopatra", directed by Mihai Măniuţiu at the National Theatre in Cluj.
Marina Constantinescu also said that the space of the exhibition has been conceived as a sort of Prospero's island, recalling the moment when Gina, at the UNITER Gala, in her Lifetime Achievement Award acceptance speech, tried to recite Prospero's monologue and didn't succeed being so emotional in that very moment".
The aim was to have her magical rod "continue enchanting us and help us fight for as long as we are, to carry on the need of Romanian theatre and of great artists, because nothing would be possible without them".
Mariana Mihuţ, a former stage colleague of Gina Patrichi said she liked the idea of the exhibition.  At the same time, this extraordinary actress pointed out: "This launch is something very, very special. I think of what Gina would have said. I'm certain she would have liked it and she'd laughed out loud. We would all have laughed out loud. But for now, we're in a sort of laughing and crying. This is what she transmits: emotion and joy".
Alexandru Darie, director of the Bulandra Theatre also spoke his beautiful thoughts about Gina Patrichi: "I knew Gina. I've been to those fantastic parties. I was quite young and was brought there by my mother and father. I've seen her tens of times on this stage, as a child or a youngster, in her performances. This is where she belongs to and she just says one simple thing: that we're a family".
The original poster of "Anthony and Cleopatra" was accompanied by a black dress Gina Patrichi was wearing in that performance. Mihai Măniuţiu, visibly moved, told the story of his encounter with the great actress when he asked her to play in the production he was preparing, about her "laser" eyes, about her last forceful and seducing appearance, about Gina's last time on stage". Măniuţiu also mentioned: "Gina was a theatre school. If you knew how to listen and absorbed what she said, you were graduating from a hyper- drama- school". He also told anecdotes from the rehearsals and about the "beautiful madness" of this actress.
Wonderful Miriam Răducanu, who «trained » Gina Patrichi was there too. Miriam said: "I miss Gina a lot. This is where we started working with her on «Anthony and Cleopatra». I loved her for she loved stringency. She wasn't afraid of it, she didn't think it would kill her talent. On the contrary, she was grounding herself very well on it. She was "crazy", as much as she needed to be. She rejoiced like a child when she threw herself into playing".
Irina Tapalagă is the artisan of this exhibition. She pointed out that the pictures have been restored, because the originals do bear the patina of time and she wanted to have a "warm exhibition". And it is one!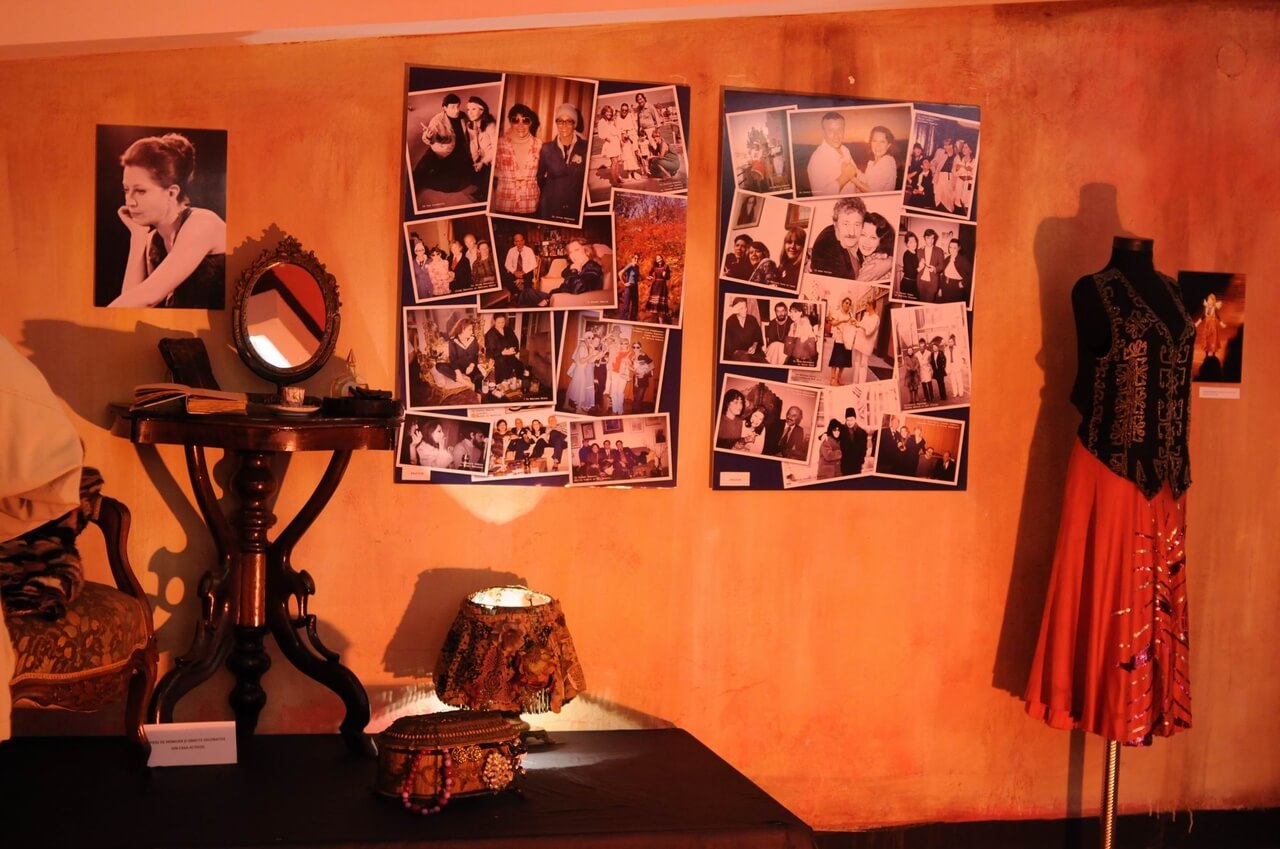 Oana Anagnoste justified her visible emotion: "I am nervous because I am here in front of a special and dear audience. It's important that you've come to this encounter 21 years after her passing away, to this demonstration of love and longing. My mother loved her peers, she loved theatre, she loved life. What remains after an actor is gone? Photographs, images, bits of film that I collected from the television archives, documents, brochures, pieces of furniture from the room she was rehearsing in. We wanted to recreate a little bit of her universe. There is no other place where this exhibition could have been organized, this is a venue my mother loved very much, so many artistic moments of her life took place here and this is also the place where she started her journey towards the other world…
"She conquered her right to the art, this is what she was saying, this was the bet she was trying to win: the right to art. And she fully won it. I'm sure her spirit is around!", Gina Patrichi's daughter said.
Go see this exhibition. You won't regret!
Photo credit: Lucian Muntean