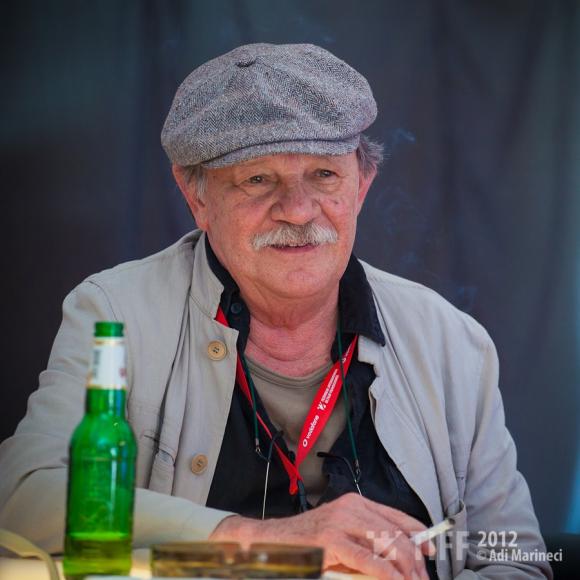 Helmut Stürmer's sets are always a show themselves. This artist writes a fresh, novel page in the history of Romanian and European theatre.
"The Visit", a performance for which you have designed the stage, is one of the most expected events of the NTF. It's a new collaboration with director Gábor Tompa, with whom you worked not only in Romania, but also abroad. What did this project mean to you, at the time when you started it?
Working on Dürenmatt's play was an opportunity to go back to a theatre and a remarkable ensemble, mixed with retrieving and old and constant friend, one who unceasingly searches for aesthetic surprises. When we started working on it, we wanted to free it of the thick layer of dust of classical, melodramatic stagings and we discovered a new play, up to date, grotesque and painfully true.
How would you invite people to come see it? What qualities does it have?
They should come see how modern Dürenmatt came out of Tompa's laundering- and mine.
To what extent did you use Friedrich Dürrenmatt's text when you created the space?
If you forget what the author indicates you are left with the essence, the contrast between the "Swiss idyll" and the human misery brought to the surface by the economic crisis. A "kitsch" postcard that has fallen into the garbage bin. This is how I wanted to build my set.
The NTF has its 25th anniversary.  There were quite many performances for which you have been designing the sets. How would you define this theatrical event that takes place every year, since 1990?
Festival-competition, a good reason for always necessary artistic "recycling". You feel honored when you are selected. There is also a danger- you might feel persecuted when you are not on the selection list- and that even if you say you don't really care. The truth is that the festival, like all European festivals, provokes without wanting the ambitions of the selection candidates to showcase quality productions- and this is a very  good thing. Foreign presence is extremely important for "refreshing theatrical blood".
You had scenography exhibitions at the festival. What could you tell us, what role does such an exhibition play inside a festival?
Since theatre people don't really visit galleries and gallery goers don't really set foot in theatres, these exhibitions can practically act as welcome bridges, especially at times when galleries host "theatrical installations" and theatres run "gallery" videos in their shows. There are no paintings any longer at the Venice Bienale, but plenty of "theatrical" installations. And they're superb!
There should be scenography exhibitions at all the upcoming editions of the festival, curated by specialists, in special places, there should be theme challenges addressed to the set designers. And financing in place. I think it's not enough to have this marginal presence, on the corridors and in the foyers, a little bit of decoration for some small talk before and after the show.
You have been and are doing an enormous lot in theatre. Your name is connected to some memorable titles. What do you think you left behind in the history of Romanian performing arts?
That's not a question for me. I have no idea!
You teamed up very well with Vlad Mugur, now you do with Silviu Purcărete, with Gábor Tompa. Does team spirit mean a lot in creating a performance?
Team spirit is not "a lot" , it's "everything" when it comes to creating a really good performance. You may carry the most splendid idea in your arms, without a team to fulfill it you may sink to the ground. This is theatre:  there are several people in one boat!

You once said in an interview that you are interested in the psychology of space, first of all. In fact, what is it you conceive: a set, a décor, or a space?
I try not to make any "decors". It's more difficult  to create spaces that have "a psychology". For me, as well as for directors and actors. But it's far more inspiring. A space that can be hard to decipher at first sight can prove itself fascinating in the end. But it's hard to imagine it, it's hard to create it. Try to draw a dream and see how difficult that can be. I once talked with Silviu Purcărete about a dream I had had. He asked me to draw it. I didn't manage to.
You have recently created a performance installation at the German Theatre in Timişoara: "The Fuchsiad". Silviu Purcărete assisted you in that. Why did you feel this need to do a performance inspired by Urmuz?
There are pieces of literature that stay glued to you. This is what happened to me with Urmuz. I don't know why. Maybe there is this idea of creative failure there, or maybe the liberty of despair, or the painful pleasure of self-irony, or maybe something else that touched me. I don't know. It so happened that I was able to pursue this childish almost impossible dream of mine, that of visualizing the music of Urmuz's words, right here, in Timişoara, city of my childhood and youth. Teodor Fuchs commented silent films with piano music. I went into the opposite direction.
What are you presently working at?  With whom? Where?
« A Midsummer's Night Dream », with Petrica Ionescu, at the National Theatre in Bucharest. Then Händel's "Arminio", for the Händel Festival in Karlsruhe and then "Madame Butterfly" at the Opera in Bonn. I will then return to the German Theatre in Timişoara for "Biedermann and the Firebugs" by Max Frisch with Gábor Tompa and, again in Timişoara, with Charles Muller,  we'll do"Spring's Awakening" by Wedekind.
Information
The Visit
By Friedrich Dürrenmatt,  directed by: Gábor Tompa, set design : Helmut Stürmer, costume design: Carmencita Brojboiu, Hungarian State Theatre– 2 h 20 min, one interval
Performance in Hungarian with English and Romanian translation
Not recommended for children under 12.
25-10-2015 | 20:00
"I.L.Caragiale" National Theatre Bucharest, Studio Hall