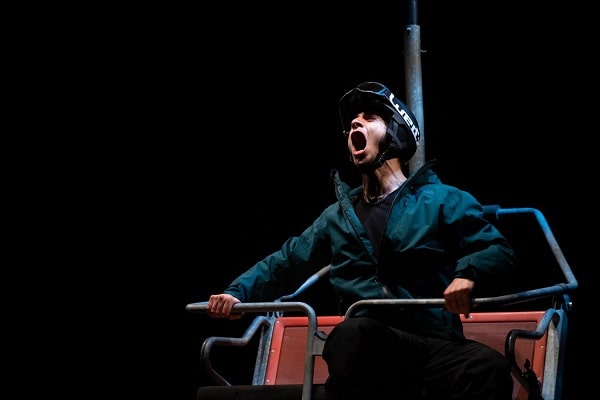 The show has been available

for viewing from Wednesday, November 10, from 17.00, until Friday, November 12, at 17.00.

To activate the Romanian or English translation, press the CC button at the bottom of the video.
Georg Karner is a mediocre person. He earns an average wage, is married and has a steady job at a pharmaceutical company. Georg is invited to the annual medical congress which takes place in a sky resort. Nothing unusual takes place – until he takes the sky lift all by himself at 4:46 PM, one minute after the last official climb. The elevator is stopped, and Georg Karner is left stuck and alone.
Author: Klaus Eckel
Dramatization by Niko Becker
Cast:
Georg K.: Niko Becker
The Concept: Niko Becker
Sound Design: Radu Diaconescu
Light Design: Cosmin Anania
Make up: Bojita Ilici
Video: Cristian Ienciu
The German State Theatre Timișoara
Duration: 50 min
Performance in German with Romanian and English subtitles
How does a mediocre person react when he is abandoned by faith? Does he try to climb his way our of it? Does he jump? Is it enough for him to become desperate? What do you do when destiny suddenly offers you a great deal of time? This respite, which interrupts Georg`s daily rhythm, gives him enough time for contemplation. He stars to remember his true dreams and desires, and realizes his life trickles away in boring mediocrity.
We all resemble Georg Karner. Slaves to modern civilization, a reflection of it. But what are our real desires? And how far are we from accomplishing them? Are we really living our lives, or does the way we live make us mediocre, unhappy, and in love with our possessions? One lonely night on a sky lift can really open your eyes to the truth.
" Après Ski is a piece of silence. It's the silence that we don't really get to hear anymore nowadays. We rarely get a complete break. Especially now that we are all more and more connected to the Internet, Facebook, Instagram, Whatsapp and so on, there are hardly any moments when we do not focus our attention on something around us. I think we are a bit afraid of this silence, we tend to run away from it. And maybe that's why we are constantly searching for something to cling to around us, in order to remain connected to reality and the present. We really don't want to confront what is here.
This is a performance about a person who suddenly wakes up in such a complete, utter silence. How deep does this person manage to dig within himself during those 14 hours?" – Niko Becker