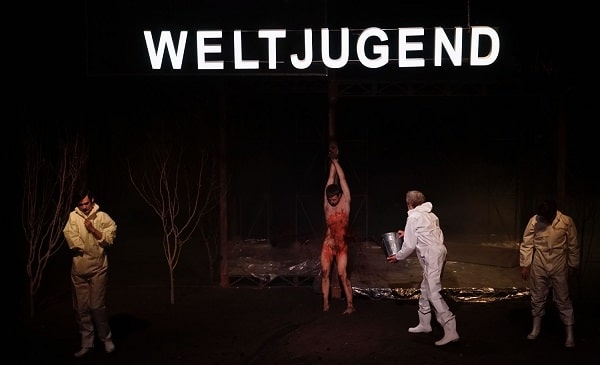 The show has been available

for viewing from Saturday, November 13, from 19.00, until Monday, November 15, at 19.00. To activate the Romanian or English translation, press the CC button at the bottom of the video.
"My artistic journey as a director, in the past few years, has lead me to work in Romania, France and Germany, three quite different cultures, and thus to work with actors and actresses in three different languages. Subsequently, language has become a constant point of interest for me, and this has made me search for various more or less hidden meanings in my mother tongue, in the one I speak or in the totally foreign ones."
Author: Rainer Werner Fassbinder
Cast:
Jorgos: Niko Becker
Helga: Isa Berger
Gunda: Silvia Török
Elisabeth: Daniela Török
Marie: Olga Török
Ingrid: Oana Vidoni
Paul: Harald Weisz
Bruno: Rareș Hontzu
Erich: Alexandru Mihăescu
Franz: Radu Brănici
Direction: Eugen Jebeleanu
Set and costumes design: Velica Panduru
DOP: Ovidiu Zimcea
Original music and sound design: Alex Halka
Light design: Velica Panduru
Make-up: Bojita Ilici
The German State Theatre Timișoara
Duration: 2 hrs15 min (no intermission)
Not suitable under 16 years of age
Performance in German with Romanian and English subtitles
https://www.teatrulgerman.ro/ro/spectacole/katzelmacher-daca-n-ar-fi-vorba-despre-iubire/
"Working on this performance I alternated between verbal and nonverbal scenes, at the crossroad of two artistic modes, theatre and cinema, and this enhances the stage space and conveys the different perspectives of the characters, their inner moods and the relationships between them. I wanted to create a theatre of empathy, which would talk about intolerance, vulnerability, exploitation and the rise of nationalism as a civic danger but also as a political doctrine that promotes discrimination, exclusion and inequality among people." – Eugen Jebeleanu
Katzelmacher. If It Wouldn't Be about Love is about an immigrant Greek worker, Jorgos, who shows up in a Bavarian suburb and stirs things up. This cheap manpower, reluctantly hosted by the community, excited the imagination of the inhabitants. Uproar and envy explode among people. Jorgos is suspected of being the gigolo of the woman he came to work with, people say he is a Communist, and has a higher sexual drive than any other man around. A local woman, upon being rejected by Jorgos, accuses him of rape. Another woman has a passionate relationship with him and then falls victim to the erotic lust.
The wilderness, archaic fears and repressed desires are stirred up once this stranger comes in town. The frustration is exacerbated, and anger eats up peoples' souls. In order to avoid giving in to discord and losing their moral landmarks, the community attacks Jorgos, this stranger they have come to blame of everything. This outcome allows the group to regain their apparent consistency and stability. Hence, order prevails again but from now on it is built upon a foundation of fear towards the other, upon suspicion and a sense of guilt.