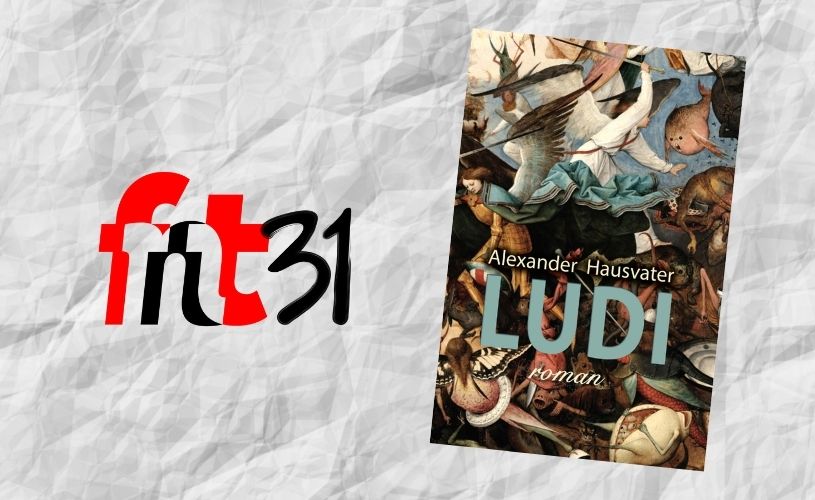 by Alexander Hausvater
Integral Publishing House, 2021
Price: 29,99 ron
The book can be purchased here:
Online bookshops: eintegral.ro (worldwide delivery), elefant.ro, emag.ro, librarie.net, libris.ro, librariadelfin.ro
Cărturești, Librarium, CLB (Sadoveanu and Papirus), Libris, Sedcom, Eminescu bookshops
Ludi is a character impossible to characterise by a single adjective; following some traumatic experiences, he changes his attitude, moving from the position of victim to that of the executioner and vice versa. Ludi, the victim of so many taunts and tortures, becomes the executioner of more tempting victims, and Ludi, the executioner of other helpless people, becomes the victim of more ruthless executioners.
The portrait of the main character my be found similar to other literatterary figures, from Victor Hugo's Quasimodo to Oberlus, the iguana in Alberto Vazquez-Figueroa's homonymous novel. A deformed body, bearing the stigma of an unfortunate birth, looking in vain for a protective space of loneliness, even if his soul is marked by the revolt of mocking injustices. But still, a soul capable of deep feelings, bearer of an unconditional, although hopeless love for this new Emerald which in the novel is called Tilly.
The message of the book is, however, a deeply humane one. This novel is an elegy about infirmities of all kinds, caused by destiny, yet especially by man, which can be cured through compassion and devotion. The solution to the removal of injustice is not revenge, the path towards power it is not the mockery of the weak, the chance of human purification is not the expulsion of the crippled. As a kind of new sentence from the Mount of Beatitudes, at the end of the book, Ludi is saved by the wings of birds that, symbols of the Holy Spirit, as in the Holy Writings.
Varujan Vosganian – LUDI by Alexander Hausvater – A Book of Healing, Foreword to the novel LUDI, Integral Publishing House, Bucharest, 2021
From the start, we would like to point out an extraordinary book, written by a very special man, of extraordinary stamina, with a brilliant mind, full of ideas and who knows how to almost instantly turn ideas into reality, in theater or writing— director Alexander Hausvater.
… A kind of fairy tale that turns into a parable, but more than that. An overflowing imagination. A character comes out of the book in which he is imprisoned by the writer, he observes him and the world around him, but he also lets the writer write the book he has been working on for almost two decades. The character's name is Ludbert Keller, also called Ludi, the author's name is Edwin Gotsche. Both have an adventurous life, especially the character, a small, hunchbacked, crooked guy with a shorter arm, but extremely intelligent. A tragi-comic situation.
… An extraordinary written novel, with real pictorial words and expressions.
Stelian Țurlea, LUDI de Alexander Hausvater, Mediafax, Bucharest, 27.04.2021