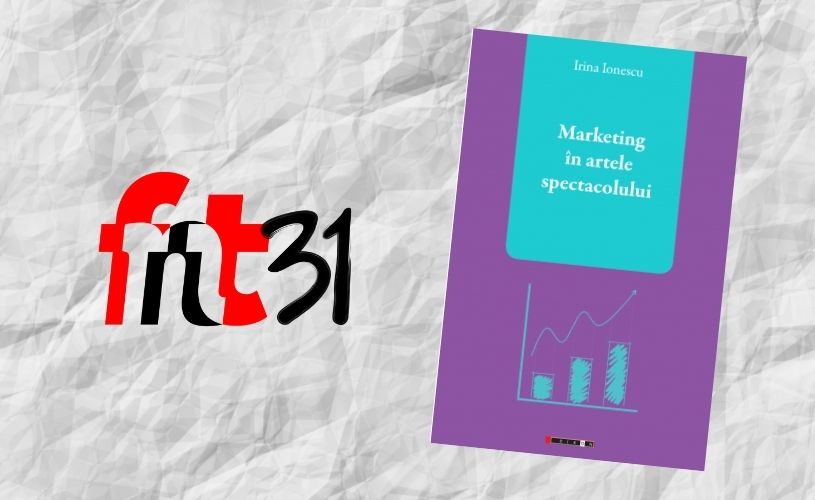 by Irina Ionescu
EIKON Publishing House, 2020
Price: 18,00 ron
The book can he purchased here:
Marketing creates the opportunity of meeting / interaction between artists and audiences­– it is essential, given the fact that the performing arts do not exist in absence of direct reception by an audience.
The current book combines theoretical background with several case studies and opinions of experienced personalities from the cultural / professional world. Among them: Emil Boroghină, Constantin Chiriac, Lucian Vărșăndan, Adrian Roman, Dan Bartha-Lazăr, Vava Ștefănescu, Gilda Lazăr, Marinela Țepuș, Tamara Susoi, Maria Sârbu și Simion Buia.
The author hopes that "after having finished the book, the reader will be informed enough (as formulated by the goals of professionals in the field, established by the Arts Council of Great Britain) to decide what works and what does not work for their own organizational goals, to better understand their current audience and to discover how to attract potential audiences, to focus on the expectations of the audience, from choice of repertoire, casting and communicating as well as devising the suitable atmosphere around the show (welcome staff, details like lighting, and background music and set up of the venue foyer) and – last but not least – evaluating the capapbilities to allocate more resources (human, financial, technological) to the marketing activity of its own organization."
"The book is a necessary and useful tool for all those who work in the field of cultural activities. I often came to notice confusion about what marketing really means. Marketing is not just about PR, advertising or sales – and the book emphasizes this from the very beginning. Marketing means having an integrated vision, it means including the identity of the organization and the way a cultural event is perceived. It means to mediate the relationship between an organization and its audiences. The performing arts tell stories, marketing must also tell stories; the book presents some stories of remarkable successes in the cultural area. The book is very well documented book and extremely easy to read, an ABC of what marketing means. In the future, it could be complemented by marketing strategies and policies, but, so far, it's a good introduction for everyone working in the cultural field, a collection of theoretical terms, success stories, case studies – examples of good practice, results of many years of work, experience, teamwork. The strength and creativity of the team, the leadership, the passion, the enthusiasm these are some of the very, very many elements that contribute, in addition to the theoretical notions, to a coherent marketing approach. This book sets the foundations for understanding the concept of cultural marketing. '
Diana Sârbu, artistic consultant –Târgu-Mureș National Theatre