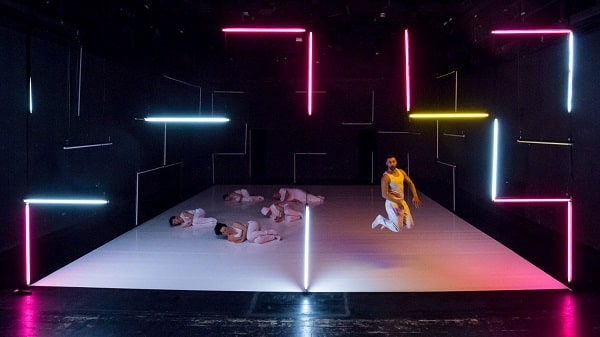 The show has been available

for viewing from Saturday, November 6, from 21.00, until Monday, November 8, at 21.00.
Pam param
is an anthology of human vocal percussions. Beyond the uniqueness and virtuosity of each performer, these voices also evoque a certain culture. The six performers allow themselves to be manipulated by the voices, but sometimes they're also the ones generating them. Therefore, the performance is based on a body language that relies on this rhythmic installation.
Cast: Balázs Judith, Deák Zoltán, Nagy Eszter, Polgár Emília, Szekrényes László, Veres Nagy Attila
Conceptul și coregrafia: Andreea Gavriliu
Set design: Irina Moscu
Original music: Mihai Dobre
Camera operators: Erős László, Nagy László, Sándor András
Editing: Erős László
Video: Designdropp Studio
Studio M, Sfântu Gheorghe
Duration: 55 min
A dance theatre performance
Whether it's a duet on "Konnakol" (the Indian art of creating percussion by rhythmically repeating syllables) or an ensemble that synchronizes with the hallucinatory voice of an American bidder, the bodies become the tangible image of sound in space. From a choreographic point of view, the purpose of movement is to be in a dynamic relationship with the sound and with the impression that this creates for each individual performer.
"Pam Param is a performance in which the sound (Mihai Dobre), the space (Irina Moscu), and the movement created together with the professional team of Studio M provides the viewers with a dynamic experience that challenges all senses. It is by no means a coincidence that we first mentioned the sound, because this one is actually a voyage through various cultures and is meant to showcase the impact of the human voice on the body. The flow of American hip hop, the virtuosity of Indian Konnakol, the verbal gymnastics of a Kazakh news anchor are but a few of the competitions between the body and the sound. Pam Param is meant to be playful and captivating from a visual point of view, and to take the viewer into a delicious 'surreality' erupting with energy" – Andrea Gavriliu
Photo credit: Barabás Zsolt