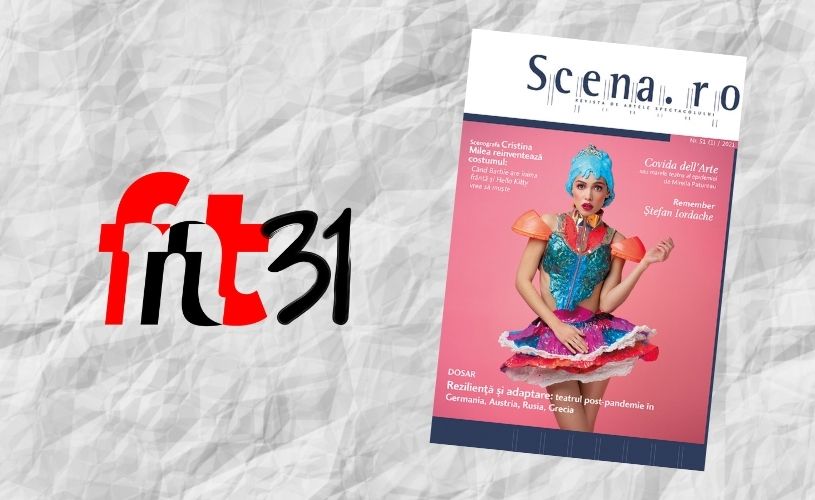 Price: 12,00 ron
The magazine can be purchased here:
Humanitas, Cărturești and Librarium bookshops or home delivery based on subscription. Annual subscriptions cost 60 lei (renewed) and 65 lei (new).
Scena.ro Magazine is the only performing arts magazine in Romanian available both in print (4 appearances per year) and online (website www.revistascena.ro, daily updates) and that covers not only traditional theatre events, but also of experimental theatre, contemporary dance, performance, installations, contemporary circus, multimedia shows, animation shows and all the ramifications in terms of performance produced by current multidisciplinary approaches. The editors of the magazine remain open to innovation, creativity and experiment, believing that meaningful artistic attempts will lead to the creation the performance of the future. The critics' mission is to identify those voices present in the marginalia, that are to become relevant to a new cultural context.
The issue nr, 53/2021 includes a special dossier on Polish theatre, composed in partnership with the Polish Institute, whereas number 54/2021 included the first dossier ever dedicated to Roma theatre (in partnership with APAC and ART Hub Bucharest) and co-funded by the National Culture Fund Administration, AFCN. Scena.ro is an independent project, produced by the Romanian Association for the Promotion of Performing Arts (ARPAS). 2021 is its 13th year of existence.