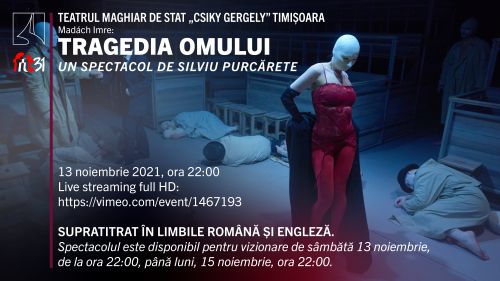 CANCELLED PERFORMANCE
Due to the illness of an actor, the performance Tragedy of Man, directed by Silviu Purcărete, a production of Csiky Gergely Hungarian State Theatre, will not be livestreamed on 13 November, as part of the National Theatre Festival.
Author: Madách Imre
Text version by Silviu Purcărete and Visky András
Cast: Aszalos Géza, Balázs Attila, Bandi András Zsolt, Borbély B. Emília, Csábi Anna / Vadász Bernadett, Csata Zsolt, Éder Enikő, Kiss Attila, Kocsárdi Levente, Lanstyák Ildikó, Lőrincz Rita, Lukács-György Szilárd, Magyari Etelka, Mátyás Zsolt Imre, Mihály Csongor, Molnos András Csaba, Hegyi Kincső, Tokai Andrea, Vajda Boróka, Vass Richárd, Tar Mónika
Direction: Silviu Purcărete
Script: Visky András and Silviu Purcărete
Assistant director: Ilir Dragovoja
Set and costume design: Dragoș Buhagiar
Original music: Vasile Șirli
Composition assistant: Éder Enikő
Sound design: Bayer Sebastian
Csiky Gergely Hungarian State Theatre Timișoara
Duration: 1 h 55 min (no intermission)
Not suitable under 12 years of age
Performance in Hungarian with Romanian and English subtitles
"The wheel is moving, the craftsman is waiting. This verse expresses the core of modernity: the Creator made the world, and in it he placed man in his proper time; then he abandoned the universe, leaving it to float away in a meaningless, indifferent space. Yet Madách Imre doesn't stop at this global, mechanical and profoundly depressing vision from a contemporary perspective, he sees history as a demonic nightmare which Adam is dreaming with and for us. In vain are Lucifer's protests, the promise of redemption gives meaning to the fight and trust in the human existence. Eve bears in her heart the promised Messiah, the Child of Love, who proclaims acceptance instead of the dialectic of the perpetual confrontation with the enemy, and thus creates a chance for mankind and its uplifting mission."
Even if he does not show up pe on stage in Silviu Purcărete's performance, The Child is always present: we hear his voice, his luminous face shines from the depth of the scenes, his fragility and eternal danger give meaning to the desire to know ourselves. This is an exceptional theatrical laboratory, in which the need for precision does not come from the superiority of the judges but out of sheer love, compassion and the joy of closeness and communion.
"The unmistakable humour, the kindness and legendary modesty of Purcărete give The Tragedy of Man to an unexpected approach: Madách's great 19. century poetry, on the surface a quite difficult one, becomes alive and accessible, triggers an intense dialogue and invites the poet to be our guest in these times full of contradictions, fear, anxiety and particularly the fact that, nowadays, despair isn't even hidden anymore. This is a highly intimate performance, and it undoubtedly marks an exceptional moment of cultural history. Madách Imre must be happy, on the other side to see that his work is far from obsolete: if anything, time has made it even more important and inevitable." –  Visky András
"The directorial solutions that Silviu Purcărete found to stage this text, with its lines that seem taken from philosophy books, create a dense atmosphere, a solid and coherent universe, in which surprise come just when it's most needed (…). Without being too large-scale, with the intention to focus attention and thought in a well-controlled space, The Tragedy of Man resembles a free experiment, which offers the audience the best view for witnessing a complicated story, at the end of which viewers will leave with quite a few questions to take home."– Alina Epîngeac, "Condiţionarea divină a liberului arbitru", Amfiteatru / 2020